This post may contain affiliate or referral links, which means I may receive a commission if you purchase something using my link. It will be no extra cost to you. As always, thank you for supporting Getting Fit Fab.
Who knew how hard it could be to talk about my 10 Must See Tourist Spots in NYC, but I like to ramble and give too much detail. So let's hope the third time of starting this blog post is the one that takes the cake. Living in New York has its ups and downs, my favorite up is being an hour away from New York City. NYC, The Big Apple, Manhattan, whatever you call it, it's my favorite part about living here, I can visit the city any time I want. With this list, I wanted to put together the spots that even though they're tourist areas, are still worth visiting! Some places are "less" touristy than others but also are my favorite spots! I have included prices for any spots that you need a ticket for, the price may change, and can vary depending on what time of year you are visiting. (Also, this post is word + picture heavy, I love NYC, so lots of information!)
I love anything history and US military related. My grandfather was in the US Navy and proudly served in the Pacific Fleet. I loved hearing his stories and learning about what he went through. I've gone on the Intrepid many times, but this past April was CA's first time! We did a self-guided tour, learning about the many battles, the number of people that could be on the boat, what the inside decks really looked like. On the flight deck, you can see planes that have flown on different missions and also see the Space Shuttle Enterprise.
The USS Growler is the submarine that is on the other side of the port. It is the only American guided missile submarine open to the public. They wanted to use it as target practice but the Intrepid museum saved it. Picture how small you think the inside of a submarine is, now picture it twice as small. There are doors that you have to fit through, and you need to demonstrate before going onto the submarine that you can. It's crazy how TINY it is! Even with the plexiglass separating you from touching things, the walk space is truly not big at all! I also can't imagine how HOT it could get down there. It was amazing to see the living quarters, as well as the command centers and where the missiles were kept. I also learned that in order to fire any of their missiles, they needed to break the surface barrier, which meant their cover would be blown. I won't share where they were stationed when this was a risk, but if you go on the Submarine, you'll learn.
Being on both of these former US Navy vessels was simply amazing.
Price:
Includes Space Shuttle Pavilion, submarine Growler, and all temporary exhibitions
Adults 13-64 $33 Seniors 65+ $31 Children 5-12 $24 (Children under 4 years of age are free)
If you are going to the Statue of Liberty/Ellis Island from the New York Harbor side, you will walk through Battery Park first. Battery Park is a great park that also has a monument (for something), and is a perfect place to be if you're waiting for your allotted time to board the ferry.
CA and I have done Statue of Liberty twice together, once just on the base, which just gives you access to walk around the bottom part. And the second time was up to the crown, which was an experience, to say the least. You first have to leave any large bags in a locker and then wait for the elevator to bring you to the pedestal (or walk up 215 steps like we did), and explore the outside. It's a beautiful view and you are directly below Lady Liberty. If you are going up to the Crown, the staircase is a Spiral one and it's no joke (it's 162 STEPS UP). There are spots for you to rest if you need and once you get to the top you can take in the view from the top! The way down isn't as bad, but just keep in mind if you do want to climb up to the crown, do it during the cooler months. It's a hot, small space, and you do not want to be up there when it's the middle of a hot NYC summer. Lady Liberty from the lobby to her crown is 377 steps, my opinion? Take the elevator to the pedestal if you're traveling up to the crown 🙂
Ellis Island is an amazing place to learn about the history of how Ellis Island worked, and how many people came through (including my maternal great-grandparents). You are also able to research your history, see who came through Ellis Island and who else you may be related to. It's a self-guided tour so you can go at your own pace and just enjoy everything. CA and I both love history so we love spending time here.
Price: No matter what ticket you get, all 3 will give you entrance into Ellis Island.
Reserve Ticket (which is just the island surrounding Lady Liberty)
Pedestal Ticket (grounds + up to Lady Liberty's feet!) These need to be purchased in advance.
Both Reserve + Pedestal tickets are the same prices: Adult $25 Senior $21 Child (4-12) $16
Crown Ticket (All the way up 377 steps!) These sell out quickly, we bought almost 5 months in advance for our wedding anniversary in June 2017.
Adult $28.50 Senior $24 Child $19 (children must be 4 feet tall to climb + accompanied by an adult)
Children under 4 are free for all tickets.
You ever see that iconic view of someone sitting and staring at the Empire State Building? You get that at the Top of the Rock. CA and I have YET to do this (it's next on our list!) but so many people have gone and just love the different perspective this gives you.
Rockefeller Center is another amazing spot, even when the Christmas Tree isn't there (it's also less crowded). There are shops underground and street level that you can shop in, or stop in for a bite of food.
(Side Note: St Patrick's Cathedral is also close. They are continuingly renovating this gorgeous Cathedral and the last time we went it is just stunning. How high the ceilings are, and how bright it is, it's just amazing. Going inside St. Patrick's is free).
Price: There are so many varying tours + times but if you do a normal time (not sunset) it should be something to similar of the prices I found on the site.
Adult $36 Senior (62+)  $34 Child (6-12) $30 6 and Under Free
If you watched HIMYM, you'll know her as Empy, what Ted calls the Empire State Building. CA and I have gone here multiple times and most recently went up to the 102nd floor which is the enclosed level of the ESB and the 86th building where you could go outside and take all of the beautiful pictures. I love the guided tour, learning about the building, and the other smaller buildings around it! I'd love to do the sunrise tour, and see the sun just rising over NYC slowly. We've also eaten at the STATE Grill & Bar which is on the first floor, it's delicious! We bought the special that you can get when purchasing tickets, it's a 5-course meal and I'm telling you now, you will not leave hungry! Since we went for our anniversary they made up a cute dinner plate with Happy Anniversary on it, and the waiter took our picture!
Price: Keep in mind, there are Peak + In Season prices as well as the standard pricing I've shared.
86th Observatory Deck- Adult $37 Senior (62+) $35 Child (6-12) $31 6 and Under Free
102nd & 86th Observatory Decks- Adult $57 Senior (62+) $55 Child (6-12) $51 6 and Under Free
I will admit, going to Times Square at any time, is packed with tourists. But, you need to see all the lights and where the ball drops for each New Year's Eve! Just don't eat here, everything is so expensive because it is a tourist area although they have a few well-known restaurants too. I love people watching here, taking some fun photos, and seeing all of the bright billboards.
Even though this park tried to kill me in 2017 (I ran my first un-trained Half Marathon which was two LOOPS of the hilliest course I've ever been), I still love it. It's a slice of greenery in the middle of the mostly concrete city. There is also a Restaurant called New Leaf Restaurant & Bar which has the most delicious food and a Zoo!
One of the most iconic bridges in NYC, the Brooklyn Bridge. If you want to take photos and have the least amount of people in them, go early! You can see downtown Manhattan, DUMBO Park and take a long walk over the bridge to Brooklyn!
DUMBO is on the Brooklyn side of the Brooklyn Bridge- it stands for Down Under the Manhattan Bridge Overpass. The Brooklyn Bridge Park is here as well as Jane's Carousel, with a great stop for lunch at Bluestone Lane.
If you're going on any type of Harbor tour, this is where you could be leaving from. I love the shops, the food and just walking around here. You can see the bridges, the water and just relax. My two favorite spots are Cowgirl Seahorse for brunch/lunch/dinner and Luchadores NYC for the most delicious burritos!
In 1934 as part of the West Side Improvement Project, the High Line opens to trains. It runs from 34th Street to St John's Park Terminal, at Spring Street. It is designed to go through the center of blocks, rather than over the avenue, carrying goods to and from Manhattan's largest industrial district. Following decades-long growth in the interstate trucking industry, the last train runs on the High Line in 1980, pulling three carloads of frozen turkeys. It was saved by Peter Obletz and in 1999 the Friends of the High Line was founded by  Joshua David and Robert Hammond.
This is another free attraction to see and do in NYC. They have two tours each week running from May to September, Tuesdays at 6:30 pm, and Saturdays at 10 am. They're 75 minutes long and is called Freight to Flowers if you're looking on their calendar.
Price: Free!
(Saved my Favorite for last)
The World Trade Center: 3 Sights in 1
I say this is 3 sights in 1 place because of the 3 different things there are to see and visit.
First, you have the Reflecting Pools, this was the first thing that was constructed when the rebuilding of the World Trade Center began. The Reflecting Pools are in exact spots that the former Twin Towers stood, and on the ledge, is all of the names of the people who perished on September 11th, 2001. It includes all of the people who worked in the towers themselves, all First Responders, as well as the people from flights 175 & 11. They also have Flight 93 (that went down in Pennsylvania but was meant for the White House), Flight 77 which went into the Pentagon, people from the Pentagon who perished, as well as people who were killed in 1993 when a bomb went off in the underground garage at the North Tower.
If you go here, please be respectful of the people who lost their lives that day, not just the first responders but the people who were in the buildings themselves. It was a horrific event that occurred that Tuesday morning, just remember that people who lost loved ones visit the reflecting pools too.
Price: Free
Second, in between the towers is the 9/11 Museum, which has three parts, exploring the day of 9/11, before 9/11 and after 9/11. It tells the story of what happened on 9/11, including the events at the World Trade Center and the Pentagon and the story of Flight 93. I will admit, the area that has the events of 9/11 is the most heart-wrenching. You can hear voicemails, 911 calls, see videos, and pictures from that day. As well as items that were from first responders, as well as people that worked in the buildings.
Price:
Self Guided: Adult $24 Youth (7-12) $15 Young Adult (13-17) $20 Senior (65+) $20
And the third is One World Trade, aka Freedom Tower. It is towering over the Reflecting Pools and the top of the 9/11 Museum and is just a stunning display of architecture. We did the VIP tour, which meant we had an actual guide named Carl. He was extremely informative, telling us about the building itself (fun fact: the building doesn't Sway like the Empire State Building because of the design of the outside), and the buildings around it. We saw where Tower 2 is being built, and where towers 7, 4, and 3 are. When you are on the tour you basically get a 360 view of NYC, the surrounding boroughs, and New Jersey! We went up just this past year, and it was simply amazing, and I was glad I went for the VIP tour, having an actual person to talk to and ask questions really made the tour fun!
Price: You chose the date + time of the tour for whichever tour you chose
VIP Tour: (which is what we did- kind of like a skip the line) $67
Self Guided Tour: Adult: $34 Senior (65+) $32 Youth (6-12) $28 Child (5 and under) Free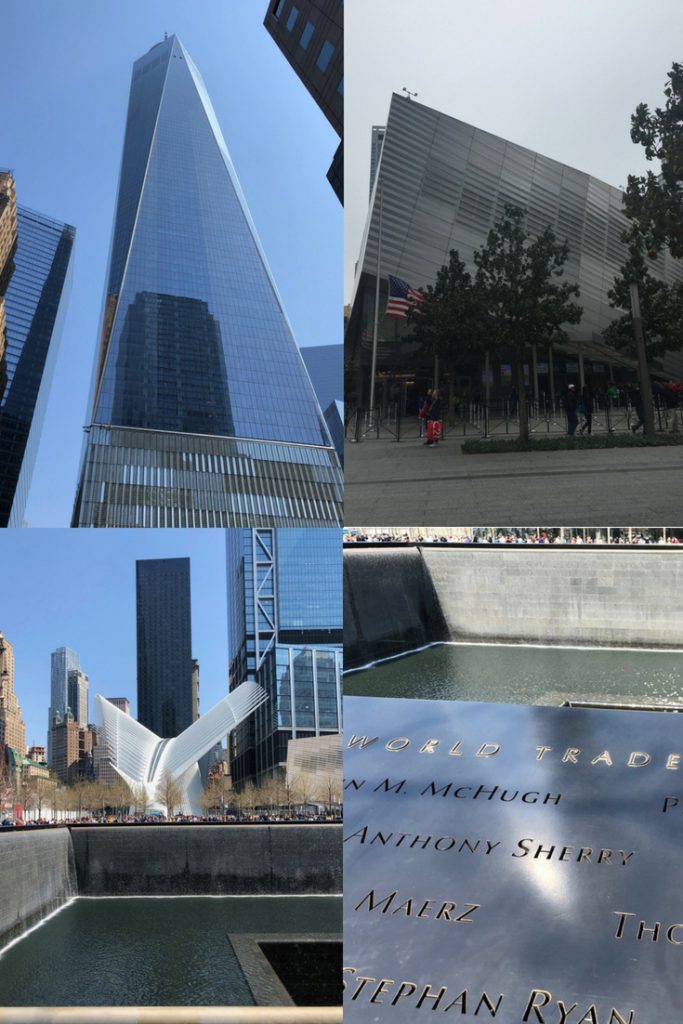 Have you been to NYC? Are you a local or live on Long Island like me? Let me know what your favorite tourist spots are!