This post may contain affiliate or referral links, which means I may receive a commission if you purchase something using my link. It will be no extra cost to you. As always, thank you for supporting Getting Fit Fab.
Stopping by for the delicious Baked Ziti & Sausage recipe? Scroll down and check it out– you will not be disappointed!
I can't believe how quickly this year is coming to a close. Before we know it, it's going to be winter, the holidays will be rolling around & spending time with family. When my family gets together, we usually try to make different types of meals or desserts. Let's be honest, who else is better to try a brand new recipe on other than your family? I remember one Christmas when every single dish I made was brand new to my family & I. Literally each dish was new: dinner, sides, appetizer, even the bread! Luckily, everything turned out delicious, and everything was a huge hit.
More recently in preparing for the upcoming holidays, I've been cooking different types of meals. I am not a picky eater, so usually I'll try to make something at least one time, before saying I'll never have it. I came across my mom's recipe of Baked Ziti, it's a staple in our home & family. We've made it in duplicate for family gatherings just so we can have leftovers to enjoy. I wanted to put a new twist on it, but still with the same base of recipe that we already know everyone likes.
I don't know about you, but I have my "go to" store that I usually food shop in and try and get the best deals. Lucky for me, Stop & Shop has an awesome deal going for the main parts of my recipe! I grabbed the Barilla Ziti Noodles, Johnsonville Italian Sausage (mild), Galbani Low Moisture Mozzarella Cheese, and Barilla Sauce. The remaining ingredients I need are already at home, so after doing a quick food shopping trip I came home and started making this new delicious recipe.
Barilla Pasta brings Al Dente perfection to every pasta meal. New Barilla Sauces are only made from selected highest quality ingredients like vine-ripened tomatoes, extra virgin olive oil an fragrant herbs, all slowly simmered, to bring an authentic tasting sauce with a burst of flavor in every bite. I usually purchase shredded cheese but with Gablani Low Moisture Mozzarella Cheese, new low moisture cylinder shaped "for shredding" which is more aligned today to current consumer usage and preference trends. The sausage was what I was most excited to purchase, Johnsonville Italian Sausage, convenient & flavorful: All the spices and flavors are built into Johnsonville Sausages – making recipe prep easy!
Prep Time: 30 minutes                               Cook Time: 30 minutes
Servings: 8                                                    Category: Dinner
NUTRITION FACTS:
Calories:649 kcal Fat: 27.4 g Carbs: 68.9g Protein: 30.7 g Cholesterol: 86 mg Sodium: 1485 mg
Ingredients:
1 (16 ounce) package Barilla Ziti Pasta
1 pound Johnsonville Italian Sausage Mild
16oz Galbani Low Moisture Mozzarella Cheese for shredding
1 (32 ounce) Ricotta Cheese
1 egg
1 large onion, minced
2 teaspoons minced garlic
1 teaspoon oregano
salt (to taste)
pepper (to taste)
26 ounce Barilla Spaghetti Sauce, divided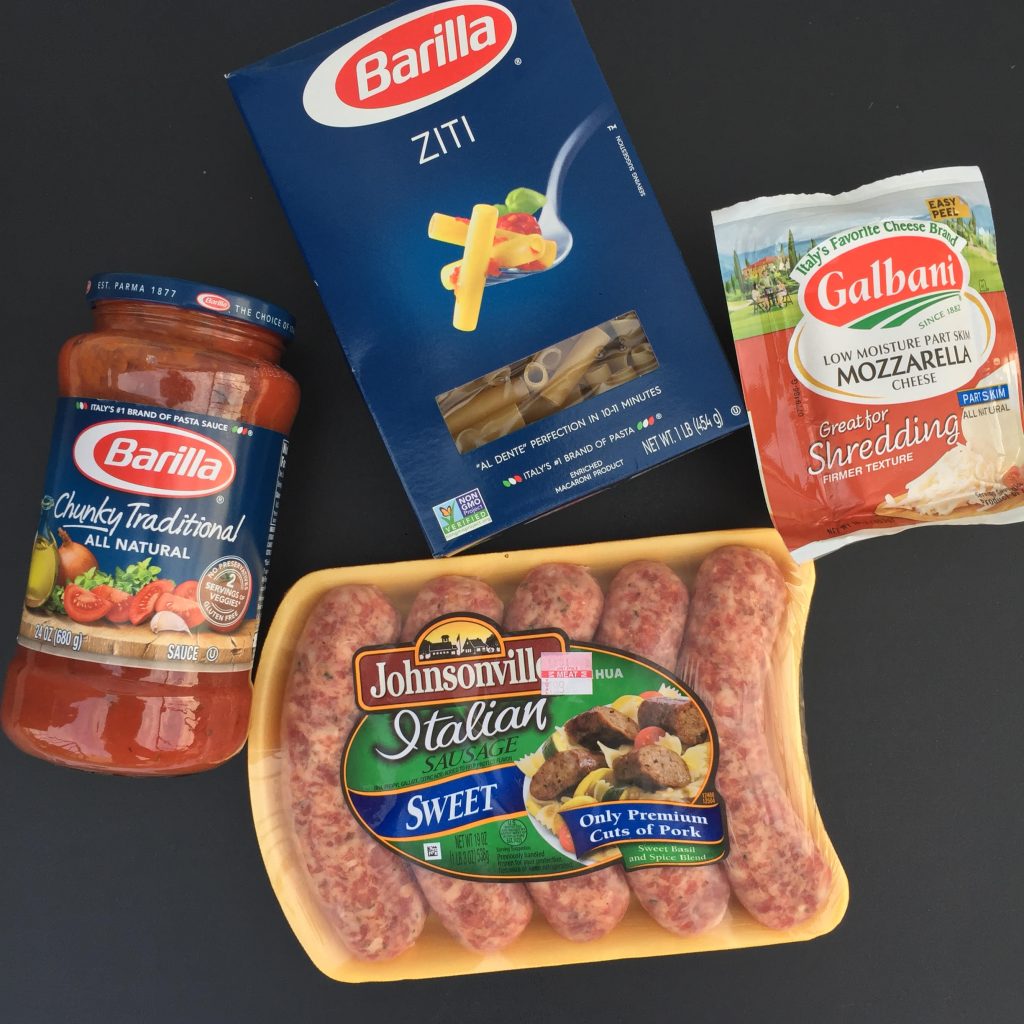 Instructions:
Preheat an oven to 350 degrees F (175 degrees C). Grease a 9×13 inch baking dish.

Fill a large pot with lightly salted water and bring to a rolling boil over high heat. Once the water is boiling, stir in the ziti, and return to a boil. Cook the pasta uncovered, stirring occasionally, until the pasta has cooked through, but is still firm to the bite, about 8 minutes. Drain well in a colander set in the sink.

While pasta is cooking, heat a large skillet over medium heat. Add the sausage, and cook and stir until brown, about 10 minutes. Drain sausage and set aside.

Stir together the ricotta, egg, onion, garlic, and oregano in a large bowl until well combined. Stir in the drained pasta, the drained sausage, salt, pepper, and 1/2 jar of the spaghetti sauce; mix well.

In the prepared baking dish, cover the bottom with 1/3 jar of spaghetti sauce. Layer 1/2 of the pasta mixture, 1/3 jar of spaghetti sauce, and 1/2 of the shredded cheese. Then layer the remaining 1/2 of the pasta, 1/3 of the sauce, and 1/2 of the cheese. Sprinkle with basil. Cover the dish tightly with aluminum foil.

Bake in the preheated oven until heated through, about 20 minutes. Uncover; return to the oven and bake until cheese is melted, 5 to 10 more minutes.
I loved making this recipe, and my family especially my husband loved this new twist on the Baked Ziti with sausage.