This post may contain affiliate or referral links, which means I may receive a commission if you purchase something using my link. It will be no extra cost to you. As always, thank you for supporting Getting Fit Fab.
So I missed last week, and honestly almost missed this week. Adjusting to the Keto diet, I've had migraines and headaches, and I needed to limit my time on the laptop. I have been doing just minimal blog work, always making sure my VA work gets done before anything else. But yay for making it today! Now onto….
Five On Friday:
1.ICYMI- I (aka CA) wrote about our cruise that we had the pleasure of taking this past January! That was our third together and also our shortest. We'll be traveling this winter for another cruise so instead of doing one long cruise we chose two cruises. I've wanted to share our cruises and travel adventures on my blog, and with CA's help, we're getting there! This cruise was to the Bahamas and so much fun just to get into the warmth for a little bit. So go check it out here!
2.Week 2 of Keto has been going….. Okay. It's okay, just the migraines and headaches are starting to get to me. I know that this is basically what happens to people who are doing keto, by cutting out a lot of carbs. It's a transition and something I have to stick to, and I plan on sticking to it, I just wish I could fast forward past the migraine/headache phase. Also only a few weeks away from my cruise and I'll be making sure that I'm working out, etc. I plan on running five times a week and doing the T-25 5 days a week. I just need to wake up early and workout.
3.It's feeling like fall finally! This really needs no explanation, living on Long Island the humidity has been brutal, and it finally feels like fall! 
4.Blogging, well I haven't been blogging as much as I want to but I've tried to stay active on social media, etc. But what I said above about the Keto diet "reactions," so it's been a little hard. I've been trying to focus on my why, why I started blogging, why I want to blog still. Regardless of making money, getting things to blog about. I started blogging to log my weight loss journey, and then it became about my life. So I'm going to try to focus on blogging about my life, my weight loss, travels, my house hunting, marriage, Thor… everything. Because that's why I started, and I'll let everything else go as it comes.
5.We have a busy weekend ahead… well, not 100% busy but busy blogging-wise. I'm doing a video with makeup tutorial for Halloween. It's my first makeup tutorial which should be… interesting? I'm excited but nervous; I know my game plan so I think it'll be as good as a first makeup tutorial can go! I also plan on doing at least one more post for Real Life House Hunters: Long Island, maybe a second post also. I want to try and be better with time management, but with the headaches, my time management has gone bye bye. Let's hope that next week is better and I can get my butt moving with workout and get in as good of shape that I can before our cruise.
Favorites: I did five favorites… just because LOL. This week's theme was… make Renee's life easier for her work week mornings
–Clinique Moisture Surge Extended Thirst Relief Gel Cream– This was a huge recommendation by my friend Adriana (she blogs over at Daily Dose of Design). I haven't been wearing foundation in… forever, and she recommended this moisturizer mixed with the foundation below. I love that this is hydrating but not where I become oily or feel like my face is wet.
–Clinique BIY Blend it Yourself Pigment Drops– This is the foundation you mix the moisturizer with. You use around 2-5 drops depending on the coverage you want and how it works with your moisturizer. I love that this is my go-to everyday foundation, it's lightweight, and I can still see my freckles and a slight tint of rosy cheeks. I work at a desk so as long as it's not humid, I don't mind wearing foundation. If you're looking for an everyday foundation and don't need (or want) full coverage, this is going to be perfect. You can mix it with whatever moisturizer you want, even if you have a favorite BB cream you want more coverage with.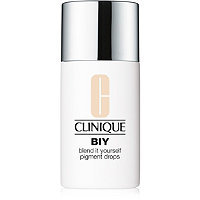 –Paul Mitchell Super Skinny Serum– This is a godsend, from Paul Mitchell, I kid you not. I have thick, wavy, long hair if I'm straightening it…. It needs to stay that way. This helps keep it straight while I'm blow drying my hair, and I use my flat iron less. I've been using this for…. 5? Maybe six years, or even longer. I just know that I have four bottles of this because I don't ever want to run out LOL. It lasts a LONG time! I use, two full pumps, which equals a half dollar size, and I put it on the lower half of my head… like from the lobes of my ears down. I pair this with my favorite dry shampoo from Eva NYC, and my hair can stay straight for about three days.
–Too Faced Perfect Eyes Waterproof Eyeliner Perfect Black– This week is all about….how I make my mornings before work easier for me. This eyeliner is great for my waterline; I am super picky about my waterline eyeliners. If you don't know, I wear contacts, so I need something that isn't going to attach itself to my contacts there for having little black smudges ON my contacts, let me tell you it's ANNOYING. I also need one where it's not going to smudge and by the end of the day look like a raccoon; you know what I'm talking about. This one is great. Also, the pigmentation is amazing it's SUPER dark and makes my eyes appear bigger. Plus it goes perfectly with….
–Too Faced Better Than Sex Mascara Black– This is my go-to mascara, and I switch between this mascara and IT cosmetics mascara. I love both, and so I don't run out of either too soon I switch. I love the wand and bristles on this mascara; it separates my lashes. I always love how my lashes look with this mascara, and always carry around one in my purse just in case I need it on the go. Sometimes I wear just mascara and still makes my eyes appear bigger.