This post may contain affiliate or referral links, which means I may receive a commission if you purchase something using my link. It will be no extra cost to you. As always, thank you for supporting Getting Fit Fab.
This post is Sponsored by Nestle but as always all opinions are my own. Thank you for supporting the brands that support Getting Fit Fab.
Am I the only one in denial that it's the end of November? And we're only a few weeks away from Christmas?! It also reminds me that CA and I are attending a Holiday party in Connecticut next weekend! If you didn't know CA attended UConn so he has friends from college he's still in touch with! In the past few years, we've had the pleasure of spending more time with them for birthdays, weddings and just getting together! When we got together with them over the summer I made a pound cake, and it was a hit, so this time I'll be making a different take on the pound cake. It's a Hazelnut Bundt Cake, with a delicious hazelnut flavored glaze. After making these and crossing my fingers that it tasted delicious, CA couldn't get enough of it!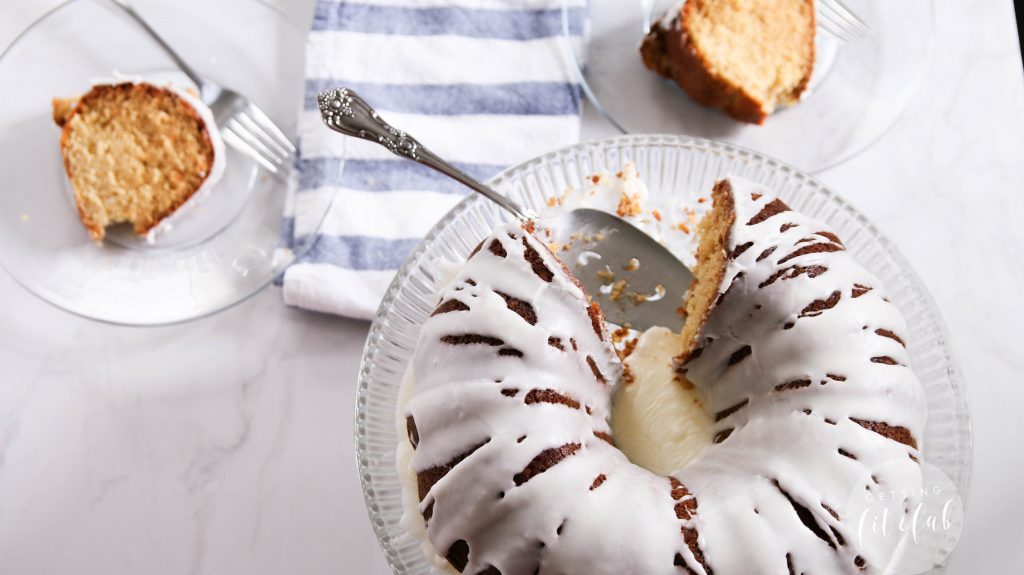 I love making desserts from scratch, I know exactly what is going into these desserts and what I am sharing with my friends and family. This recipe is relatively simple to make, and the glaze can be made while the cake is baking in the oven! The glaze is the perfect amount of sweetness and helps keep the cake moist. If you don't have a Bundt cake but still want to make this cake a large rectangle dish (9"x13") would be big enough to fit the entire batter.
While getting your shopping list ready don't forget to add the Nestle Coffee-Mate Hazelnut Powder Creamer! You can pick up the Coffee-Mate and all of the remaining ingredients in your local Walmart!
Hazelnut Bundt Cake #JuntosConNestle
Ingredients
For Cake:
3 Cups Flour
1 Tsp Salt
1 Tsp Baking Soda
1 Tsp Baking Powder
1 Cup Unsalted Butter (Softened)
1 Cup Sugar
1 Cup Packed Brown Sugar
4 Whole Eggs
1 1/2 Tsp Vanilla Extract
3 Tbsp Coffee- Mate Hazelnut Powder Creamer
1 Cup Milk
Glaze:
2 Cups Sifted Powdered Sugar (it's important to sift in order to get the clumps out)
3 Tbsp Milk
2 Tbsp Coffee-Mate Hazelnut Powder Creamer
1/4 Cup Butter
Instructions
In Large Mixing Bowl, mix together flour, salt, baking soda and baking powder. Whisk together.
In Separate Mixing Bowl, mix butter, brown sugar & regular sugar, mix thoroughly with mixer.
Add in eggs and mix well, than add Vanilla Extract
Add in Coffee-Mate Hazelnut Powder Creamer, mix well.
In Large Mixing Bowl, alternate mixing dry ingredients + milk with wet ingredients, until smooth.
Fill Bundt (or cake) pan with batter, & smooth with spatula
Pre-Heat oven to 350 degrees F, Bake 50-60 minutes or until toothpick comes out clean.
While Cake is baking, begin making glaze.
Mix on medium: powdered sugar, milk, Coffee-Mate Hazelnut Powder Creamer, & butter.
When cake is completely cooled drizzle glaze to desired coverage.
Allow glaze to harden before serving.
Enjoy!
https://www.gettingfitfab.com/hazelnut-bundt-cake-juntosconnestle/
Want to see the video I created? Check it out!