This post may contain affiliate or referral links, which means I may receive a commission if you purchase something using my link. It will be no extra cost to you. As always, thank you for supporting Getting Fit Fab.
Living on Long Island has ​numerous advantages, especially in the summer. On​e hour travel time to ​NYC, ​plenty of great outdoor restaurants, and, my favorite, the BEACHES! The best part is my town (Copiague) ​has a beach that is only FIVE minutes away. It's a small, ​cozy beach that is located in Tanner Park! It's evolved into quite a "hotspot" over the years. Some of the highlights of this park include:
Interactive Spray Park (Great for young children)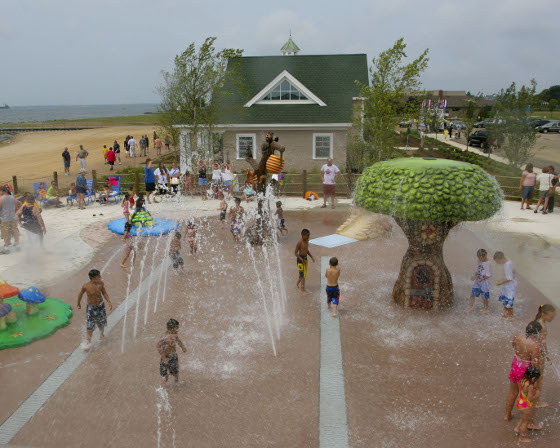 Source
Fishing Pier
​ (Cast a line for fish, or drop in a cage to go crabbing)​
​The Beach Hut (the Ice Cream is delicious)​
​The Beach!
​Also not pictured: Large Playground​, Skate Park, Basketball & Tennis Courts, Marina, and a Dog Park
​
All of these awesome things to do, but wait, there's more! ​My favorite part of the park is the Band Shell. It hosts ​concerts during the summer to enjoy right on the water–for free! Recently​,​ I went to Tanner Park to watch the Zac Brown Tribute Band perform​. I showed up at 6:30pm and there was already over 100 people(!) set up with chairs, blankets, and coolers. Even with all these people, there is plenty of room to spread out and get comfortable for the concert. The band shell is right along the Great South Bay which provides an excellent outdoor venue. With the extra time I had before the show started, I took a walk down
​to ​the pier​ to snap some photos​, grabbed a bite​ food at the Beach Hut,​ and than sat down to ​enjoy some music.The show promptly started at 7:30 under a beautiful, night with a picturesque sun setting in the background. ​The ZBTB played most of my favorite songs for the better part of two hours​.
Right before the band came on, they had one of the radio station DJs​ ​introduce​ the band that is setting up on the stage. There are multiple shows each week throughout the summer which showcase various genres
​of music.
If you happen to be in town​, I would definitely​ suggest​ checking​ out Tanner Park​. You won't be disappointed with the trip​!​ ​Just a quick heads up that there is a fee to park down by the water until 5:00pm during the summer months.
If you are looking to find your hometown's hotspot, then I have the perfect site for you, Eventbrite is where all events come together. Whether you're looking for an event to attend in your area or if you want to get your own event information and tickets out there, it's fantastic! They have events ranging from sporting events, live music, festivals, restaurants or anything else that you can think of! If you are thinking of hosting your own event you can use these two amazing pages Event Management and if needed Sell Tickets! It's free software that you are able to utilize to your advantage, spread the word and track the progress of your event.