This post may contain affiliate or referral links, which means I may receive a commission if you purchase something using my link. It will be no extra cost to you. As always, thank you for supporting Getting Fit Fab.
I had a wedding on Sunday night, 10.13.13. I went in place of my cousin whom was unable to go, so I went as his wife's date. I was chosen because I knew most of the people who were going, and also the bride and groom.
I'll show you some pictures first than fill you in about the… craziness that occurred that night ;)♥
The beautiful bride Katie and groom Carmine!♥
Some of the crazy boys; L-R my cousins Connor, & Jon, friends Chase, Rob, & Jackson.
Mid laugh. L-R, Jon (cousin) Myself Connor (cousin-also Jon's brother), and Chase photo bombing!
My self and the beautiful bride! ♥ cousins 😉 !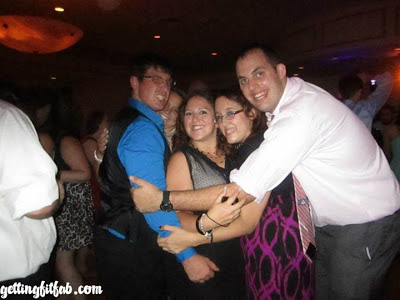 On the dance floor! Connor, Kristen (photo-bombing), myself, Lori , and Joe
dance floor posing! Jon, My self, and Lori… were a little crazy
YUP we are cousins, totally alike, and insanely crazy.
My self and Jess ♥
Pretty girls♥ My self and Jess
Almost the whole gang ! Standing L-R Lori, My Self, Joe, Chase, Jon, Connor, Rob, Jackson, Carmine, Pam & Danielle
Sitting L-R Christina, Jess, Kristen, Andrea, Katie, & Marissa
Some of the pretty girls. L-R my self, Jess, Kristen and Lori
My self and Kristen outside at Cocktail hour 🙂
my lovies, Kristen, Jess and my self
L-R Kristen, Christina, My self, and Jess before the ceremony
So this is how the night went; Arrived at the beautiful golf course before 5PM, ceremony started around 5:30. We grabbed some drinks and went to the outdoor ceremony and sat and patiently waited the arrival. After the ceremony which was until about 6, we had cocktail hour, SO much amazing food, and all of the pictures began, all of us sat at a little table hung out, drank and ate before freezing and than proceeding to go indoors.
Reception time! We sat at our tables the bride and groom were walking around saying quick hellos and I got to surprise the bride at me being there! Than they announced the wedding party, along with the bridge and groom than all the dances began. This part made me miss Ant because he wasn't there but I knew I had him so that made me smile. It was a buffet style dinner and dinner was served quickly so everyone could dance!♥
DJ was good and we danced the night away from 7-11 pm! It was a blast, so many pictures, dancing and singing, and just enjoying the night. We left a little after 11 with saying goodbye to everyone, telling Katie & Carmine to have a blast in Hawaii on their honeymoon.
That was my Sunday night, had a blast with amazing people and couldn't have asked for a better crew to party with the addition of Ant♥