This post may contain affiliate or referral links, which means I may receive a commission if you purchase something using my link. It will be no extra cost to you. As always, thank you for supporting Getting Fit Fab.
This post is written by me on behalf of General Mills. All opinions are entirely my own. This shop has been compensated by Acorn Influence, Inc. and its advertiser. #RealGoodFood
Who doesn't love a quick meal to make at home for those busy days that creep up on us? I know I've had a few! Since I'm usually very busy on the weekends or I'm just not in the mood to cook, and tada—Monday is already here! Usually, the thought comes during the day at work, "Okay, what do I have that is quick and easy to cook tonight…" Most of the time, the answer is–nothing. This often leads to me trying to thaw out something last minute or hoping that there are leftovers in the fridge that I can make and are healthy. Well, good news! I found a solution to those days while I was recently scrolling through the Sams Club app on my phone, and discovered that they carry Annie's.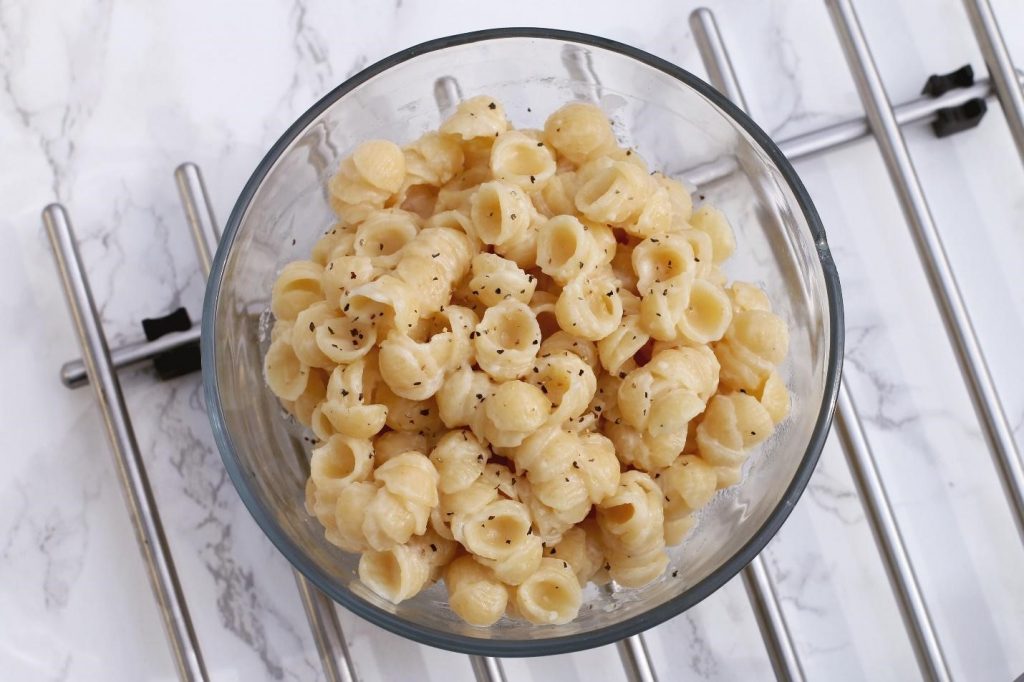 The best part is that I can order Annie's products online and pick them up in the store! What?! I don't need to go shop around and attempt to find products while I have no idea what section they'd be in? YES! That's what this chick needs because at the top of my list of most hated things to do? You guessed it: Food Shopping. I feel like that person that's looking around clueless for a new product that they heard about online or search for ingredients for a recipe and you just don't know where it is! If this is you, especially in a huge club food store like Sams Club, you need to download the app and start online shopping! It's a simple pickup process. They had my items in a food cart all ready for me; just scan the barcode to check in and they bring it right to you. Simple, easy, and perfect for the times when you don't have time (or patience) to food shop, or just don't want to aimlessly shop around for hours.
I like that the products I picked up didn't come from the deli/fresh area because I didn't need to worry that they would spoil if I didn't go straight home. Fortunately, this trip to Sams Club was a small one, I only picked up three items. I grabbed: a 12 pack of Annie's Organic Mac and Cheese, a 14 oz. bag of Annie's White Cheddar Popcorn, and a 30 count box of Cascadian Farm Chewy Granola Bars. Annie's Organic Mac and Cheese is my new go-to for a quick easy meal when I really have no idea what to make. I love Mac and Cheese, so adding Annie's Mac and Cheese was an easy addition to my pantry. I love cooking with organic ingredients and they have "Certified Organic" right across the top of the box.  Annie's Organic Shells & White Cheddar Macaroni & Cheese has 10 grams of protein, produced without Antibiotics, Synthetic Hormones or Persistent Pesticides.
On the days that I plan ahead (shocking!), I found that when I added chicken and bacon to Annie's Mac and Cheese it turned out amazing! I had never thought to add chicken and bacon, but oh my gosh, it was delicious! That's why I'm sharing this simple, but delicious, recipe with you today! When I make dinner after my day job, I usually try and keep the preparing and cooking part to around 20-30 minutes, so we aren't eating too late. If you are on a real-time crunch, Annie's Mac and Cheese will not disappoint, it's creamy, delicious, and so good, it'll vanish right before your eyes!
As I mentioned earlier, besides Annie's Mac and Cheese I also picked up Annie's White Cheddar Popcorn Bag and Cascadian Farm Chewy Granola Bars. I am a huge fan of White Cheddar Popcorn; I can make a small bag disappear within 5 minutes. I love that this is a healthier option to have around the house. After realizing that I can't just take the giant 14 oz. bag to work with me, I put it in a small sandwich bag to work. The Cascadian Farm Chewy Granola Bars are going like hot cakes in my house, especially with CA currently training for his second half marathon on May 7th (which is also Thor's 1st Birthday!). He likes eating healthier when training. I love having the long shelf life of these three organic products and the peace of mind of not having to worry about them going bad before I have the chance to eat them. Like I mentioned above, if you have a Sams Club nearby and you're short on time, I highly recommend using their app to food shop from your phone and pick up at the store. Don't forget to check out my recipe below to add something extra to the already amazing Annie's Mac and Cheese!
Annie's Organic Mac & Cheese with Chicken and Bacon
Serves 4
Ingredients:
Annie's Organic Shells & White Cheddar Macaroni & Cheese
Thick Chicken Cutlet cut into Cubes
6 strips of bacon cooked and crumbled
Pepper (to taste)
Basil (to taste)

Instructions:
Begin cooking the shells from Annie's Organic Mac and Cheese as per the instructions on the box. While the shells are cooking, begin preparing the chicken cutlets and cook them in a frying pan for 10-15 minutes (depending on how thick they are). In another pan, cook the bacon thoroughly, place in a paper towel and "pat" dry. After the noodles are cooked, drain and rinse them. Then in the same pan, follow the instructions on the box for how to make the cheese. After the cheese is thoroughly mixed, add in the shells, cooked chicken, bacon, and mix well. Serve & Enjoy!