This post may contain affiliate or referral links, which means I may receive a commission if you purchase something using my link. It will be no extra cost to you. As always, thank you for supporting Getting Fit Fab.
This is part of a sponsored collaboration with Bowlero Queens and 
DiMe Media
. 
However, all opinions expressed are my own.  #AsiCelebramos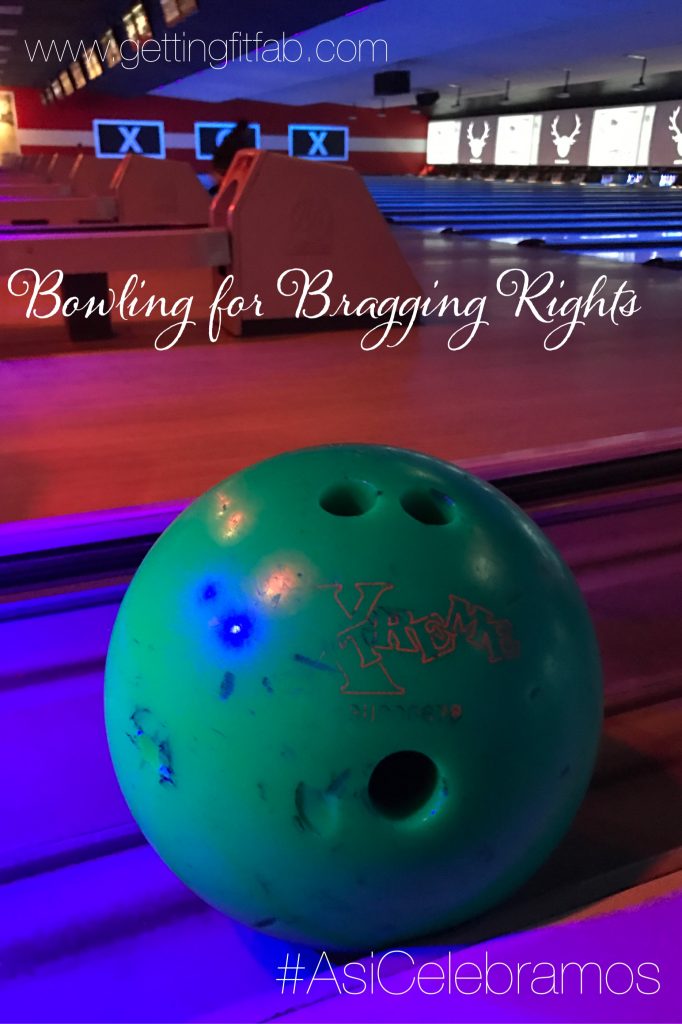 As you saw last week, I went to an awesome blogging event at
Bowlero
in Queens, NY. It's a recently renovated bowling alley and it was a blast to experience the grand opening. I am a competitive person by nature so when I arrived at the bowling alley, I was really hoping my bowling "A" game was going to show itself. I'll admit–I used to attend a bowling camp for several years while I was growing up. I normally don't brag, but I was good, several times I hit 300, and twice I was able to hit the 
7/10
split!
I've gone bowling several times, with CA, friends, and even a bachlorette party. Also, I have another confession; I have my own bowling ball! I didn't bring it last Thursday because quite honestly I wasn't sure if I'd be bowling or just observing, and I really think it negatively affected me that I didn't bring it. Anyways…I'm always looking for new things to do with friends and CA to keep up the adventure.
I want to share my tips for planning to have the ultimate bowling night with either friends, family or your significant other.
Check out the Bowlero website for the location nearest to you.
Call ahead and ask when their busiest times are (especially at night or on the weekends). If you have a large group of friends, family, or just you and your SO, you'll avoid a long wait.
Are you a former bowler like me? If you have your own bowl, bring it!
Bring your "A" game, smile, and an appetite for some delicious food & drinks (alcoholic ones are available at Bowlero)
Now, I am no pro bowler, but these are my tips to be a formidable opponent. 
 If you don't have your own bowling ball, really concentrate on the weight of the ball. Something too heavy won't "swing" well when you release, and too light could go flying with no control and won't hit any pins.
 The finger holes in the bowling ball; the placement and size. Everyone's hands are different, so being able to grip the ball the proper way will really help your game.
Your stride: now this may take some time to figure out which foot you should step off with, how far back you want to be from the line, and how far back your arm goes in the swing. For example, I lead with my left, I start about 5 feet beind the line, my right arm goes past my shoulder on my swing, and I release at my right foot as part of the momentum.
Most people have a natural curve from the moment they release the ball. My curve is to the right, so I start at the far left so when I do release I am less likely to end up with a gutterball.
The "'sweet" spot that you should aim for to get a strike, is between the front pin, and the 2nd/3rd pin to the left or right. It'll have a great domino effect and knock down (hopefully) all of the pins!
The main thing that you should concentrate on when you're bowling is having FUN! Great memories can be made while you're bowling at your local
Bowlero
. Besides bowling, they have delicious food, tasty alcoholic beverages, and arcade games! If you have a large group of friends or want to break up the games you play, there are different things to appease everyone in your group. I can't wait to go to our local
Bowlero
with my friends and CA to have some great laughs with great people. Plus, if just CA and I go, that means we can have a competition, loser has to buy the food, or treat for a future date. This will definitely be a staple date night that sticks in my head for when we don't know what we want to do–we can go bowling!
Do you want something different to do with friends, family, or your significant other? Try bowling at your local
Bowlero
and enjoy the great food, drinks and time to be had in your future!