This post may contain affiliate or referral links, which means I may receive a commission if you purchase something using my link. It will be no extra cost to you. As always, thank you for supporting Getting Fit Fab.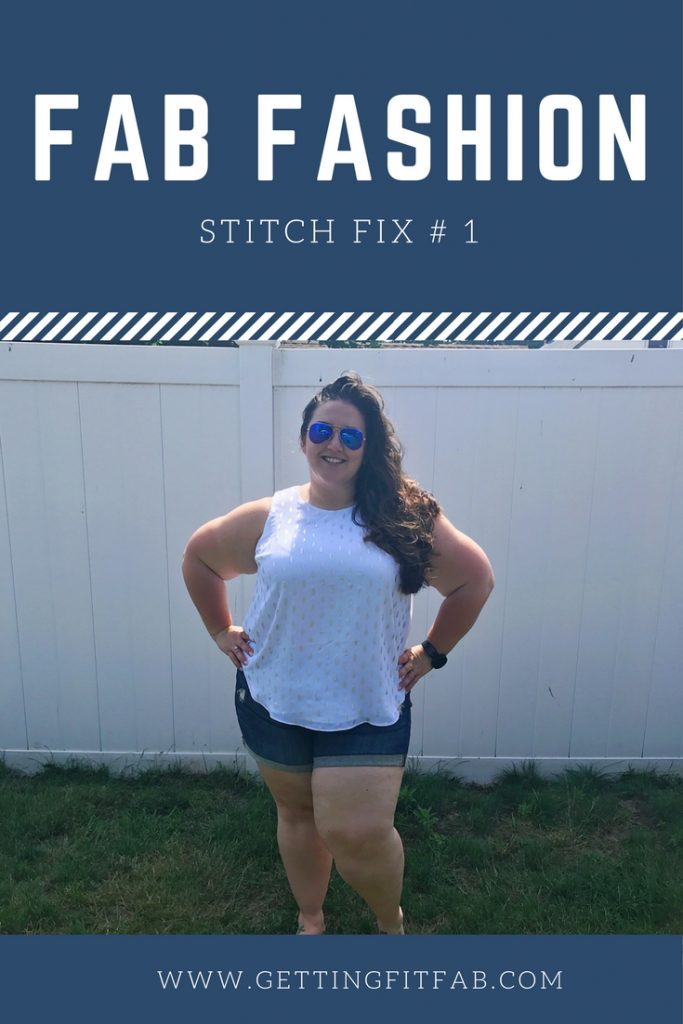 I've been a fan of
Stitch Fix
forever and even more so since they released plus sizes (as well as Maternity and Men's)! Even though I've received a few other boxes, this is the first one I wanted to share on my blog… also it's the first one I tried all the clothes on and had someone (aka CA) take the pictures for me lol. I think my favorite part about
Stitch Fix
is that you get a personalized stylist for each "fix" you get. If you have a special event coming up, or realize that your closet is lacking a clothing item, you can leave your stylist a note to let them know. I also like that they have fashion tips & outfit ideas on their main page. Even though I love fashion, styling new outfits can be tricky for me, especially if they contain color (I'm more of a black with color sprinkled in girl). They even have "Ask a Stylist"! So maybe you want to try something unique than what you have in your closet now, you can ask them for their opinion! Maybe you want to know, "how do I style this new skirt I got," or "can I wear a jumpsuit, even though I'm short (this one's me!)? I've gotten "lost" on their site looking at different outfit options for going on a road trip and what to wear for holidays!
So, when you sign up here, you fill out a style profile, which has various questions to answer so they can send you the clothes that best fit your style. The questions vary from choosing a set of clothes that fit your style closest or what you like to hide/show off with your body. After you fill out all of that, you'll see that a stylist is working to fill your box with five different items (clothes, shoes, jewelry, etc.) and an estimated ship date. Once your box ships you'll be charged $20 for a styling fee. Once you receive your box (yay!), it's time to try on those clothes! This is my favorite part about the box because I can do it at home, not in a store where I feel rushed. Plus if they don't fit, then I have to go back to the dreaded customer service/returns department, and no one has time for that. In this
Stitch Fix
I asked for at least 1 or 2 summer tops, and the rest I left up to my stylist's choices.
In my box, I received two summer tops, a kimono, jean shorts, and a necklace. Since my awesome husband took photos of me outside before the rain came, you can see the all the details!
First// Renato Drape Back Detail Blouse // Size 2XL // Fit- Loose // $54 // Return
I love the color and the feel of the top but it's a little too short for my liking, I like tops that go past my waist not just hit it. The back is weird too (not shown) it drops down so you'd see my bra strap if I wasn't wearing a sweater. The material is loose and very light which is perfect for summer time.
Second//Laneer Cold Shoulder Blouse // Size 2XL // Fit- Loose // $58 // Return
This shirt was hilarious for me to try and put on. It's supposed to be a cold shoulder top; I am wearing it as a spaghetti strap shirt because I couldn't figure out how to get my arms in the sleeves while putting the shirt over my head. YES, I kid you not, that was my issue. The material was beautiful and light, the colors lovely, but ya….big "no" on cold shoulder tops.
Third// Mina Distressed Cuffed Short // Size 2XL // Fit- Semi Fitted// $58 // Keep
I have short legs and a long torso, so I usually go for shorter shorts but not too short, and these are the perfect length. I love the cuffed look, so these will be added to my summer wardrobe I'm so excited.
Fourth// Colombo Kimono // Size 2XL // Fit- Loose // $44 // Return
This was CUTE! It's so perfect for summer, just not my style. I feel like I wouldn't grab it as much as I would like to.
Fifth// Blossom Tassel Pendant Necklace// No Size// Fit Long // $28 // Return
I want to get it, but I know it would just sit on my necklace tree and not get used. I don't wear costume jewelry for my day job, so this definitely would just collect dust. I love the length though and the simplicity of it, maybe if I were more of a fashionista instead of a fashionista wanna be I'd keep it.
What would you have kept from my fix? Have you tried
Stitch Fix
before, if so what have you liked? If not,
sign up here
!