This post may contain affiliate or referral links, which means I may receive a commission if you purchase something using my link. It will be no extra cost to you. As always, thank you for supporting Getting Fit Fab.
Happy June! I can't believe how much the weather has been fluctuating, even though it's Spring the weather has gone up to 80 degrees and down to 50. Also, it still continued to rain from April to May, and hopefully June won't be as rainy! When the Spring & Summer seasons arrive I stick to wearing dresses, it's an easy way to have an outfit without putting pieces together. I always try and grab a few new dresses that I can rotate into my wardrobe. I found a few pieces at Old Navy but this dress has been so much fun to wear! I've also found the amazing New Colgate Essentials Toothpaste with Charcoal, I can't wait to see how it transforms my smile.

Floral Dress- April showers bring May flowers! Usually I don't do bright colors but I've realized I really like the floral prints and colors. It's a great way to brighten your mood wearing a bright color or something with a fun print. This dress is perfect, lightweight material, knee length, and it has a snap for the top.
Comfy Wedges- Whether it's for work or going out, always need a comfy pair of wedges! I love anything that can double for work and "play". I bought two pairs one black one white, so they'd go with anything! I also have a dressy pair of nude wedges for when I'm getting glam.
New Makeup- Makeup expires so definitely make sure the products you have are still good. Also, new makeup products get released monthly, so you may find a new product you like, or it's just time to repurchase Spring favorites. I love refreshing my eyeliner, mascara and concealer for the Springtime. I also switch out my eye shadow palettes, less earth tones and more bright colors.
Beautiful Smile- This is an all year round accessory that'll go with any outfit! I know I'm late to the game but I recently started using NEW COLGATE® ESSENTIALS™ TOOTHPASTE WITH CHARCOAL. I love my morning coffee and sometimes in the afternoon if it's going to be a long night. The New Colgate Essentials Toothpaste with Charcoal removes surface stains and impurities for whiter teeth and fresher breath! It also contains fluoride to strengthen tooth enamel and prevent cavities (I think everyone benefits from this!).
New Colgate Essentials Toothpaste with Charcoal contains micropolishers for a bright smile, and it's safe for daily use. Your smile will be your favorite accessory and you'll have a cooling mint flavor to match! You won't have to worry about breaking the bank with this toothpaste, it's available at Walmart! No need to splurge on expensive specialty toothpastes you can buy the New Colgate Essentials Toothpaste with Charcoal at your local Walmart from a brand you've known for years!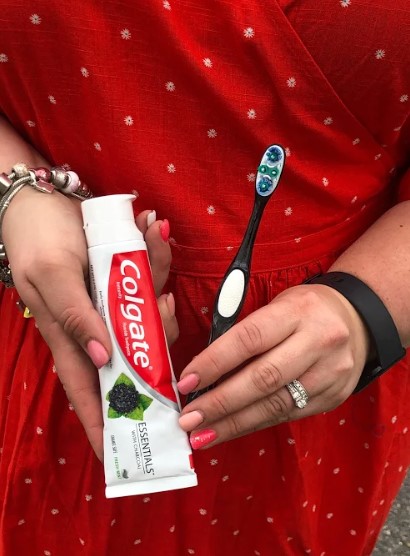 What is your favorite Spring Accessory? I can't wait to see how much my smile changes the longer I use the New Colgate Essentials Toothpaste with Charcoal!