This post may contain affiliate or referral links, which means I may receive a commission if you purchase something using my link. It will be no extra cost to you. As always, thank you for supporting Getting Fit Fab.
This post is sponsored by Sweet PotaTOASTS but the content and opinions expressed here are my own.
Recently, I started cutting down my portions of food as well as swapping out the typical meals or snacks for healthier options. Getting into a routine that puts me on the path to a healthy lifestyle doesn't have to be difficult. I've started with switching out soda for water, cutting my portions down (or in half), more vegetables, and less carbs. I will admit I love my bread, pasta, and rice. However, I also know that there are healthier options that'll help me reach my goals of being healthy & in shape!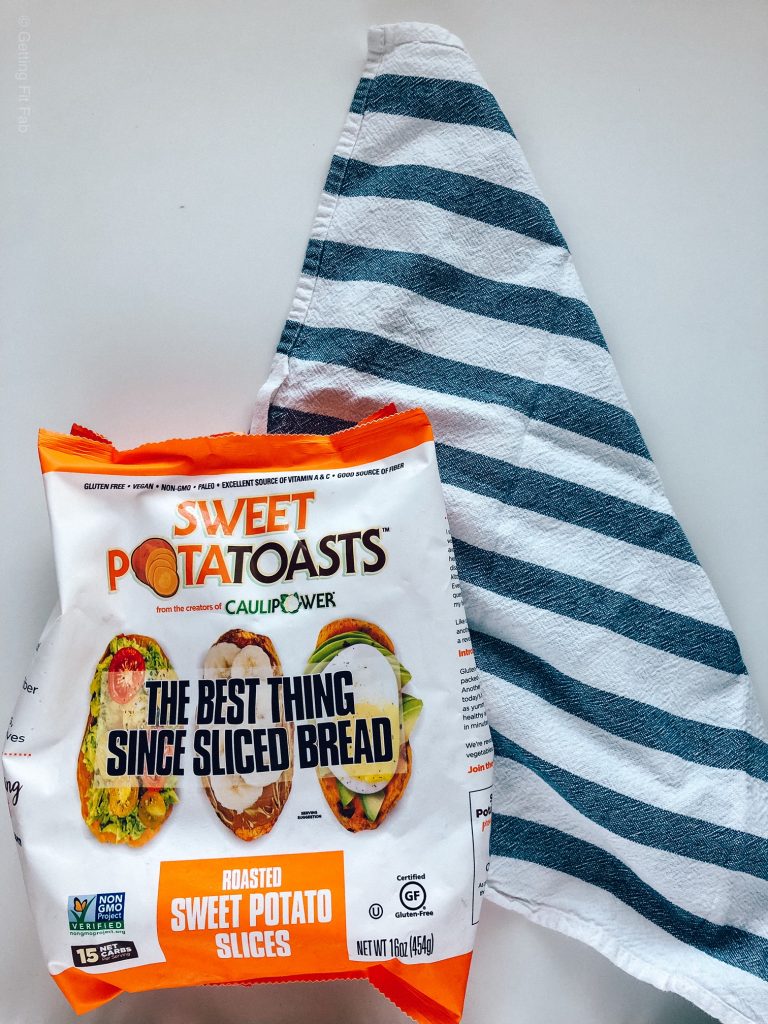 One of the swaps that I've done recently that has made the most impact, is Sweet PotaTOASTS by the makers of CAULIPOWER! It's pre-roasted sweet potato slices sold in the freezer section. So all you have to do is pop them in the toaster and you can top them with different delicious foods or eat them like toast! The choices are truly endless, which is why this is going to be a staple in my freezer. I'm all about making food choices be easier, with the Sweet PotaTOASTS by the makers of CAULIPOWER, you just have to put them in your toaster or toaster oven (like me), and away you go!
I will admit it took me a while to get on the sweet potato trend. I like them when they're mixed in with other vegetables or a stew. But this was the first time that I tried and LOVED how they came out for my breakfast! You can check them out in your local grocer and don't forget to click here for a $3 off coupon that makes this superfood toast replacement affordable and convenient. The Sweet PotaTOASTS by the makers of CAULIPOWER are an excellent source of vitamin A & C. Plus, they're a good source of vitamin B6, fiber, and are great options for vegan, paleo and gluten-free dietary needs.  
Toppings for your sweet potato toast: 
Go to Breakfast-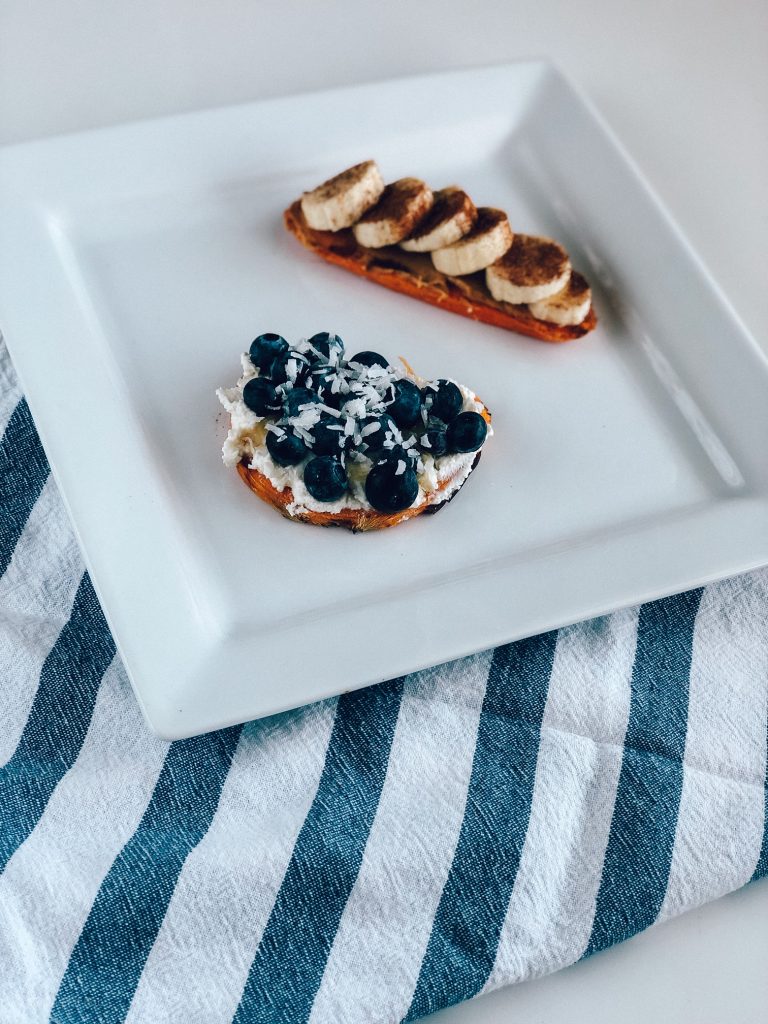 Bacon, Scrambled Eggs (or over easy), pepper to taste, and a pinch of salt. You could also use Everything but the Bagel topping. This is breakfast on a plate for me, I still get a balanced breakfast but instead of toast I use Sweet PotaTOASTS by the makers of CAULIPOWER! 
Any time snacks- 
Ricotta cheese with blueberries (or raspberries), coconut and honey. The sweetness from the honey and coconut make this into a perfect afternoon treat. 
Peanut butter, 1 banana, and cinnamon to taste. This could double as a snack or breakfast option. Either way it's delicious and I love anything with cinnamon on it.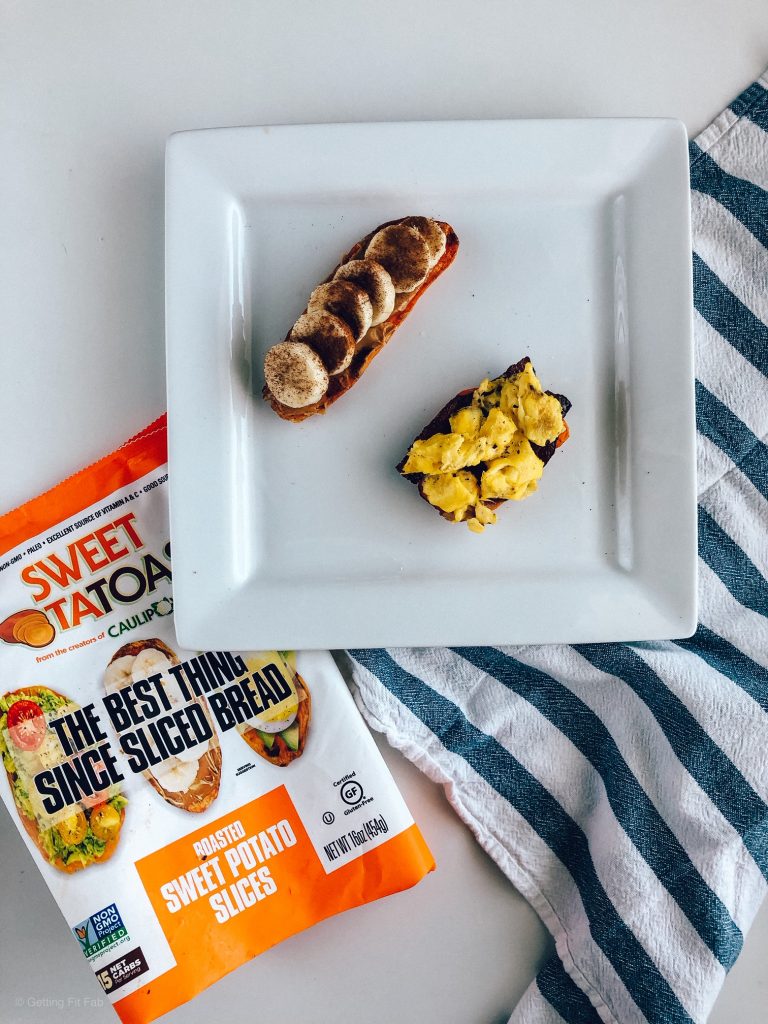 Lunch- 
Zucchini Bruschetta- I got this idea because in our garden the zucchini is growing the best and quickest! It's a few steps, 3 TBS unsalted butter in a pan, "shred" the zucchini with a cheese grater (the large diagonal holes), in a tea towel squeeze excess liquid from zucchini, salt & pepper (both to taste), and cook until tender and golden. You can also all shallots before the zucchini for some extra flavor, and you drizzle olive oil on top! The zucchini tasted delicious with the Sweet PotaTOASTS by the makers of CAULIPOWER! I let the toast cool (so you can handle it) before adding the zucchini to it, but it was perfect for a bread free lunch option. 
How would you top your Sweet PotaTOASTS by the makers of CAULIPOWER? I can't wait to try this with my very millennial style breakfast, avocado with eggs! Make sure you save the $3 mobile wallet rebate to your phone, keep your receipt and you'll receive $3 via PayPal! It's a digital coupon for your new found single ingredient bread replacement!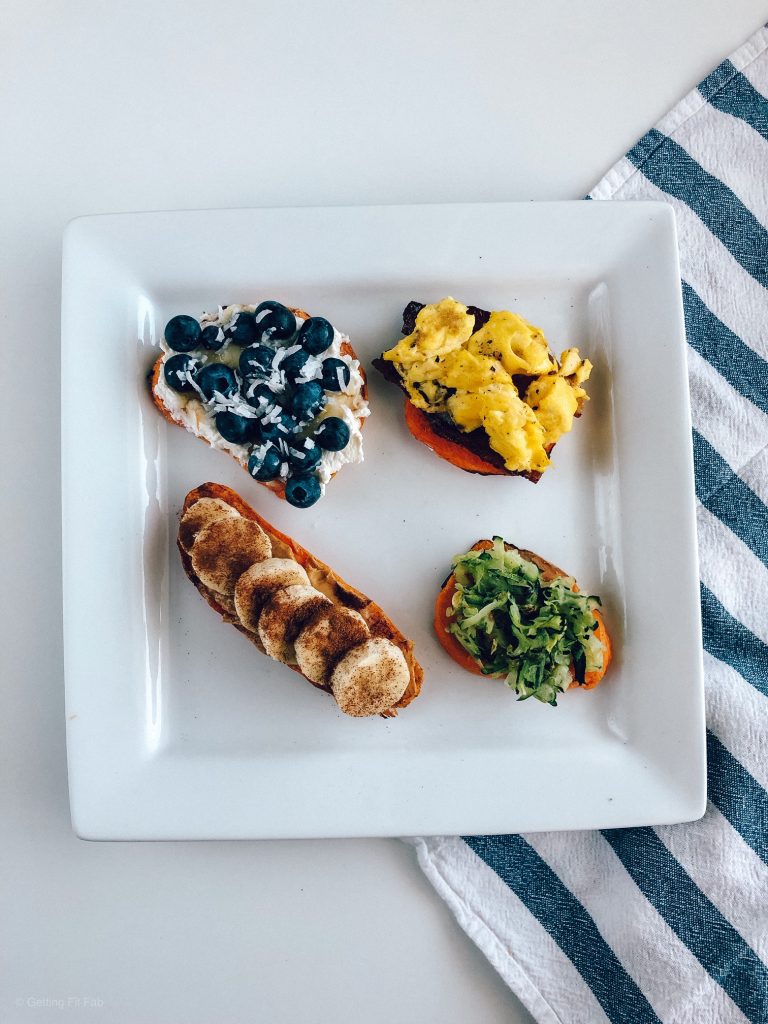 Also be sure you visit my Instagram page and answer the question on how you are going to top your Sweet PotaTOASTS by the makers of CAULIPOWER!