This post may contain affiliate or referral links, which means I may receive a commission if you purchase something using my link. It will be no extra cost to you. As always, thank you for supporting Getting Fit Fab.
Happy Friday! I have a jam packed weekend ahead of me and I'm so happy! I have my first ever brunch with the NYC Brunch Squad! I feel myself getting sick so I am hoping I can kick it quickly. I'm also hoping that I don't get sick or stay sick close to our vacation. Nothing like being sick on vacation! Cross fingers, and toes!
Now onto what I'm sharing today! My Top 10 Skincare Products from 2018! I really started to think about skincare, aging, and how to keep my skin looking its best! I figured out what works for my combo to normal skin, as well as the acne prone areas.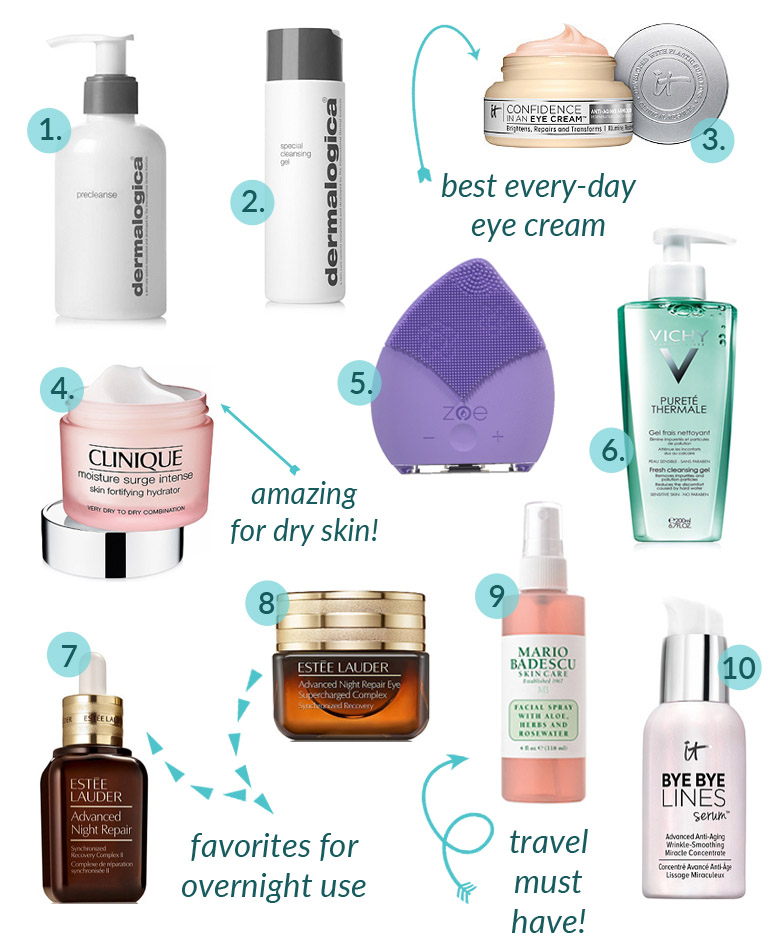 1. DERMALOGICA PreCleanse*– This is the precursor to the Cleansing Gel, it's so perfect. It gets deep in my skin and makes me feel like my skin is 100% clean before I go to bed.
2. DERMALOGICA Special Cleansing Gel*– this is my second step for cleansing my face. It rinses away the impurities and I really like how this doesn't dry my face out at all.
3. IT Cosmetics Confidence in an Eye Cream– Such a great eye cream for the day. I like the thick consistency, a little goes a long way. I feel like my dark circles and lines appear less dark and less noticeable. I have lines under my eyes, as long as they appear less when I apply makeup, the eye cream is doing it's job!
4. CLINIQUE Moisture Surge Intense Skin Fortifying Hydrator– UGH, for real? THE BEST Moisturizer ever. Adriana suggested this and it's fabulous. I use the smallest amount and I love how my skin feels. Especially in the winter, or after a long weekend where my skin is feeling extra . dry.
5. ZOE Sonic Beauty Device*– It's super gentle on the skin, I don't have a red face after using this, and I feel like the face washes I use work even better with this tool. The charge holds, forever, and it's really easy to rinse clean.
6. Vichy Pureté Thermale Fresh Cleansing Gel Cleanser Face Wash*– I use this with the Zoe Device and feels like it really gets my skin that deep clean. I like that it doesn't make my skin dry at all but combats the acne prone areas.
7. Estée Lauder Advanced Night Repair Synchronized Recovery Complex II – So 7 & 8 go hand in hand with each other. I received a few samples of both of the face & eye recovery products. I love that even though it has a consistency of a serum it doesn't make my face feel oily at all! I started using this every other night in the winter time, it keeps my skin hydrated and I can't wait to see what else it'll do for my skin! Over the summer I was using it every second or third night, my skin isn't dry in the winter time so it doesn't need to be hydrated.
8. Estée Lauder's Advanced Night Repair Eye Supercharged Complex Synchronized Recovery– This is like heaven in a jar. My under eyes can get dry and also with the lines they can become more pronounced if my under eyes aren't hydrated. My favorite part is that it repairs the damage from blue light, which comes from computers and our phones! I use this every night year round, you need like, the size of a pin head and you're good to go.
9. Maria Badescu Facial Spray – Besides the best travel facial spray, this is great for during the day if your skin is feeling dry or you want to appear refreshed!
10. IT Cosmetics Bye Bye Lines Serum– This can be used alone as a moisturizer, which is why I tried it in the first place. The consistency is thicker than a serum but smooths over the skin super easily.
The products with the * means that I received it in PR or for free at an event. Receiving these products have not swayed my review and I genuinely use these products in my daily life. I don't share products I don't use religiously or love enough to buy with my own money.
Do you have any skincare that's your go to that you always repurchase?