This post may contain affiliate or referral links, which means I may receive a commission if you purchase something using my link. It will be no extra cost to you. As always, thank you for supporting Getting Fit Fab.
I can not believe January is actually over! For a month that genuinely goes slow, it didn't go as slow as usual! It has been COLD (albeit not as cold as other places), but it's cold for Long Island at this time, but no snow, I'll accept it. We have only one month left until our Europe vacation, and I am SO excited. I have a few posts lined up for this month, as well as March while we're gone.
January Highs: Celebrated a friend's 35th birthday in Huntington, after going to church, dinner and hanging out at a bar watching football games. We had a great night out together, fun dancing and catching up with friends. We celebrated my cousin (to-be) Kayla at her bridal shower, it was so much fun spending time with family and showering her with gifts.
CA had a 10-mile run, he smashed it, he was so very close to his goal, he'll do great in his upcoming half marathon! I went bridesmaid dress shopping with one of my best friends Philisha. She's getting married in June so we just had to finalize the dresses, and she bought her slip for her dress!
I went to my first NYC Brunch Squad event! It was at a small little place called While We Were Young in Greenwich Village. It was so much fun to talk to some amazing women, eat some delicious food, and just socialize. I'm hoping to go to the next event for Galentine's Day, but I think I may be stretching myself too thin.
January Lows: It's been insanely cold! Again not as cold as anyone that dealt with the Polar Vortex, but negative temperatures isn't what I'm used to at all. I was also a little sick, just a plain cold but I was more worried about it turning into something much worse, and getting anyone else sick. I still have a lingering cough but I'm feeling better than I was a week ago. I was also going to start working out daily but that didn't work because I was sick and was feeling horrible. I'm hoping to make February the month of working out before we go on our vacation.
January Faves:
I had eyelash extensions done, by my friend Kimmy who's been like a little sister since we first met 10+ years ago. I LOVE the fact that I don't need to put mascara on my top lashes, but it's been a bit annoying trying to do eyeshadow with them. I plan on writing a post all about the extensions if you're on Long Island this is her Instagram! Week 2 just passed so I'm going to just let the lashes naturally fall out.
I discovered a few new Podcasts, How I Survived– different topics on how people survived horrific experiences, If I'm Being Honest (by fellow blogger Katie Crenshaw)- is a mom who's talking about all the topics no one likes to talk about, Monster– originally Atlanta Monster joins Up & Vanished host and they talk about the Zodiac Killer. I am a True Crime fan so 80% of my podcasts are about True Crime and the rest are bloggers, and inspirational.
Even though January is a usually slow month, I did have a lot of sponsored work, which I'm proud of! Starting off the year with Sponsored work was a great push to keep me motivated and on time with deadlines.
H&R Block– filing taxes with peace of mind.
Climate Right– 5 fun things to do in the winter time!
Planet Fitness– Planning for fitness and health goal success.
Babbleboxx Fitness Box– Staying motivated to workout even when you don't want to. (pointing to myself LOL)
Healthy Choice– 5 Easy Ways to be healthier in 2019, these are delicious power meal bowls and I have some more stacked in my freezer.
Left Field Farms– 5 Ways to have a Productive Morning- I wake up between 5 am and 6 am to get blogging work done before my day job starts, these tips can help you!
Celestial Tea–  5 Tips for Sleeping Better at Night- you can't have a productive morning or day if you don't sleep well!
Obviously… I liked the number 5 this month LOL
Friday Faves –
Instead of having two separate posts on Friday I'm sharing everything in on. January is a very long month with very little exciting things haha. I wanted to share my favorite drugstore/affordable makeup that I use daily, and think it's worth spending money on.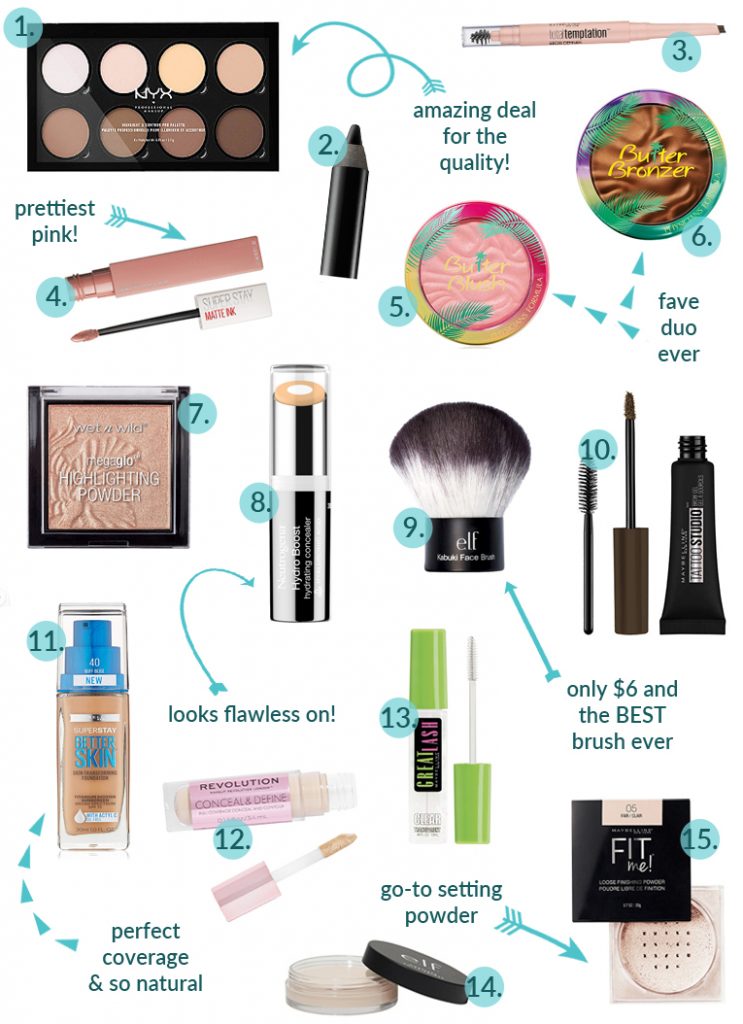 1//2//3//4//5//6//7//8//9//10//11//12//13//14//15
Even though I am a lover of high-end makeup, especially eyeshadows, I like to save some money too! Let me know if any of these products are on your faves list too, or if there is something I should add to my list!
So a new favorite is the ELF Putty Primer– even though this is a new product it's almost an exact dupe for the Tatcha primer. It's only $8, and it makes the skin feel silky smooth! The Maybelline Superstay Better Skin foundation is my everyday go-to foundation. It's not full coverage, but it gives a nice even look without looking like you're covering up everything. If you pair it with the Neutrogena Hydro Boost concealer you'll have a great natural look! If you need something more full coverage concealer, use the Makeup Revolution Conceal and Define concealer, it covers up blemishes, dark circles. It'll give you the full coverage look without using a full coverage foundation.
The Maybelline Fit Me Loose Powder is great for adding coverage without getting a possible white cast from normal setting powders. I also use this on the days I just use concealer under my eyes and just want an even tone base. I know it's a beauty favorite but OH my GOSH I LOVE Physician's Formula Butter Bronzer & Butter Blush. Besides the fact that it smells like a tropical island, it performs beautifully. The light bronzer & bronzer shades are really great for my skin tone and don't look grey. This Wet 'N Wild highlighter, oh em GEE is it gorgeous, it's not glittery and it has the right hue to give you that stunning highlight. This NYX Palette is good for traveling, and the different colors and options are great if you're a minimalist and need something that travels well. You can also use one of the brown shades as an eyeshadow in the crease, just to give an extra pop to your look, I learned this trick from Meg O- from Meg O on the go, she always has quick get ready looks!
I fill my eyebrows every day unless there's zero chance I'm leaving the house. My brows are sparse and thin from waxing and tweezing so much when thin brows were the in thing. The Maybelline Total Temptation pencil is creamy, not waxy and great for a quick fill in. The Brow Tattoo Studio is perfect for adding color and setting the brows in their place. If you want to just fill them in and set them with clear you can use the Great Clear Mascara so you don't add color, plus you can use this on your eyelashes too for a natural look! The Soap & Glory eyeliner is my go to, the pencil is super long so it lasts a very long time and doesn't smudge on my contacts! This ELF kabuki brush is great for any loose powder your using, and I love the Maybelline Superstay Lipstick, it truly stays all day with minimal touch-ups!