This post may contain affiliate or referral links, which means I may receive a commission if you purchase something using my link. It will be no extra cost to you. As always, thank you for supporting Getting Fit Fab.
This Healthy Frozen Berry & Granola Bark will become your new favorite way to enjoy yogurt during the hot summer. It's quick and easy to make, great to make for a brunch or just a weekly snack or breakfast. It's like eating a frozen parfait!

This post has been Sponsored by Danone but the content and opinions expressed here are my own.

I generally am the type of person who loves yogurt, for a snack or for breakfast. I also like finding healthy snacks to eat, something that I can make ahead of time, plus easy to make. Sounds a little hard right? Maybe not! Yogurt is a blank slate for you to use to create new and fun snacks. I am a fan of yogurt, it's a great snack, breakfast option, and it can even be used in baking, the options are endless!

When picking your yogurt, there's no better choice than Dannon Whole Milk Plain yogurt 32oz from Walmart! It's a great source of Vitamin D, Calcium and protein per serving. Dannon is also non-GMO project certified, these are all positive reasons to try out Dannon. As a member of the B Corp Community, Dannon proves that there is a better way to do business! Whether you're looking for healthy ways to introduce more protein into your diet or just making healthier choices all around for what food you put into your body. Look for this yogurt on the bottom shelf of your yogurt aisle.

This yogurt bark can be made anyway to your liking! I love berries and granola, it's like a parfait in frozen form, can't get better than that! If you need different ideas you can use the Dannon Low Fat Vanilla Yogurt for some flavor, as well as vanilla flavored granola. If you want it to be a little less healthy you can add mini chocolate morsels, or melt chocolate and have it swirl with the fruits! I would also love to make this with bananas and strawberries with a little bit of chocolate, YUM! The possibilities are endless,


One tip before you start making this, is make sure the pan you use will fit into your freezer! I used a pan that was 11×7, it has a high lip so that the yogurt won't run anywhere.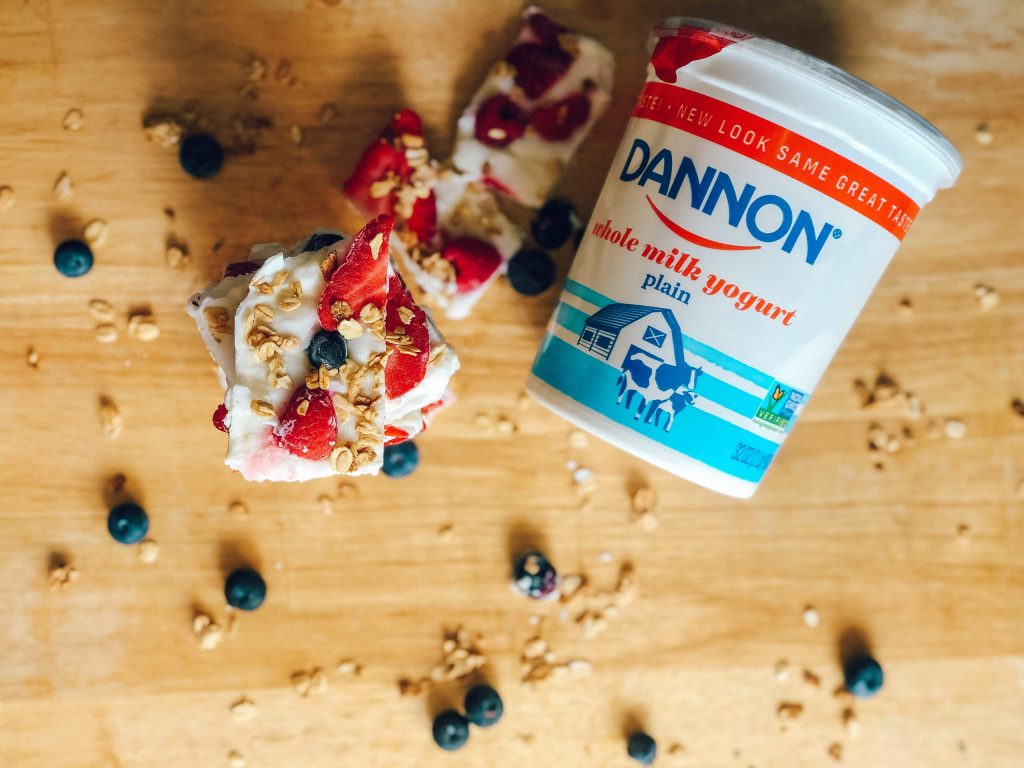 Quick & Easy Recipe:

Ingredients:
500 g Dannon Whole Milk Plain Yogurt  or Dannon Low Fat Vanilla Yogurt 
2 Tsp of Honey – extra for drizzle
8 oz of Blueberries
8 oz of Raspberries
16 oz of Strawberries – sliced
Granola slivers to taste


Instructions:

Prepare your baking sheet with parchment paper
In a large bowl combine the yogurt and 2 tsp of honey
Sprinkle the blueberries and raspberries
Slice the strawberries and spread them on the yogurt
Add in granola to your liking
Drizzle any amount of honey you'd like
Place in freezer for 3-4 hours or until the mixture is has frozen together
Before serving, either break into pieces or cut with a sharp knife
Enjoy!

Let me know if you try this recipe, and what fruits you include! Check out both Dannon Whole Milk Plain Yogurt and Dannon Low Fat Vanilla Yogurt both in store at Walmart or by using Walmart grocery pickup!