This post may contain affiliate or referral links, which means I may receive a commission if you purchase something using my link. It will be no extra cost to you. As always, thank you for supporting Getting Fit Fab.
BBQ season is looking a bit different this year, but it doesn't mean we can't enjoy some of our favorite BBQ foods. I've always loved the normal BBQ foods, but the appetizers and different dishes are always a treat. I also like creating different dishes to bring to friends or family when we do see them again. Do you have a go to dish? I love Mexican Street Corn, it can be on cob, in a regular dish, but I wanted to make it just a little different, Nachos! There's always a fun dip that can be made, but Mexican Street Corn Nachos is the dish and the fun all in one!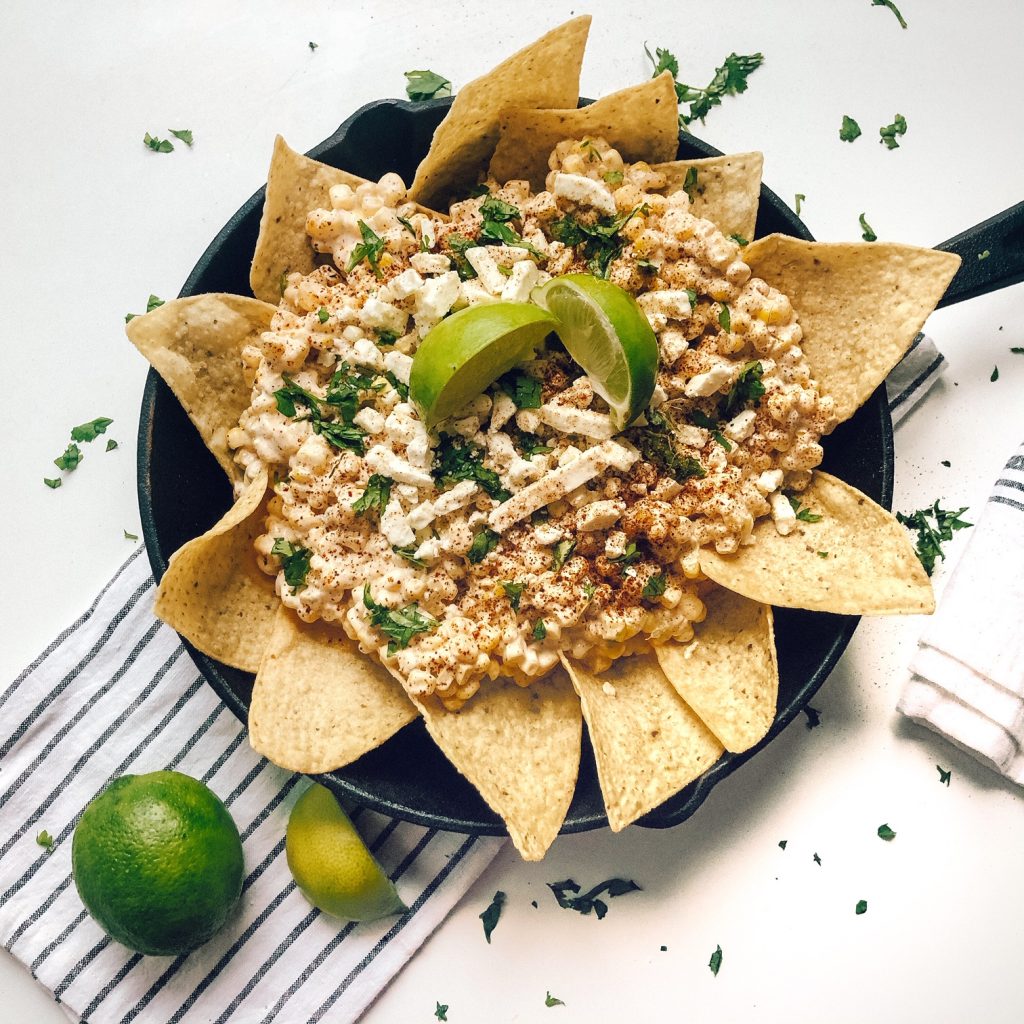 When things go back to normal, and you can see family and friends you can wow them with dish! I don't like spicy foods so even though Mexican Street Corn has some spice in it, I'm not including it in mine, but you can in yours! I know there's also a few different ways to make Mexican Street Corn, but I really loved the mix of a nacho style dish with a different type of topping.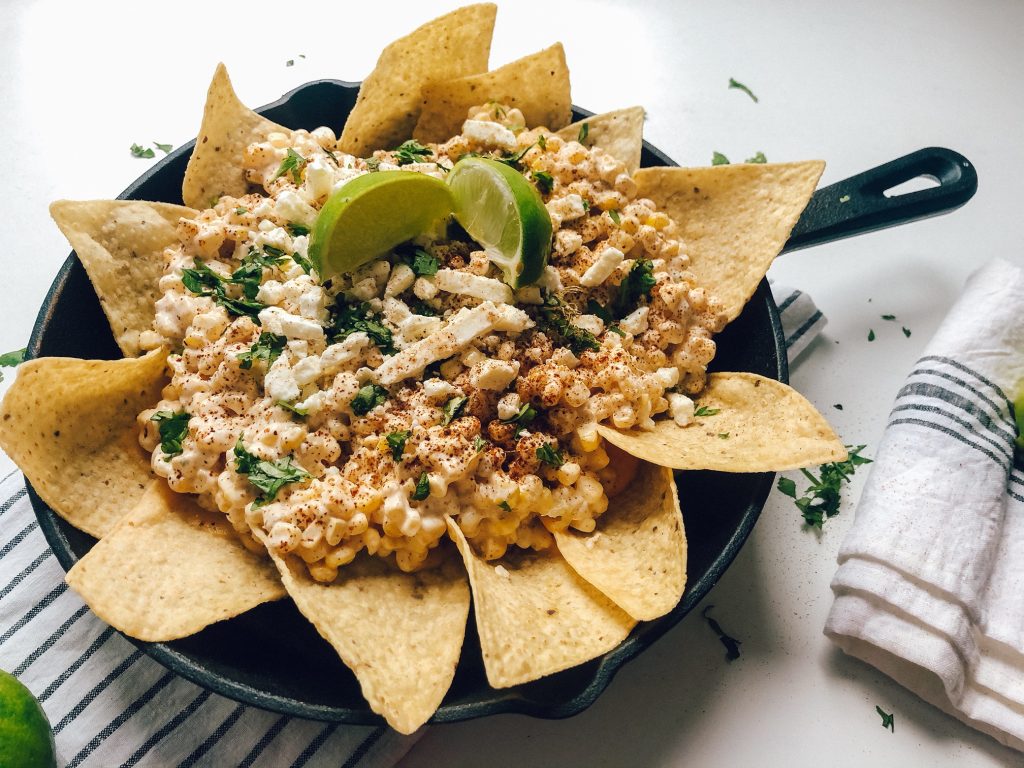 Ingredients:
5 Corn on the cobs (you can also use frozen corn)
2 tbsp of Butter
3 tbsp of Mayo
3 tbsp of Sour cream
2 tbsp of Chili powder + extra to sprinkle on tpo
8 oz Taco Mix Cheese or Monterey Jack – shredded
1 cup heavy cream
1 tbsp cornstarch (or flour) +/- for thickening of melted cheese
1 tbsp of cilantro (one small bundle)
Salt & Pepper to taste
1 – 14 oz bag of tortilla chips
1/4 cup of Feta crumbled
2 Limes (one cut into wedges, one for lime juice)
Cayenne Pepper to taste (I didn't include this in mine) 
Directions:
On a grill or stove top, add the butter and lightly char the corn on the cob. Turning to char evenly, so all sides just started to char lightly. Cut the nibs off the cob and let cool.
In a sauce pan, mix the heavy whipping cream and shredded cheese together until it completely melts.
Mix the corn together with mayo, sour cream, lime juice, chili powder, and set aside.
Place the nachos on a serving dish, pour the cheese over the nachos, top with corn mixture, feta crumbles, lime juice, chili powder and cilantro.
Serve & Enjoy!
This can be easily doubled for a larger family, or for a small BBQ gathering.
Do you link Mexican Street Corn? Let me know if you'll try this out!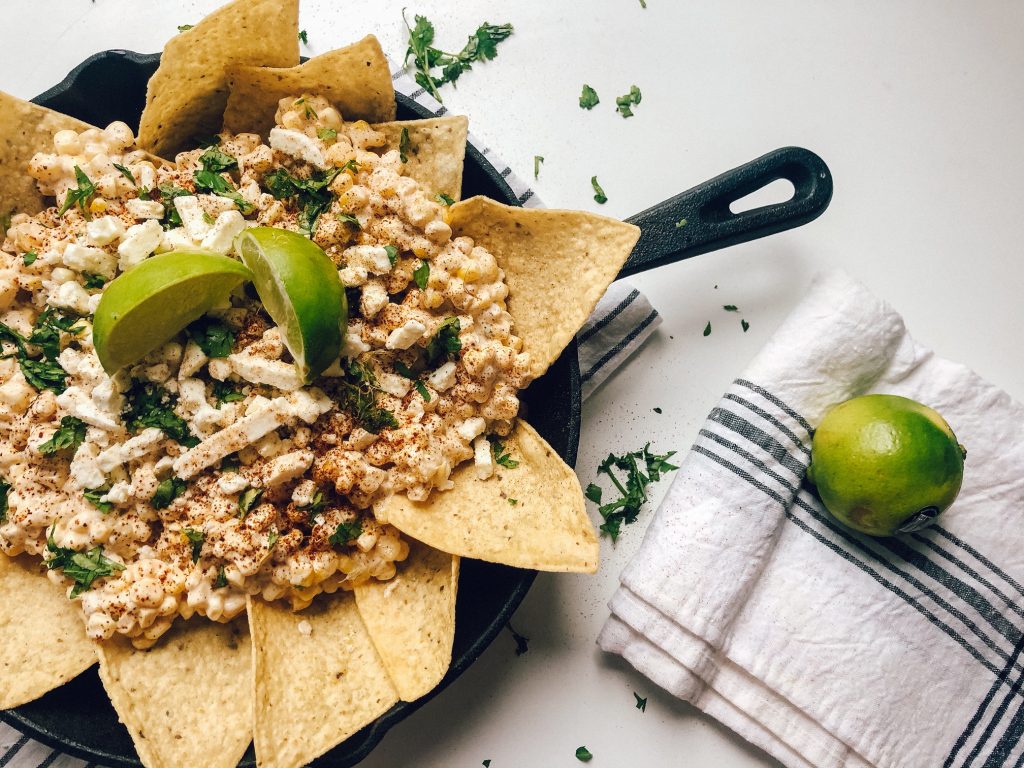 So the fun part of this is the other women I've teamed up with! We're all sharing our favorite BBQ dishes to make on our blogs! I've linked their blogs & Instagram, make sure you check them out! 
Kayla- Blog / IG
Stephanie- Blog / IG
Sylvia- Blog / IG
Laura- Blog / IG
Lisa- Blog / IG
Renee- Me! / IG
Courtney- Blog / IG
Bria- Blog / IG
Danielle- Blog / IG