This post may contain affiliate or referral links, which means I may receive a commission if you purchase something using my link. It will be no extra cost to you. As always, thank you for supporting Getting Fit Fab.
This post was sponsored by Nature Made® as a part of an Ambassador Program for Influence Central. 
All opinions are mine alone.  Thank you for supporting the brands that support Getting Fit Fab.
#NatureMadeatWalmart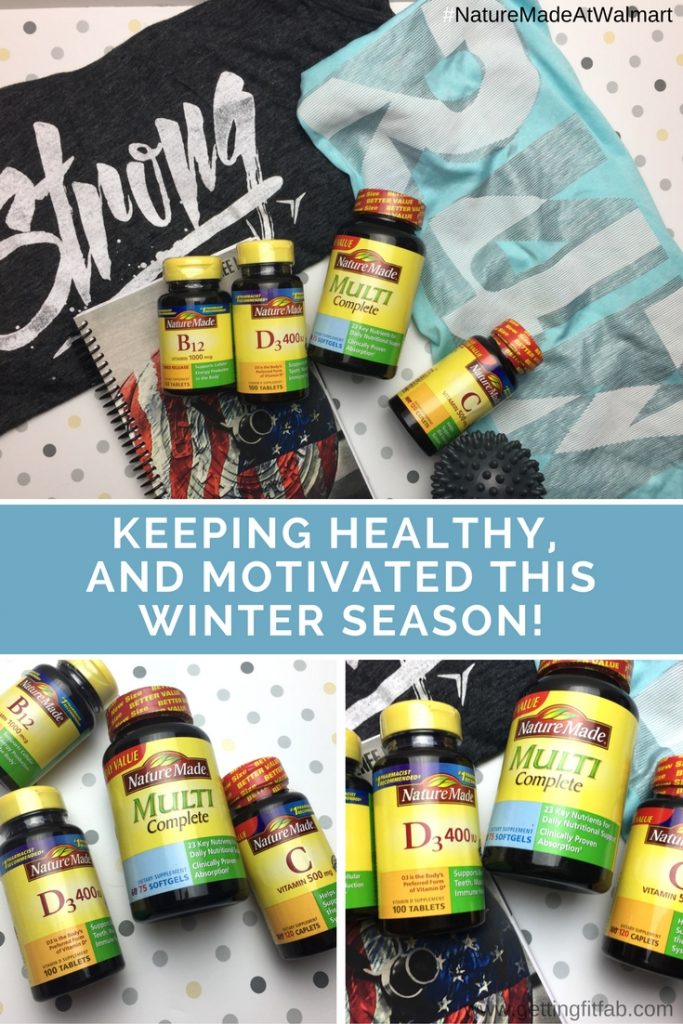 Since I've been training for the 10 miler in January and Half Marathon in March I've taken a focus on making sure that I take vitamins and supplements that will help my body and immune system. Being able to withstand the training I'm going to be doing until March, this is a priority. I've tried to run a half marathon before and I didn't focus enough on went into my body. I need to be healthy inside as much as I'm trying to make the outside healthy. I've trusted Nature Made® to take care of my digestive system with Pro-Biotics and I'm confident it will keep me healthy throughout this upcoming winter season.
To be completely honest, I always get sick during the winter time, and it's not fun. It always hinders my ability to workout, which isn't going to work this winter. Therefore, in addition to my Pro-Biotics, I've added B12, C, D3, and Multi Complete all from
Walmart
! I love that I can go to
Walmart
at any time and pick up vitamins or supplements to add to my daily regimen. 
Walmart
has everyday low prices on Nature Made
®
 items, so it's easy to stock up and save, there's no need to wait for a sale. My
Walmart
is close enough to my home that I can stop in at anytime and make sure my immune system is taken care of and that my workout gear is on point!
Nothing is better than that right? Go shopping for new workout gear and restock my vitamins and supplements to keep motivated. I always need to be motivated; extra pushes of motivation is what gets me through the days I don't want to crawl out of bed
at 4:10 a.m.
, or run the allotted miles my coach assigned to me for that day (or sometimes week). My goals, have always been either met or pushed away by motivation, or lack thereof. This 10 miler
on 1/14/17
, is a huge goal that I've been wanting to accomplish for the past 3 years, the half marathon
on 3/11/17
has been since I've started running almost 4 years ago. Luckily with the help of Nature Made
®
  vitamins, my husband CA, my run coach, and
Walmart
I am able to commit 100% of myself to this amazing journey and I couldn't be more excited for the coming months.
B 12– Supports cellular energy production in the body.
C – Helps support the immune system
D3– Supports Bone, Teeth, Muscle & Immune health.
Multi Complete- 23 Key nutrients for daily nutritional support. 
What keeps you motivated during the long training season that is running season? Tweet me at : @GettingFitFab 
*Based on the 2016 U.S. News & World Report – Pharmacy Times Survey.
†This [These] statement [statements] has [have] not been evaluated by the Food and Drug Administration. This [These] product[s] is [are] not intended to diagnose, treat, cure, or prevent any disease.