This post may contain affiliate or referral links, which means I may receive a commission if you purchase something using my link. It will be no extra cost to you. As always, thank you for supporting Getting Fit Fab.
This post is sponsored by Glucerna but the content and opinions expressed here are my own.
It's no secret that I've battled with weight loss and I know there are certain things I can do to help my weight loss. Battling weight loss troubles ties in with being pre-diabetic and diabetes is such a life-altering diagnosis. Managing blood sugar is not an easy feat, it means planning out your daily meals and snacks. Knowing the signs of when your blood sugar is too low, which can lead to a dangerous situation, if you aren't able to bring the sugar level up to normal.
I've learned ways to manage my blood sugar, with planning, recipes and adding Glucerna into my daily life. Glucerna is Carbsteady which means it has slowly digestible carbohydrates designed to help minimize blood sugar spikes. Replacing Glucerna with my breakfast meals has given me more confidence that my blood sugar from my breakfast shakes helping me until my mid-morning snack. Glucerna is one of the choices I've made to help manage my blood sugar, this makes the thought process easier. If it's a busy morning I can grab Glucerna and I can go on my day, being able to worry about blood sugar and concentrate on other things going on in my busy life. I'm sharing the other ways I manage my blood sugar and I hope one of these can help you!
1. Healthier Recipes – I've always tried to prepare healthier recipes, not only for my blood sugar but also to keep my family healthier. I am sharing a simple sheet pan recipe but if you need a variety that can help manage your blood sugar visit this site.
2. Glucerna – As I mentioned above this is a great way to manage your blood sugar on the go. I know I can be "guilty" of grabbing something that isn't as healthy as Glucerna. Being unhealthy or just not as rounded with nutrition that I truly need especially in the mornings before I start my day for work. Save $1.00 on Glucerna® Products for any shake or snack bar variety, 4 or 6 ct. pack only.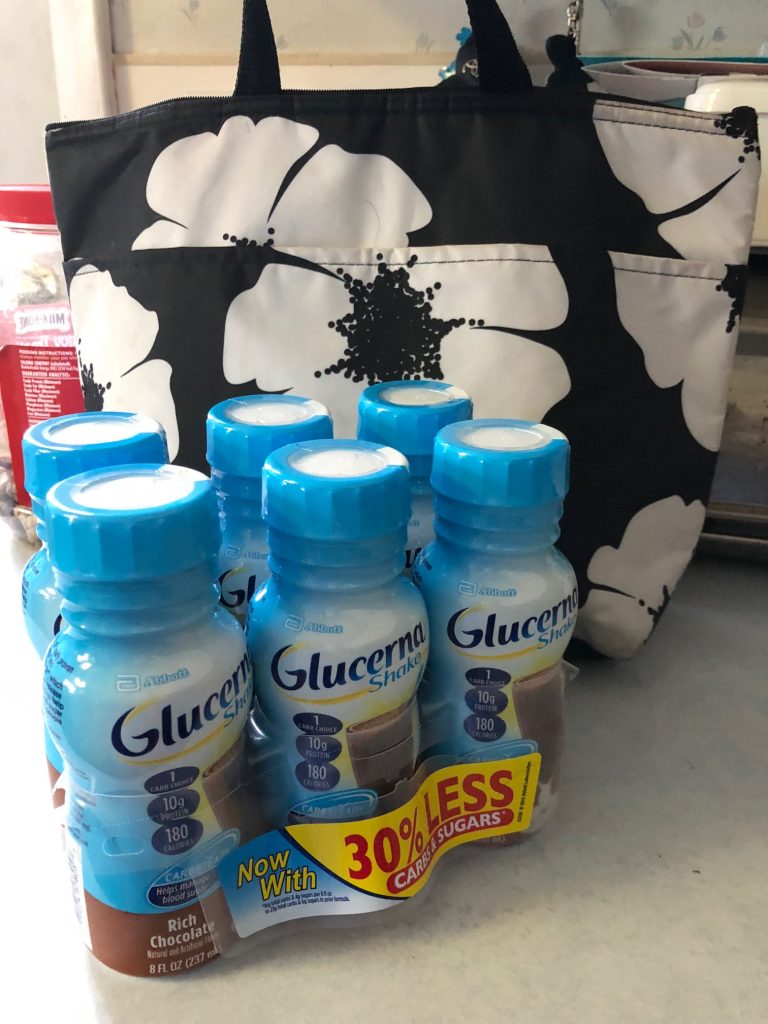 3. Meal Prep- This is HUGE, just huge in managing blood sugar. Having your meals set for the week or at least 3-4 days can take the unknown out of the equation.
4. Snack Smart- Managing your blood sugar usually means having 6 small meals instead of 3 larger meals. Blood sugar can spike, go too low, fairly quickly and not knowing the signs can lead to a potentially dangerous situation. I always have a low-calorie snack on hand, a protein bar, or some type of snack. There are such a wide variety of snacks that are available to people that are pre-diabetic or diabetes, and nutrition can make a huge deal in managing your blood sugar.
5. Exercise – It doesn't have to be an intense training session, walking 20 minutes a day can help you towards a healthier life. I always try to walk 20 minutes a day (my dog Thor enjoys these walks) even if I can't go to the gym or run. I know that when I exercise I am taking another step to becoming healthy and managing my blood sugar more.
Recipe: (Please note that while this recipe/meal plan works for me, you should consult your healthcare provider for a meal plan that works for you if you are pre-diabetic or have diabetes.)
4-6 small red potatoes halved
2 large carrots, sliced & halved
1 head of broccoli, cut into small florets
2 bell peppers, chopped
1 package of sweet sausage, sliced
1/2 cup of olive oil
1 TBS parsley
1 TBS oregano
1/2 TSP garlic powder
salt & pepper to taste
Serve with: fresh parsley, quinoa/rice, lots of freshly grated Parmesan cheese
Instructions:
Preheat oven to 400 degrees F.
Line a large sheet pan with silicone baking liner (aluminum foil or parchment paper is also fine)
Prep veggies: slice & half carrots, chop the broccoli into small florets, chop peppers into squares, half potatoes twice (the smaller they are is better for baking), and slice sausage.
Place sausage and veggies on the sheet pan. Drizzle olive oil and spices, toss to coat evenly.
Bake for 10-15 minutes, remove and toss veggies & sausage. Replace in oven for another 10-15 minutes until veggies are tender and sausage is brown.
Enjoy with brown rice, quinoa if desired. Plain is just as delicious!
I also remade this recipe with squash, zucchini, asparagus, and peppers. Tasted amazing! This is the perfect dish to mix and match your favorite vegetables for a quick dinner! The rice or quinoa can be made while this is baking in the oven, perfect for when you don't want dinner taking forever.