This post may contain affiliate or referral links, which means I may receive a commission if you purchase something using my link. It will be no extra cost to you. As always, thank you for supporting Getting Fit Fab.
I've probably typed this blog post out a few times, never figuring out how I actually want to take this post. After talking to my friend Chelsea about blog posts that we were planning out for the upcoming weeks, I knew I wanted to write about makeup. But what would it actually be about, I'm not a makeup artist so my tips or tricks would be things I've learned from other bloggers or watching YouTube videos. That doesn't mean I don't have things to share for anyone that may be experiencing with makeup. Or just want to see something done by a regular person with no professional makeup experience.
Than it's me you're looking for ;). I've loved makeup since I was little, I used to put makeup on my mother when I was 5, her eye shadow was usually blush and was different colors, LOL. My makeup collection has grown over the years which is why I am doing a project pan for 2019. Which leads to what this blog post is about! My Daily Makeup Routine, which is made up of makeup I've been using for at least 3 months if not longer! Some of this makeup I decided to start using because of Project Pan, other makeup was because I love it and have repurchased it (and need to use it lol).
This is literally my makeup routine, depending on how easy it is to fill in my eyebrows and if I decide to wear eye shadow. If I just do the routine without eye shadow it'll take about 10 minutes, since I use the makeup daily I have it in a big makeup bag so everything is together! Now onto the routine! I promise it's quicker and easier than it sounds and looks.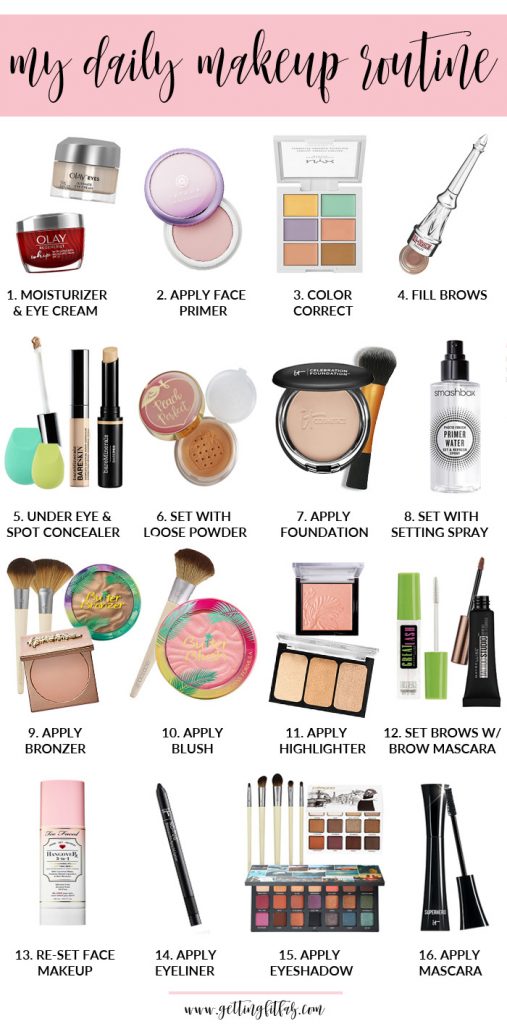 Brushes/ Sponges- I have so many brushes but I had to narrow it down to what I needed to use daily. 

What are your ride or die makeup products? Do you try and rotate them every few months to give new releases or old favorites a try? Let me know! 
Shop all of my daily makeup products here!