This post may contain affiliate or referral links, which means I may receive a commission if you purchase something using my link. It will be no extra cost to you. As always, thank you for supporting Getting Fit Fab.
Happy almost Friday ladies! It's one more day to wake up and than it's Friday. Since I will be planning my wedding from now until the day everything is DONE (ie: June 4, 2016); I wanted to designate one day per week to JUST wedding talk. Since this is a life style blog I don't want to over whelm anyone with wedding talk so one day a week will suffice and I am hoping for this to grow as a link up! 🙂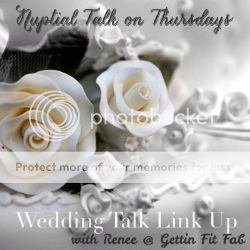 Since I've known about CA having the ring I have been planning both major and minor details of our wedding. I know the date of the wedding June 4, 2016; it is an important date to my self because my grandparents were married on that date and were married for 50 years before both of them passed. It falls on a Saturday in 2016 and I am hoping that we can find a venue that won't break the bank in order to have a fabulous wedding.
Ah venues, the most expensive part of most weddings, and the one thing I am stressing most about. CA and I are actually going to check out a venue tonight, it's part of a hotel and can accommodate my large family and our (most likely) huge wedding. It is close to our homes, only 30 mins away from the church and is on a golf course. So the costs of having the party bus (large wedding party also), and photographer (CAs friend and quite possibly a very good friend of mine Amanda) will cut down some cause of traveling time will be minimal. My family is about 111, if you include CA's family, our friends, and co-workers, you have around 275-325 people. We will be cutting the lists down to people that we'd be upset if they weren't there. Unfortunately I can't have all my friends, or people that everyone else wants but the list has to shrink some and most likely will have to be cut down to a reasonable size; by reasonable I mean like 275 and that's it.
With knowing that our venue will be the most costly CA and I are looking at different ways to cut out costs that aren't truly an "OMG that MUST be in our wedding"! So far the all the stationary I will be using an online site and using coupons that they send to me. I will also be addressing and stuffing them my self, with the help of anyone who's willing to help me (wine and pizza will be provided). The bridal store I am going to shop at has coupons or deals for almost everything, my cousin got her dress for $800 & her veil $250. They took good care of her when she went and they were super nice, so I will be heading their around January 2015. I am going to lose as much weight as possible from now until January so when I do go and try on dresses I won't (hopefully) have to make as many alterations.
The TWO things I want most at my wedding and will have to be seriously convinced that I can't have them are my Rolls Royce and Videographer (or Photo Booth). Most little girls dream of her wedding right? Right, so this little girl has been dreaming of driving up to the church in a Rolls Royce…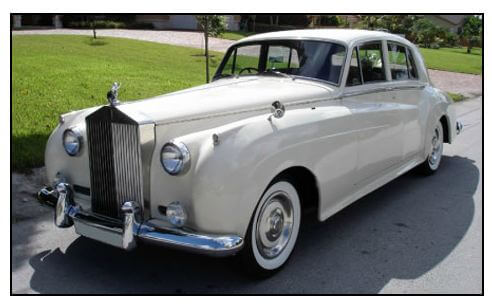 Ya know, the old fashioned gorgeous car, my dress packed into the car and my mom and dad sitting with me. My cousin had one when he got married when I was 16, and I just fell in LOVE with it. I am hoping that since I only want it to bring me from home to the church and than to snap some picture of CA and I in it; than sending it on it's way back to the company. So like 2-3 hours max, CA and I would be traveling on the party bus with the wedding party after those pictures are snapped to the reception. That is ideal, we still don't know the venue location yet so we will be figuring out details as we go.
The photo booth/videographer, it'll be ONE or the other, not both, and maybe not either. I would love to have a video of our wedding especially the reception, but since I will have an amazing photog (or 2) I know that enough pictures will be taken and the day will be forever embedded into my memory. I love the idea of a photo booth, I've seen SO many weddings with so many pictures from there. The bridal party, the bride & groom, just everyone having a ball with the props. BUT at the end of the day I won't compromise my having my dream car over an additional thing to take pictures or video. I am trying to be as realistic as a bride can be… wow just called my self a bride, I think it's starting to set in.
Even through ALL of that jazz, and more that I didn't even begin to start scratching the surface of. I know one thing, that CA is my true love, he's the ying to my yang, and is the calm in my storm. I am so anxious, easily stressed, and basically nuts… but he's calm cool and collected. At the end of this crazy & hectic journey all that will matter is that I married CA, that he is my husband and we are happy together.
Next week, engagement party… and why I want to have one. ♥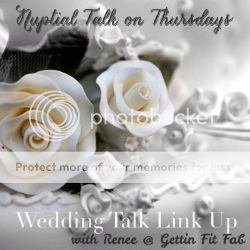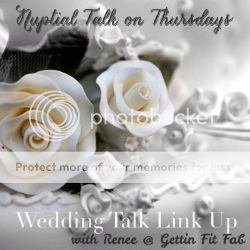 document.write(");