This post may contain affiliate or referral links, which means I may receive a commission if you purchase something using my link. It will be no extra cost to you. As always, thank you for supporting Getting Fit Fab.
This post is #sponsored by Yoplait Plenti Greek, all pictures and opinions expressed are my own.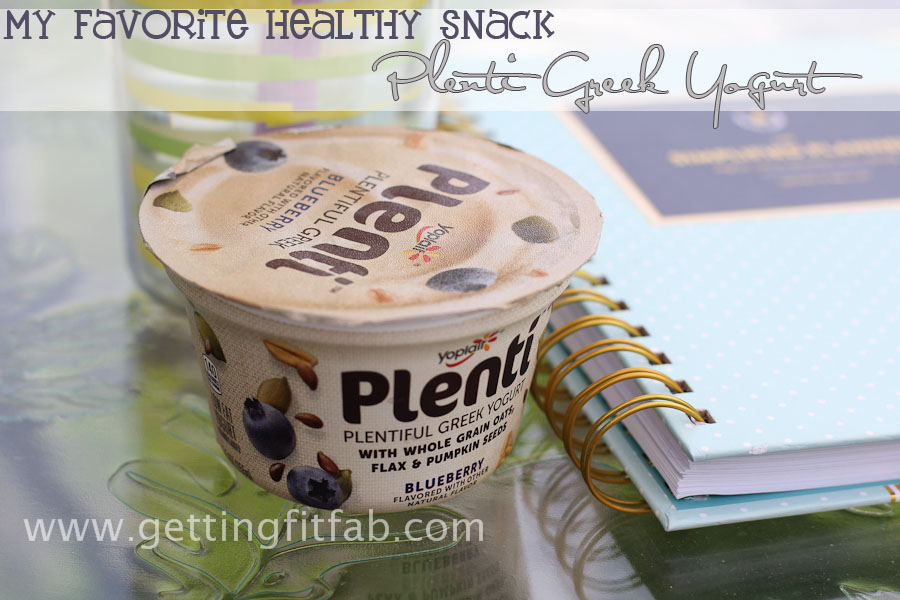 Getting back on the lose weight train hasn't been the easiest of tasks. Eating better is turning out to be easier than getting into a workout routine. Starting this coming week I've made a vow with my gym partner to hit the gym at least 5 days a week. Luckily I also have CA to back me up, well actually to kick my butt to workout. If I don't go to the gym (which is bad), I'll be walking around my neighborhood, takes basically the least amount of effort.
Eating healthy is good, especially when you have good snacks to hold you over through meals. That's where Yoplait Plenti comes into play! Yoplait came out with an amazing new Greek yogurt, it's not only delicious but the protein to sugar ratio is 1:1. Each flavor has 12g of both protein and sugar, along with whole grain oats, fruit, flax & pumpkin seeds mixed right in. There are a total of 8 delicious flavors to choose from: Black Cherry, Blueberry, Coconut, Peach, Raspberry, Spiced Apple, Strawberry, and Vanilla.
Keeping healthy isn't always easy, at work or even at home. Having a healthy snack that is also delicious is necessary to stop the snacking of unhealthy foods. At home I always find it harder to snack healthy, with all of the extra goodies around my house. Having Yoplait Plenti definitely helps curb my appetite and I also feel zero guilt because it's a healthy snack.
I love snacking on Plenti as my midday at work snack, with the 12g of sugar I get an extra "shot of energy" to help me get through the rest of the day. I love the "add ins" they have in the yogurt, especially the fruits, it adds to the deliciousness of the snack.
From the Yoplait Plenti site- We start with Yoplait Greek Yogurt, a good source of calcium and vitamin D. Then we add just the right amount of hearty ingredients. Packed full of goodness, Plentí is a healthy, high-protein snack. A full life requires a fulfilling snack. No one has time for an energy dip. Plentí stays with you. It's substantial and satisfying—an energy booster. Now you can keep going and have a truly plentiful day. Plenti Yogurt is gluten free. What is the healthy snack that you reach for when you are trying to eat better?
Don't forget to check out Plenti's new instagram account!