This post may contain affiliate or referral links, which means I may receive a commission if you purchase something using my link. It will be no extra cost to you. As always, thank you for supporting Getting Fit Fab.
Thank you for Lexus & Drive Shop for Sponsoring this post.  I was gifted the use of the ES 350 F SPORT for 5 days for my road trip. As always all opinions are my own, thank you for supporting the brands that keep Getting Fit Fab running! 
CA and I have gone on several road trips since getting together. We have my BIL/SIL in Rhode Island, friends in Connecticut, and love traveling as much we can. All this means we know that being comfortable in the car is the key to a memorable getaway. In December, CA, my mom, my aunt, and I, all drove to Harrisburg, PA, which is right outside Hershey! CA had never gone to Hershey Park, so my mom had the idea we should go for Christmas time, since the entire park is decorated for Christmas! We booked a hotel for the night since Hershey is about 3 hours away from home. It is much easier to stay overnight rather than try and do a day trip. 
Onto the vehicle we took to Hershey; the beautiful Lexus ES 350 F SPORT, which is their 4-door sedan! I drove the Lexus RX 350L over the summer and I wanted to try something new. I will be honest, I haven't driven a sedan since I went to San Diego and had to rent a car. But the ES 350 F SPORT is not like any other sedan I've driven, it takes luxury to a whole new level. Although I loved the ES 350 because of the Ultrasonic Blue Mica 2.0, I actually love all of the room in the car! Usually people associate sedans with less legroom than an SUV, but not in this car. 
There were four adults in the car and everyone had plenty of space, including my mom who has knee issues (her leg needs to be straight and not bent). She sat behind myself and I had my seat in a comfortable position and I didn't crowd my mom's legs. On top of the awesome legroom, let's move to the trunk. It fit all of our luggage, including all of the shopping we did! And trust me, I'm an over packer so I had two bags, plus all of our coats.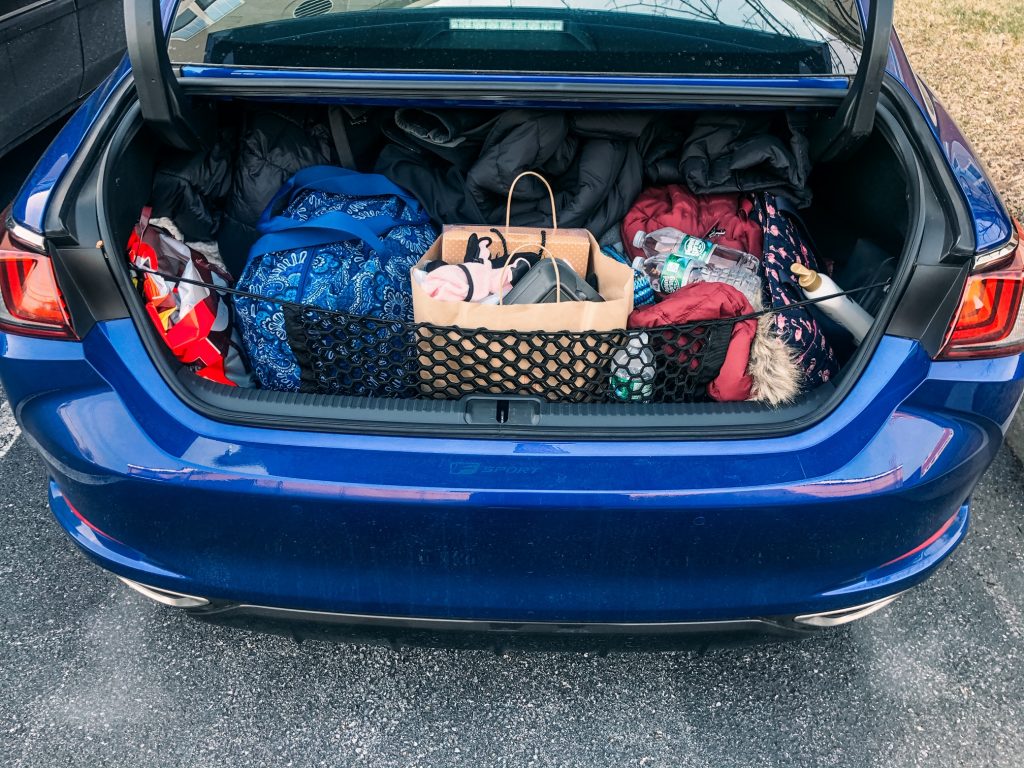 There are plenty of cup holders in the front and back of the car, plus a secret compartment to access the trunk from the back seat! How cool is that?! There are plenty of features, such as the Panorama moon-roof. Since it was December we couldn't open it, but we were able to use it to better see the Holiday Light show at Hershey Park. Plus, since we're all about technology, the Lexus has plenty of USB ports for your phones or any devices that need to be charged.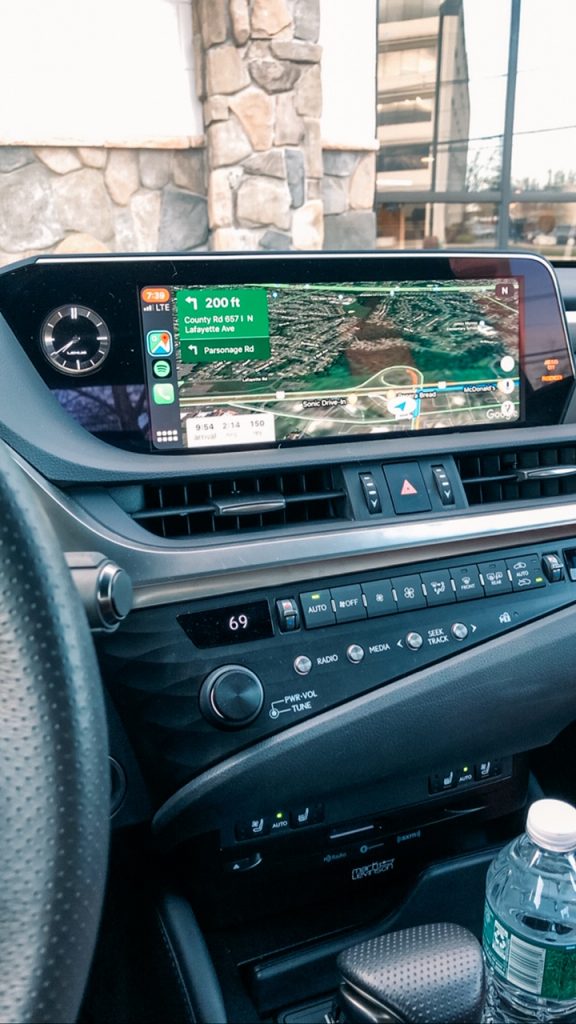 If you're like CA and myself and alternate driving a car you own, the ES 350 has three different memory settings for the driver's seat. When you step into the car and start it, it'll move your seat up and adjust the steering wheel to whichever setting you press. Another feature that both CA and I like, is Apple Carplay. You hook up your car via the USB and it'll have the map, read text messages, and play your Podcasts or Spotify. All of this at your fingertips, with the track-pad to control the 12.3" center screen. Bonus: it's also Alexa enabled.
Besides all of the cool features this Lexus has, it also has great highway gas mileage. Choose between Eco, Sport, or Normal modes depending on where you're driving. Plus, check out the huge list of Lexus Safety System+ 2.0 features and active safety equipment: 
Pre-Collision System with Pedestrian Detection- This is self explanatory, it'll also automatically bring the car to a stop for another car, bike or pedestrian in daylight or low light. 

Lane Departure Alert with Steering Assist – This will correct your vehicle if you drift or move out of your lane without your turn signal on. It will autocorrect you to back into your lane.  

Road Sign Assist – It'll read any road signs that are on the road: from speed limit to stop signs and display them on your dashboard. 

All-Speed Dynamic Radar Cruise Control – This is a feature that my RAV4 has (Lexus + Toyota are the same company), so I knew exactly what it does. When you enable cruise control it'll monitor your lane and sense the speed of the vehicles ahead of you. If someone slows down from the preset speed, it'll slow your car down automatically as well as speed it up when traffic clears. 

Intelligent High Beams – This was so awesome to give you better visibility for you and other drivers. The high-beams will illuminate the road, and it'll automatically switch to low beams when it detects the headlamps or tail lamps of a car ahead!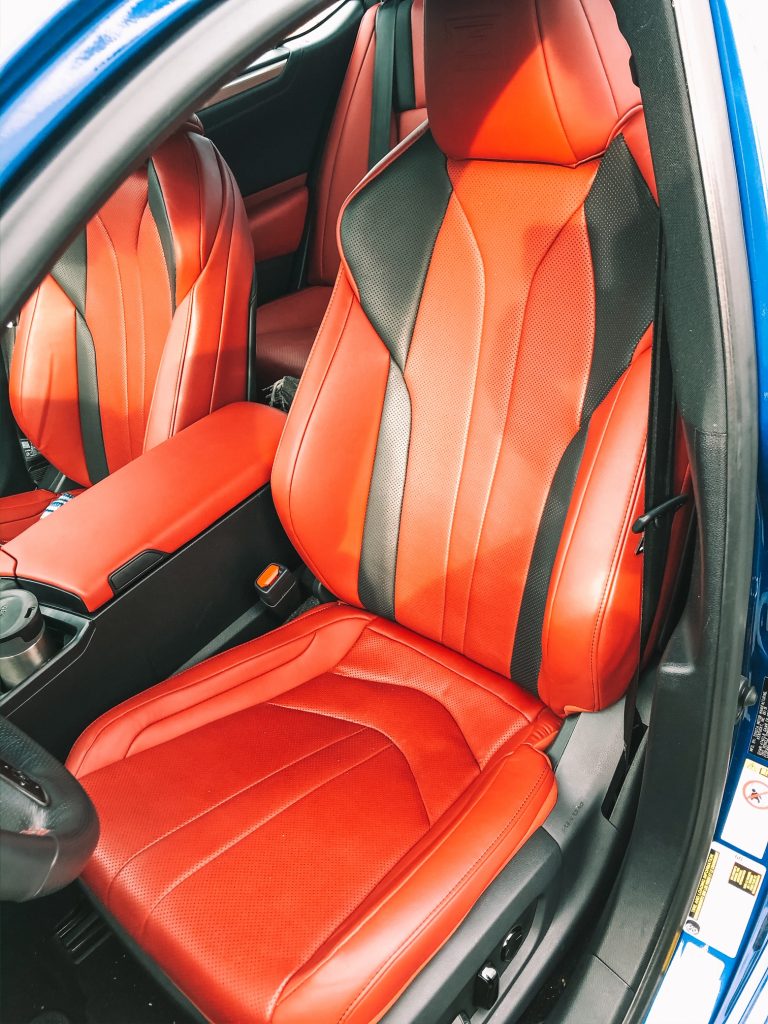 I am so excited that we were able to experience that beautiful luxury that is the Lexus ES 350 F Sport.  From a person who loves driving an SUV, the 350 was nothing like driving a regular sedan. The amount of room alone is simply amazing, plus the very smooth ride that was over 3 hours, and not stopping once. 
What are the top three things that you look for when purchasing or leasing a vehicle?