This post may contain affiliate or referral links, which means I may receive a commission if you purchase something using my link. It will be no extra cost to you. As always, thank you for supporting Getting Fit Fab.
Part of this post is sponsored as I acquired a Media VIP Pass from New Orleans & Company that allowed us access to some of the attractions & restaurant at a discounted rate. As always, all opinions are my own.
After a few crazy months, this post is finally going live. I literally can't believe it. The first few days of November 2018, we went to New Orleans and on the 4th day we headed on our 5th cruise together. I've been wanting to share what we did in those three days and luckily with CA's help I'm finally getting to share! Be warned, this post is very long LOL, I go into detail about what we did.
So a little backstory first. I've been wanting to go to New Orleans since September 2000, my grandmother went there on a cruise and fell in love with the city. She loved how friendly everyone was, the food and the city. After hearing all about the city of New Orleans I knew I had to go there and experience it for myself. Nola was always high on my bucket list, I wanted to be in the same city my grandmother was previously before she passed away. And in November I was there, and it was just as magical as I had hoped it would be. Nola also played a huge part in crossing off another bucket list place, Belize. But the cruise is another post that I will be (hopefully) sharing soon!
Day 1: Arrival + Exploring
We left LGA > ATL > MSY- I will say this, attempting to quickly change plans early in the morning, was not fun. But we made it, and after grabbing our luggage we took an uber to our HomeAway in the Bywater area. We stopped at New Orleans & Company to grab my first ever Media VIP Pass! I was so excited to work with a tourism board and to be able to work with them in a city I was already excited about visiting made it even more exciting. The building was right across the street from Trolley Stop Cafe, where we ever so gracefully scarfed down our food. It was around 12:30 but in NY time it was already 1:30 and we were hungry. Our first stop of the day was WWII Museum, so we hopped on a Trolley Car and quickly went past the museum and walked back. We didn't realize that if you wanted to get off at a particular stop, you had to pull the brake cord, oops!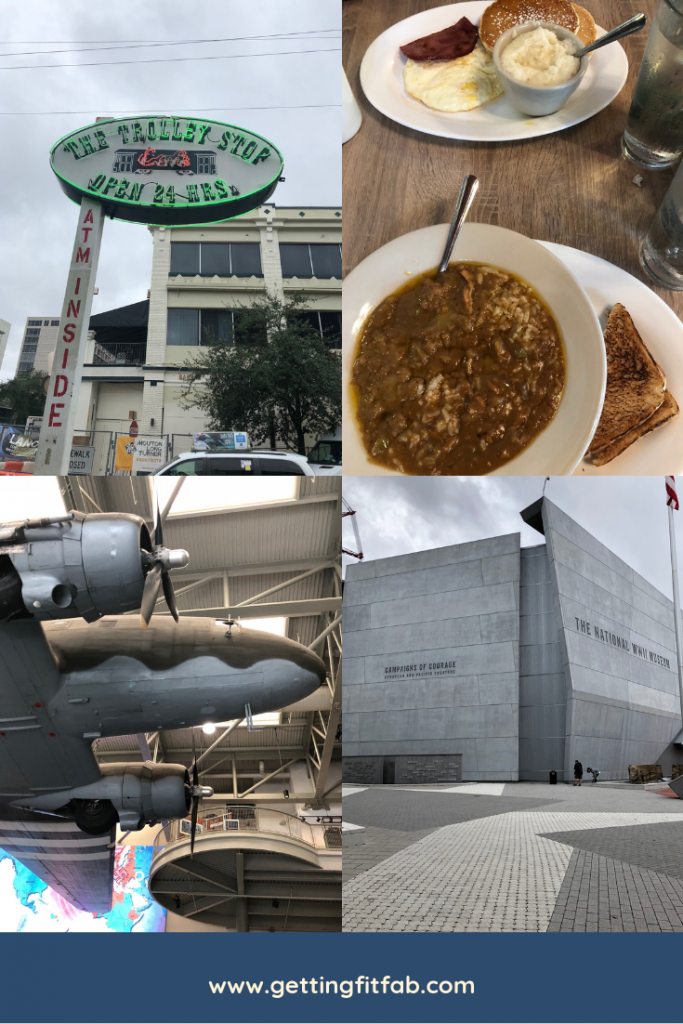 When you first get to the WWII Museum, it's this large grey square looking building that other buildings are attached to. After purchasing our tickets we worked our way from the top to the bottom. I understood when people were telling us, "you could spend days there", you really could. We kept up a New York pace since we had two different shows to get to the first being Beyond All Boundaries which is narrated by Tom Hanks. It's a 4D journey that follows the war that changed the world. Our second show was in a separate building (it was all under construction so no direct access yet), so we bought souvenirs and made our way to the other building. The first thing that strikes you is all of the planes on the ceiling, it's a sight to see. Final Mission: USS Tang Submarine Experience places visitors aboard the most successful submarine in World War II for its fifth and final war patrol on October 25, 1944. Guests relive the last epic battle of the USS Tang and feel a deeper appreciation for the bravery and sacrifice of those who served in the intense, confined world of underwater warfare. (Taken from the WWII website) It was a different experience as you were being told the brave story of the USS Tang.
After the WWII Museum, we grabbed an uber and went back to the Bywater, relaxed, shower and changed for dinner. We did the most New Orleans thing ever and went to Bourbon Street. We had dinner and drinks at Pat O'Brien's, which was delicious! We took our drinks and started walking around Bourbon St listening to the street music and the music coming from the open doors of bars we passed. I'll admit right now I am the biggest NCIS: New Orleans fan, and before we left NY I searched for where they film. Bourbon St connects you to the outdoor scene of the squad room. It was SO cool to see it real life, knowing that's where they all get together to film. If you're interested it's off Saint Ann St & Bourbon St, you'll recognize the rod iron gate and brick wall immediately.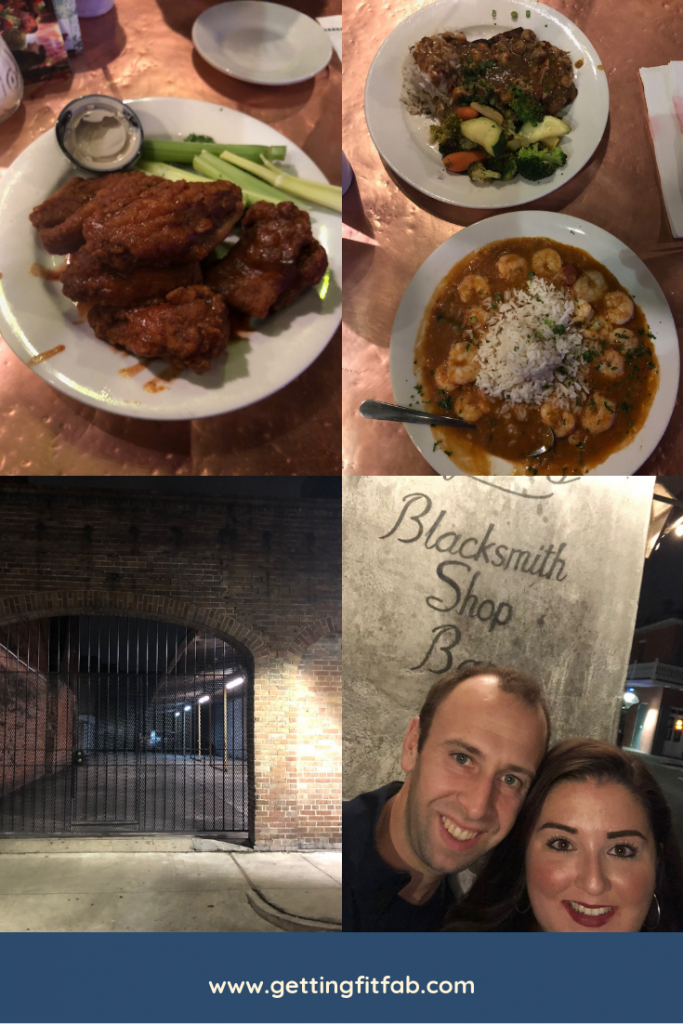 We walked further down Bourbon St to the oldest bar in America- Lafitte's Blacksmith Shop. It was jam packed inside, it was a Thursday night so football was on. But outside had plenty of seating and we just enjoyed finishing off our first night in Nola!
Day 2: Hop on/Hop off Bus, Carriage Ride + Walking Tour
We had a jam packed day, we grabbed breakfast near our HomeAway, at the New Orlean's Cake Cafe and Bakery. CA saw a cupcake, acquired said cupcake, and 2.5 seconds later I ate it. It was delicious. Our breakfasts were delicious, and we walked to the Hop on/Hop off bus stop! This was a great way to see the city, unfortunately we weren't able to go through the Garden District since they were doing construction. But we saw a few houses before we had to turn around! We were able to ride the bus almost full circle before we had to get off. We got off near the French Quarter and Jackson Square so we could go to Cafe du Monde, because… beignets! Seriously powdery goodness! I'm glad someone told us about a grab and go line, so we didn't miss our Carriage ride around the French Quarter. We took a walk around Jackson Square, watched street performers before meeting Ron our Carriage driver. He informed us that they used Mules not horses because they can withstand the summer heat. Ron was extremely informative, and I took notes where I wanted photos taken the next day.
After our carriage ride we met up with our walking tour for St. Louis Cemetery No. 1. Our guide (can't remember her name) was fun, talked loud enough for everyone to hear and while we were walking through the French Quarter shared history about buildings we passed. Also, CA answered a question right, what's the difference between a balcony and a gallery? Answer is a balcony is narrow and has no support from the ground, where a gallery is wide and supported by posts that go into the ground. After our very long walk, we went back to the Bywater and napped.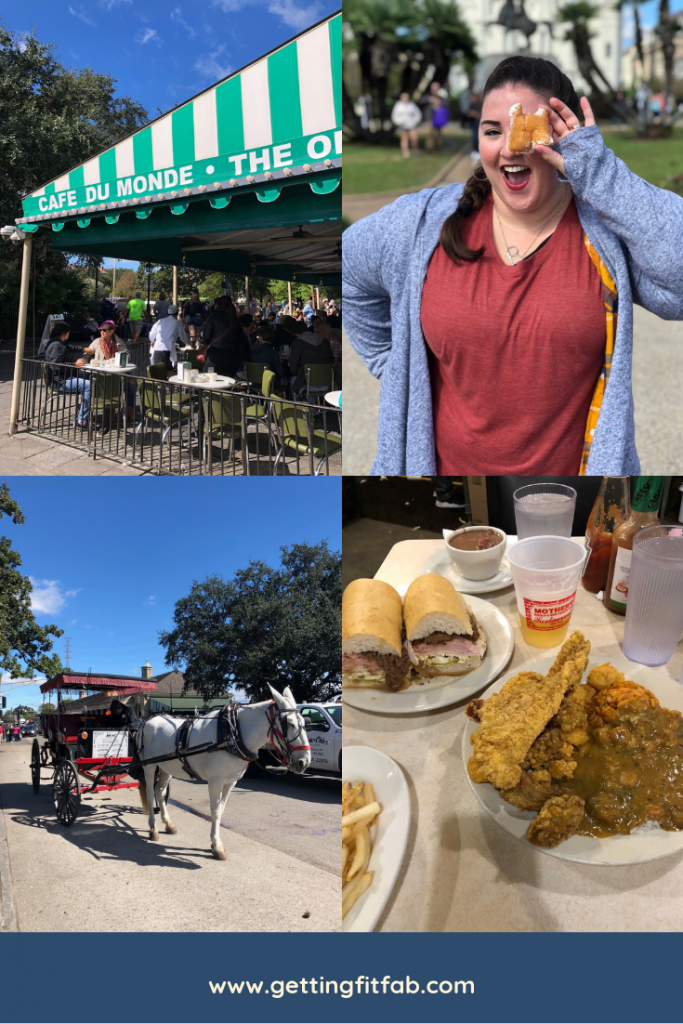 We wanted to try a restaurant that we recommended by friends and headed to Mother's Restaurant. The line out the door was deceivingly quick, so after waiting around 10-15 mins we were inside and ready to place our order. The food was absolutely delicious, CA had a Po Boy and I had Seafood Gumbo, we also got fries. After dinner we headed to Frenchman Street for live jazz music and drinks. Frenchman is definitely the tame sister of Bourbon Street and after a busy day it was nice to relax and listen to music.
Day 3: Food + Plantation
We had a laid back morning, well I did, CA went for a run and took some pretty cool photos. Since I think like a blogger sometimes and actually plan things out, I asked CA if he minded going to the French Quarter and taking photos of me. Luckily he said yes, and after his run we headed there before our brunch reservation. It was nice on a Saturday morning in the French Quarter, it wasn't too busy and we had our take of all the pretty corners and doors for photos.
Brunch was at a Court of Two Sisters, this place was HUGE. I swear from the front it doesn't look large, but you walk through and BAM, large wall of windows and the courtyard. We enjoyed mimosas, food, and we had a little jazz group right near us. We had a gorgeous day to be outside, and we definitely enjoyed the warmer weather. We walked back through the French Quarter and headed to the St. Louis Cathedral. We had time to spare before our plantation tour and I was so glad we went inside. It was just as beautiful inside as it was outside.
When we were looking at Plantation Tours we (meaning CA) decided it was better to chose one plantation to visit. Oak Alley Plantation is in Vacherie, which is about an hour drive from New Orleans. We arrived and were able to walk around ourselves for two hours. We started on the grounds, seeing the slave quarters, learning about their duties, and just a small glimpse into what they had to endure. While I was taking photos of the amazing oak trees CA watched a video about how dangerous sugar cane was to make. We also took a tour through the big house learning of the original family, and how the house was in disarray in the 1920s. It was restored by the Stewart family and became the Oak Alley Foundation when Josephine Stewart passed. Our guide Dionne was informative and even though you were only able to take photos from the second floor, getting that gorgeous shot of the alley of oak trees. It was really amazing to see how modernized this home had become from what I imagined a plantation house to look like.
After our hour ride back to New Orleans, we went back to the HomeAway and got ready for our fancy dinner. We went to Arnaud's Restaurant and oh em GEE, did I just want to stay there forever. The decor, and the fact that they have three rooms for you to choose from. Arnaud's has two different bars, a live jazz room, and the main dining room (which is where we were). Arnaud's is right off Bourbon St which made it easy to bar hop for the big LSU game. We finally landed on Sneaky Pete's and just hung out until the end of the game. To cap the night off we headed to Cafe Beignet off Decatur near Jackson Square. We grabbed a bag of beignets to go and headed back to the HomeAway for the night. We had to repack and get all of our bags ready for boarding the Carnival Dream the next day.
Whew! That was a long one. I can't wait to go back to New Orleans and see more things and visit different places we weren't able to before our cruise.
Have you ever been to New Orleans? What was your favorite part?