This post may contain affiliate or referral links, which means I may receive a commission if you purchase something using my link. It will be no extra cost to you. As always, thank you for supporting Getting Fit Fab.
Happy Monday! I am posting this about a month late, I wanted to actually get this posted the beginning of January but life happens. I'll cut right to it, I have too much makeup. I have eyeshadow palettes, foundations, powders, and it's all too much. The reason I can actually say it's too much is because I assume that I'll use all of the makeup I have in a timely fashion. And I haven't. The bigger problem of having too much makeup is that makeup expires. It either doesn't perform the way it should, smells bad, or it could make you break out because the ingredients are starting to break down.
After watching the YouTuber Andréa Matillano in 2018 while she did her Project Pan. I was inspired to also do a Project Pan for my own makeup. Project Pan is where you make a conscious effort to use makeup up before it gets bad. Or realize that you don't like how the makeup looks on you, or how it performs. I'm not doing a project pan on all of my makeup, it's generally eye shadow palettes, foundation, concealer, blush, bronzer. I wear eyeliner, mascara, eyebrow products, every day so those products are all used up before they go bad.
I love makeup, I feel like make up enhances the person beneath the makeup. It's not a mask to me, it's a way to be creative in your own way, and just enjoy whatever look you can create. Even though I love makeup, I realized I don't regularly use the products that expire soon. During the week I don't really wear liquid foundation or eye shadow because I don't leave myself enough time to apply those things. So 2019 is all about making the time to use these products that I've spent my hard earned money on before they go bad. I made a little system up for how I could distinguish what makeup needed to be used first. The makeup that has a blue arrow on it needs to be used by the end of July. The makeup with the yellow arrow needs to be used by end of December/beginning of January.
Along with Project Pan, I also won't be purchasing new makeup unless it's mascara, eyeliner or eyebrow products. But as of right now, I won't need those products for at least two months, give or take a few weeks. I got into the habit last year, of seeing new makeup releases, and thinking oh, I could make that into a blog post or YouTube video, and you guessed it, it never happened. Since I didn't put it on my blog or YouTube last year, I'll be doing that this year! I realized that my blog became about so many different things, and one of the things that I am very passionate about it makeup. I love it, and I want to share that with my followers/readers. I may not be a pro at makeup but I know enough, as well as knowing what works for me. And I can share that! That eyeshadow doesn't need to be scary, that you can create simple looks, using your makeup that you have on hand already.
So my goal is to update the project pan stats once a month at the end of it. I'll share which makeup I made a dent in, what makeup I realized I didn't like at all, and what makeup I'll be focusing on for the next month. Even though I just started, I already realized that I need to be more picky with my liquid foundation. I have a few that are more yellow toned than I'd really like them to be. Luckily I do have a pink foundation that can balance out, but I think it's because I don't go shopping for foundation in person. So when I use up foundation and/or realize that it's too dark or yellow for me, and I want to buy some new foundation. I'll be going into the store for that, not online.
Any updates that I have for my project pan I'll be sharing it here, since this is where it all started! I am hoping to have a YouTube video sharing my makeup that needs to be used first and what my plan officially is.
Makeup to be used by end of July:
Foundation:
3- IT Cosmetics Your Skin But Better CC+ – all 3 are the medium shade (which is too dark)
1- Too Faced Peach Perfect Foundation– Light Beige
1- Bare Minerals BarePro Foundation– 11-Natural
3- Milk Cosmetics Foundation– Golden Light (too yellow- needs pink foundation to balance)
1- Maybelline Superstay 24H Foundation– 128 Warm Nude (you guessed it too dark)
Concealer: I have one of each of the following
Urban Decay All Nighter– Light Neutral
Urban Decay NakedSkin– Light Neutral
Tarte Shape Tape– Light
Tarte Creaseless Concealer– 20N Light
Milk Makeup Flex– Light
Colourpop No Filter Concealer– Light 14 & Light 16
BareMinerals BarePro 16H– Light Neutral 04
Too Faced Born this Way Multi Sculpting– Light Beige
Eyeshadow Palettes:
LORAC Pro Mega 4
Anastasia Beverly Hills- Subculture & Prism
Too Face- Chocolate Bar, Sweet Peach, White Peach, Just Peachy Mattes
Tarte- Tartelette in Bloom, Tartelette Toasted, Tartelette Amazonian Clay
HUDA Beauty- Rose Gold (OG), Desert Dusk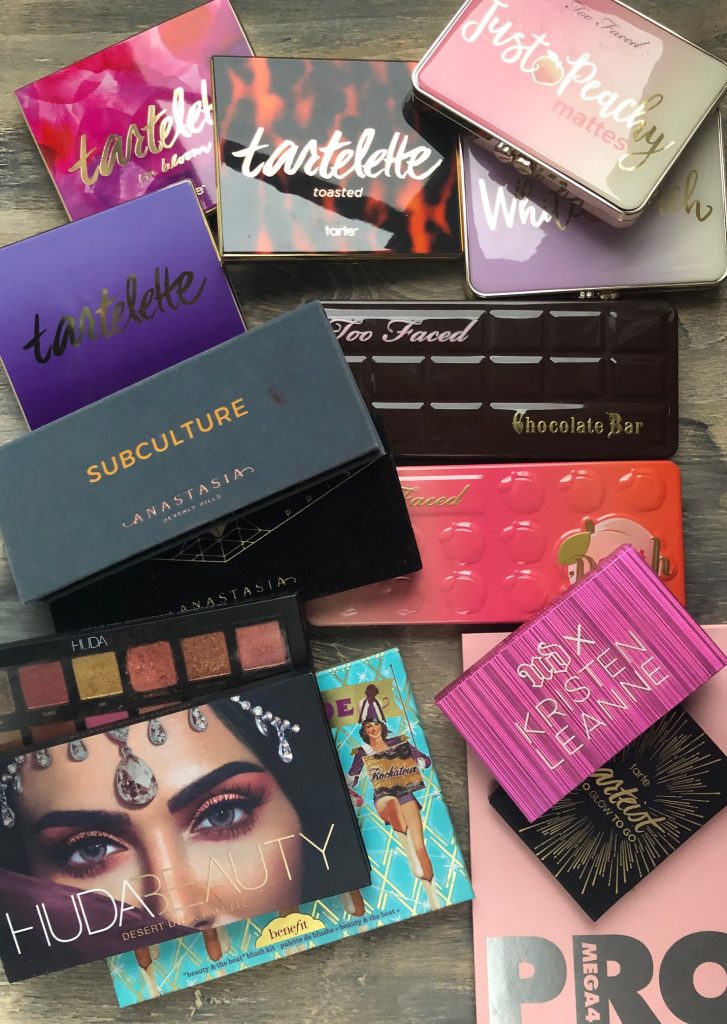 Face Products:
Tarte Tarteist Pro Glow To Go– Highlight & Contour Palette
Urban Decay x Kristen Leanne – Highlight Palette
Cheek Parade- Has 2 Bronzers & 3 Blushes
Have you ever tried a Project Pan before? Are you a lover of makeup like I am?