This post may contain affiliate or referral links, which means I may receive a commission if you purchase something using my link. It will be no extra cost to you. As always, thank you for supporting Getting Fit Fab.
This post is sponsored by BabbleBoxx.
Is anyone else experiencing the blistering heat these past few days? Summer is here and it came in hot! It's such a stark difference from last year. Even though summer means beach trips, relaxing with our toes in the sand enjoying the beautiful weather, our weekends are packed with seeing friends, driving  out east, and making the most of the summertime. We've been to the beach only a handful of times, hoping that the weather will hold out when we have a free moment. I'm so excited for the break in the heat wave we've experienced the past few days with some rain for good measure. I have a bag I usually keep handy for when we're on the run; it's my "summer go bag".

Being outdoors, I know scrapes and cuts can happen without realizing it. New Skin Liquid Bandages are all-in-one protection. It will seal out water, prevent infection, dirt and germs, and do what normal bandages can't, especially on the awkward spots for cuts, like your palm or arm. New Skin Liquid Bandages kill 99.99% of germs while remaining flexible and invisible on any skin tone. They also have one for sensitive skin, perfect for anyone that has skin issues. I used it for a recent cut on my arm (no idea how I got it) but the New Skin Liquid Bandage helped heal it and protect it. You can conveniently grab them from Amazon or Walmart!
One thing I wish we could skip over summer is PMS, no one wants to deal with a cranky, cramping, hangry me. The Pamprin Maximum Strength Multi-Symptom is going to be my continued lifesaver to make sure I can still enjoy normal life. Along with the period app on my phone, Pamprin will help me deal with anything PMS related, especially the week leading up to the arrival of my period.  
A day on the beach or hanging out by the pool is priority number one during the summertime. But beach trips and pool water can wreak havoc on my hair, especially that it's chemically colored. Keeping Shampoo from Ultra Swim will be a great addition to your after pool routine. Ultra Swim will be great if you love spending hours in a pool, it will remove all the build up while moisturizing and preventing the "swimmers green" hair for blondes. I will definitely be taking this on any trips that involve pools to keep my hair looking it's best. 
The last piece of my summer essentials is the Energy Stix from 4C. I know I can't be the only one who likes to jam pack their schedule with events, nights out, and enjoying the longer sunlight. Packing my schedule usually means grabbing caffeine while we run around, but what if you just need a water bottle and a tiny little packet? These 4C packets come in delicious flavors: orange, citrus, and my favorite, berry! These packets are sugar free so there's no worry of a sugar crash that other energy drinks can deliver.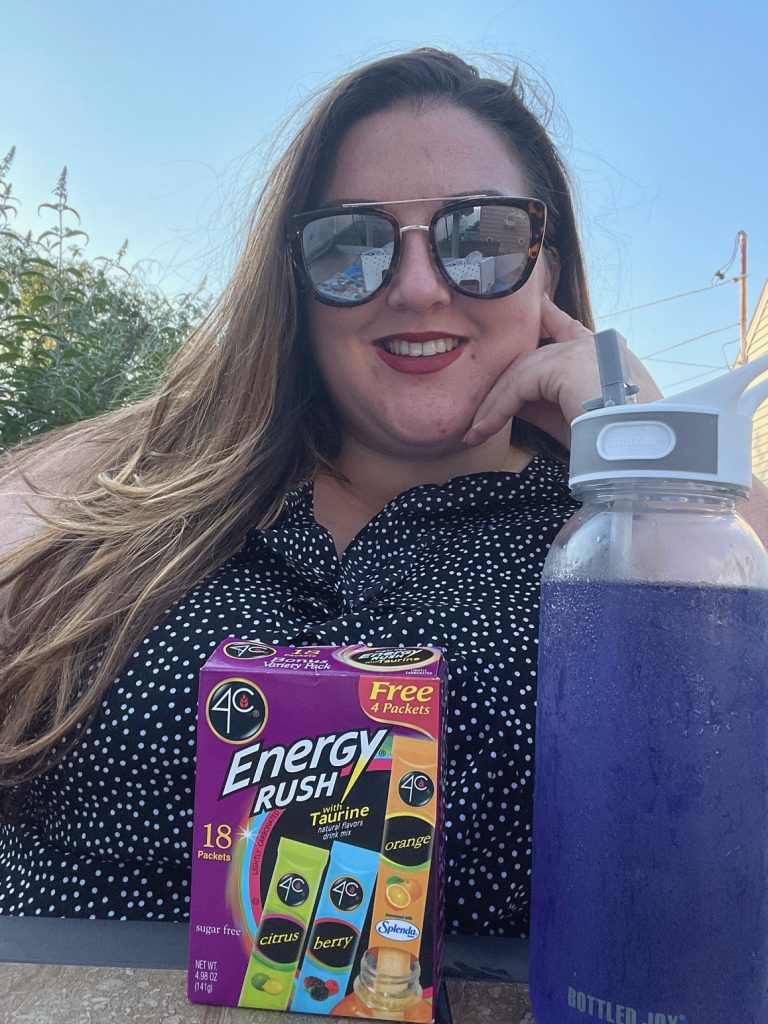 What are your summertime favorites?! Any ones I need to add to my arsenal? Let me know what you can't live without!