This post may contain affiliate or referral links, which means I may receive a commission if you purchase something using my link. It will be no extra cost to you. As always, thank you for supporting Getting Fit Fab.
Top Ten Tueday! To Be Read List! ♥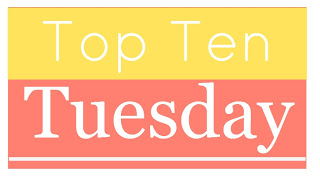 O1. Unbreakable – Supernatural meets The Da Vinci Code in this action-packed paranormal thriller, the first book in a new series from New York Times bestselling author Kami Garcia.
O2. Frozen – From New York Times bestselling author Melissa de la Cruz and Michael Johnston comes this remarkable first book in a spellbinding new series about the dawn of a new kind of magic.
O3. Uninvited – The Scarlet Letter meets Minority Report in bestselling author Sophie Jordan's chilling new novel about a teenage girl who is ostracized when her genetic test proves she's destined to become a murderer.
O4. Tandem – Everything repeats.You. Your best friend. Every person you know. Many worlds. Many lives–infinite possibilities. Welcome to the multiverse.
O5. The Naturals – Seventeen-year-old Cassie is a natural at reading people. Piecing together the tiniest details, she can tell you who you are and what you want. But it's not a skill that she's ever taken seriously. That is, until the FBI come knocking: they've begun a classified program that uses exceptional teenagers to crack infamous cold cases, and they need Cassie.
O6. Never Fade – Ruby never asked for the abilities that almost cost her her life. Now she must call upon them on a daily basis, leading dangerous missions to bring down a corrupt government and breaking into the minds of her enemies. Other kids in the Children's League call Ruby "Leader", but she knows what she really is: a monster.
O7. Once We Were – #2 of the Hybrid Chronicles♥
O8. Resist – The sequel—and conclusion—to Sarah Crossan's Breathe. Three teen outlaws must survive on their own in a world without air, exiled outside the glass dome that protects what's left of human civilization. Gripping action, provocative ideas, and shocking revelations in a dystopian novel that fans of Patrick Ness and Veronica Roth will devour.
O9. The Offering – True love—and world war—is at stake in the conclusion to The Pledge trilogy, a dark and romantic blend of dystopia and fantasy.
1O. Perfect Lies – Annie and Fia are ready to fight back. Mind Games # 2.