This post may contain affiliate or referral links, which means I may receive a commission if you purchase something using my link. It will be no extra cost to you. As always, thank you for supporting Getting Fit Fab.
If you saw my Instagram story, I was testing out my new curling wand + a new spray to help keep my curls in place. I'll be honest, my hair does not like holding a curl at all. My hair is thick & long, which really doesn't do well with holding a curl. I finally found a product that helps hold those curls, plus there are three other sprays that help with other hairstyles that I wear. I am a simple girl when it comes to my hair, its mostly due to lack of patience that it takes to get my hair to look nice, and that I am usually short on "hair" time in the morning.
These amazing sprays that I've been using for my hair are theTRESemmé Compressed Micro Mist Hairsprays! These hairsprays give you style without stiffness (who else could do without the crispy/crunchy look that other hairpsrays give you). The best part is that all four hairsprays are lightweight, which means no build-up and whatever hairstyle you are rocking that day won't fall flat!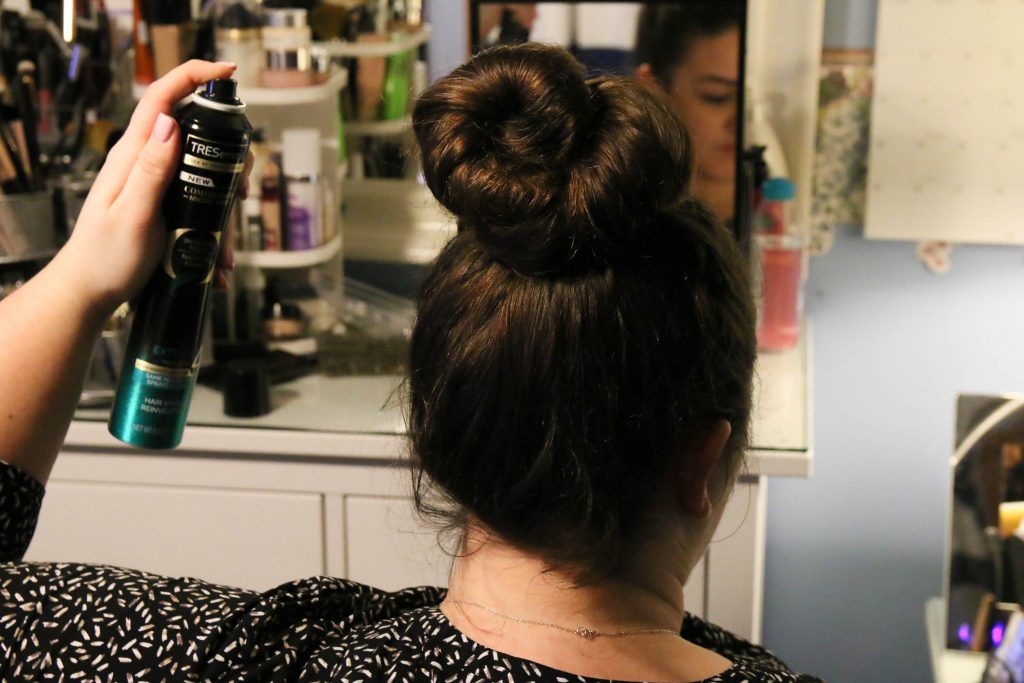 There are four different hairsprays with all different levels of hold within the Micro Mist line:
Texture (hold level 1, adds more weightless texture to your hair than actual hold)
Smooth (hold level 2, keeps your style smooth and flexible) I use this for my straight hair days, it keeps the frizz at bay!
Boost (hold level 3, great for adding volume that lasts) Perfect for my bun days, to give it volume and to not look as flat.
Extend (hold level 4, locks down your style all day without feeling heavy or crunchy) Perfect for curly hair days!
Look 1: Straight Hair
This look is super simple! I normally use a heat protectant, a straightening serum, and a speed up blow dry spray. Most of the time I am just going to work so if my hair isn't "smooth" or anything it doesn't matter. But for the nights out, or if I am going out after work and won't have time to touch up my hair I need something to keep it smooth and straight. Enter, TRESemmé Compressed Micro Mist in Smooth hold level 2!
Towel/Air dry hair until damp.
Apply heat protectants/serums/blow dry spray (Whatever you normally use to straighten your hair)
After blow drying hair spray some more heat protetant & beging straightening! (I need this step because even with blow drying my hair it's a frizz ball)
Take TRESemmé Compressed Micro Mist in Smooth and spray hair upside down first, then flip and spray again. The best part about this spray is that even if you spray too much, it still won't leave build up!
Told ya, super simple, this is my everyday look, especially because I can spray some dry shampoo and wear it for a few days!
Look 2: Volumized Bun
This goes hand in hand with my day 3 (or day 5) hair, it looks put together, but has a little oomph!
LOL my face….
Like I said this works best on day 2 hair, it'll have more grip and be easier to work with. Spray roots with TRESemmé Compressed Micro Mist Boost, give a little bump to those roots.
Gently brush through and wrap hair with a slim scrunchie, I place mine almost on top of my head but also towards the back of my head.
Next I spray TRESemmé Compressed Micro Mist Texture to the hair in the ponytail, this helps my hair of a grip so when I put it in a bun it'll hold better with the bobby pins.
I split my ponytail and twist both sides seperately, I wrap them around and begin pinning!
I finish off the look with TRESemmé Compressed Micro Mist Extend and I'm good for the day.
I am all about simple and quick and easy looks I hope these looks help give you a new idea or a way to keep that straight hair straight and not frizzy! How will you use TRESemmé Compressed Micro Mist Hairsprays to #StyleWithoutStiffness?!
You can grab all four of these amazing hairsprays from TRESemmé at Walmart!