This post may contain affiliate or referral links, which means I may receive a commission if you purchase something using my link. It will be no extra cost to you. As always, thank you for supporting Getting Fit Fab.
This post has been sponsored by the PRIMP NetworkPRIMP Network. All opinions are my own.
I feel like this Winter is never-ending, and so does my skin. My skin has absolutely no idea what's going on right now, it's dry, it's combo, it's oily, my t-zone has officially gone bonkers. Fun right? Since the change of the season, I realized I needed to change up my winter skincare routine, and add in a skin-clearing routine that wouldn't dry out my skin. Enter… the amazing trio from ZAPZYT: Pore Clearing Scrub, Acne Wash Cleanser, & Acne Treatment Gel (my favorite!).
Even though I am in my 30s, I still tend to have breakouts, especially in my t-zone, and especially when it's that time of the month, hormonal breakouts are the worst for me. Thankfully the Acne Treatment Gel is gentle enough to use daily (sometimes applying it twice a day) without drying out my skin. I'll be honest I've tried many different spot treatments for the problem areas and they've all dried out my skin and didn't help the breakouts. Not the ZAPZYT Acne Treatment Gel, it's a gel that is water based and doesn't contain alcohol, which ultimately irritates the skin and adds to the redness. And who needs more redness to an area that is already red and most likely inflamed?! Not me!
Besides using the ZAPZYT scrub, cleanser and treatment gel I have also altered the rest of my skincare and makeup routine to help keep my skin as clear as possible. My daily routine generally stays the same, what I use only in the morning will have an M and what I use only at night will have an N, what I use both morning and night will have a B.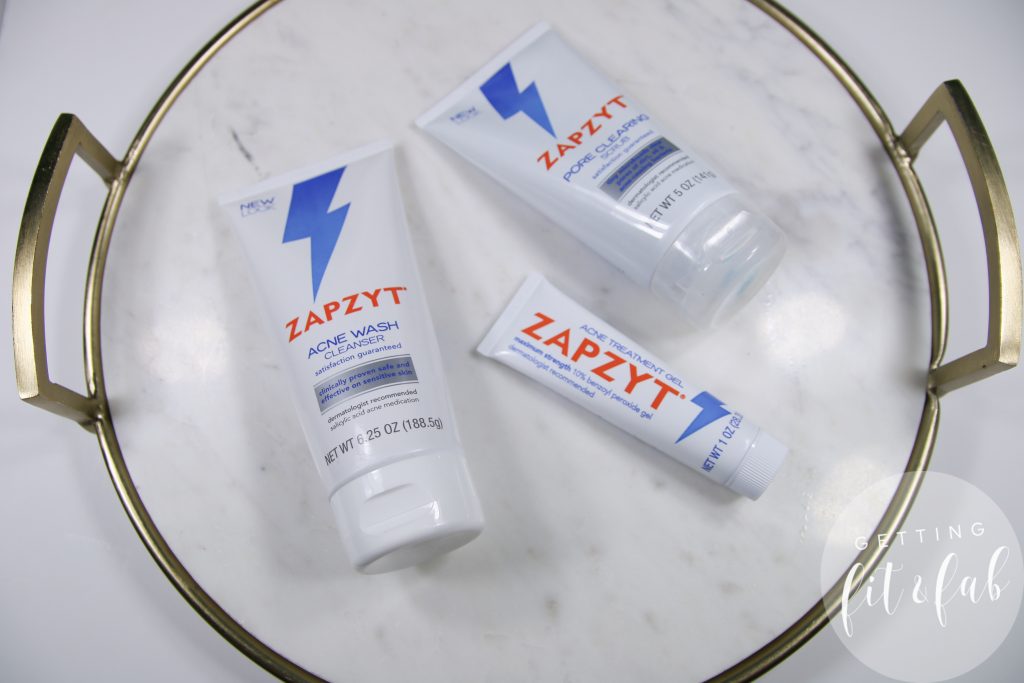 M- ZAPZYT Acne Wash Cleanser with a motorized cleansing brush (gets a nice deep clean!)
B- ZAPZYT Acne Treatment Gel (right now, I have a hormonal breakout on my chin from altering my medicine so this is my saving grace keeping the breakout to a minimum!)
B- Gel/Water based Moisturizer (I apply this all over except my t-zone)
B- Thicker Moisturizer for the T-Zone (I know it may sound odd but this doesn't clog pores and helps bring moisture back to my dry areas)
M- Color correcting + concealer (this is only for when the breakouts are ending and the spots are just red but not active)
N- ZAPZYT Pore Clearing Scrub (I tried using the cleanser and scrub at the same time and it was too drying, using one in the am and one in the pm is perfect for me)
N- Nighttime face cream- (I don't apply this around my chin area, I usually just use my thick moisturizer to this area)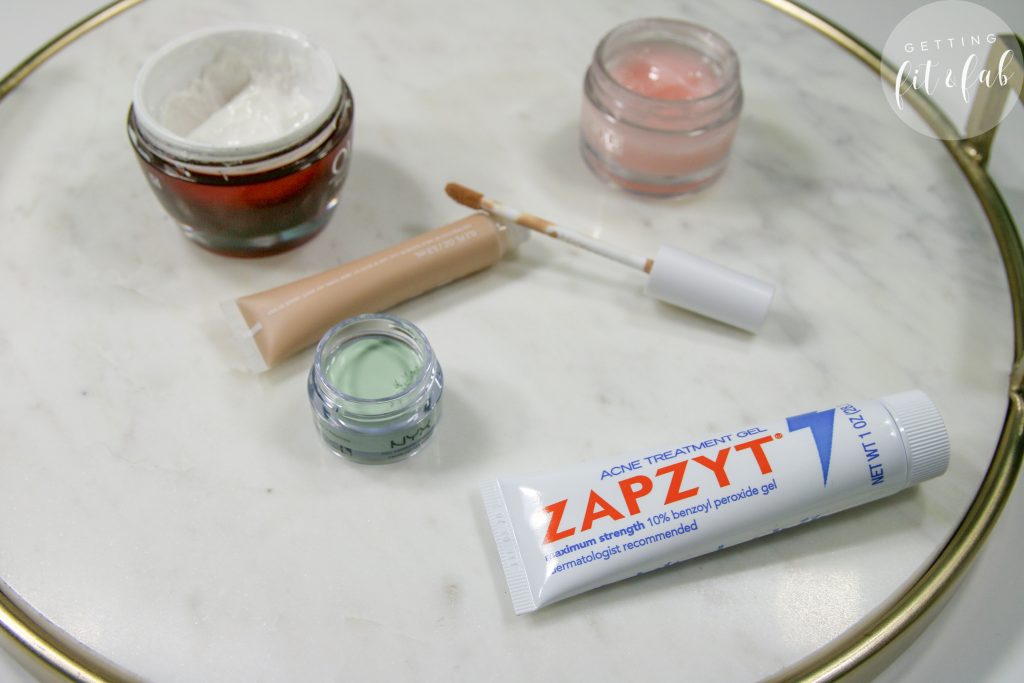 And that's it! It's super simple and has really helped me keep my skin as clear as possible. I am so thankful that ZAPZYT has entered my life, the treatment gel works incredibly fast, it's been proven to reduce the appearance of acne within just FIVE hours! Sign me up, that's all I need in my life, a fast working treatment gel, especially for the problem zit, the night before a big event, anniversary or vacation! I've been that person on vacation that either had a big ol' zit or a bad breakout on my chin and wish I had this treatment gel to get rid of the zits I had.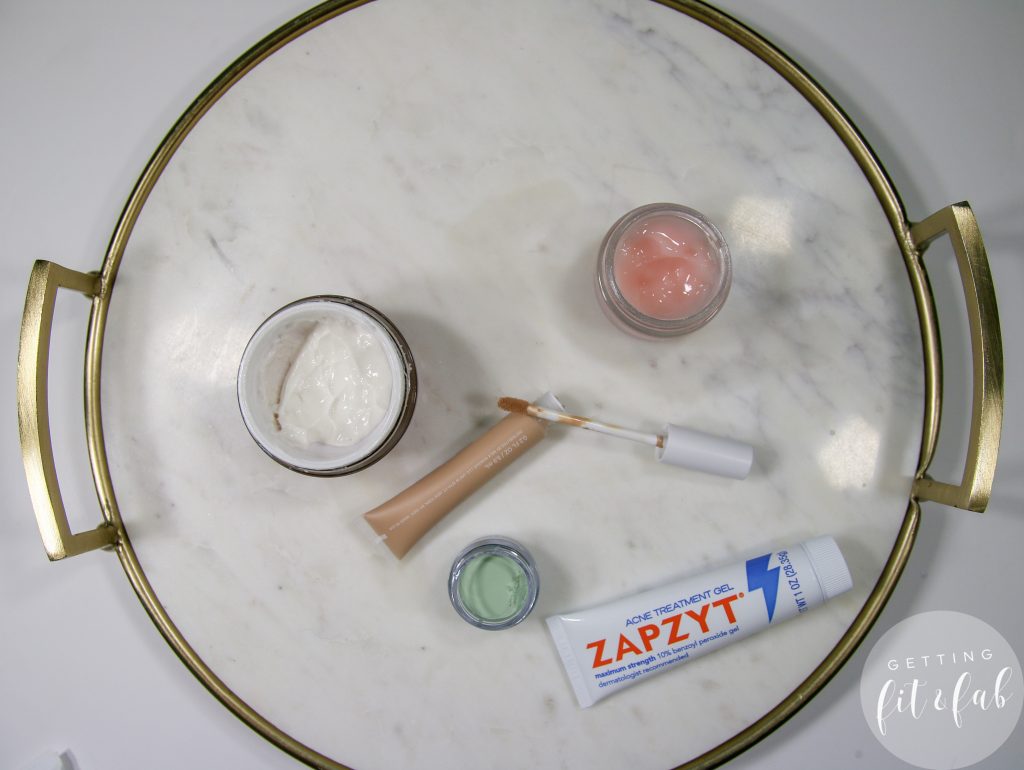 I know that the ZAPZYT acne treatment gel will be a staple in my skincare/ skin clearing routine for a long time. It's perfect knowing that no matter what my skincare routine is, I can simply add this one step back in for when breakouts happen or the problem zit arises (cause it'll always happen when you don't want it to).
Do you have a problem area that likes to break out too often like me? Try the ZAPZYT Acne Treatment Gel, it's available at Walmart and this tube will last you a long time, even with daily use!