This post may contain affiliate or referral links, which means I may receive a commission if you purchase something using my link. It will be no extra cost to you. As always, thank you for supporting Getting Fit Fab.
This post is Sponsored by PlateJoy, thank you for supporting the companies that keep Getting Fit Fab running!
Imagine this: it's a Sunday morning, and you're going over what needs to be done before Monday morning rolls around. What's one of the first things you realize? You've got to work on your meals for the week! I swear this is the one thing that usually stumps me without pause. I obviously have my go to recipes, the ones that you keep in your back pocket for the moments when you have no idea what to make but you know exactly how long it takes. My go-to recipes are chicken cutlets and mac & cheese, they're easy in their own ways and everyone likes them!
One thing that stumps me most is variety! I don't mind trying new recipes but I will admit that I tend to stay away from recipes that are hours on hours of work. Because to be honest, who wants to spend hours cooking during the weekend when it can be a simpler process? This is where PlateJoy comes in, the meal planning service creates plans according to all the details of your home life. Family size, dietary needs, budget, food preferences & the kitchen tools you have. It also gives you a shopping list after you select your meals for the week, so you're ready to go to the food store!
A PlateJoy membership includes custom recipes tailored to you, nutrition facts for all meal plans (even syncing to Fitbits), personalized meal plan access, and grocery lists. PlateJoy will take the guesswork out of meal planning and give you the ability to add healthy recipes to your weekly routine with a few clicks on their website!
So why should you give PlateJoy a try?
1. Diet Restrictions – The variety that PlateJoy has for diet restrictions is wonderful that would meet you or your family's need. If you have someone that suffers from IBS, Pre-Diabetic (or Diabetic), or allergic to Gluten you can set that person to having certain allergies or something that should be avoided in their food. It also has selections for any particular diets that you may be on, such as Paleo, Keto, or if you're just cutting down Carbs.
2. Fit your Family Size- You can let PlateJoy know how many members of your family that you will be cooking for. Since we have four, I can cook all the meals that will feed us for a certain amount of days/meals. When CA and I find a home, I can set PlateJoy to two people so there will be no food waste.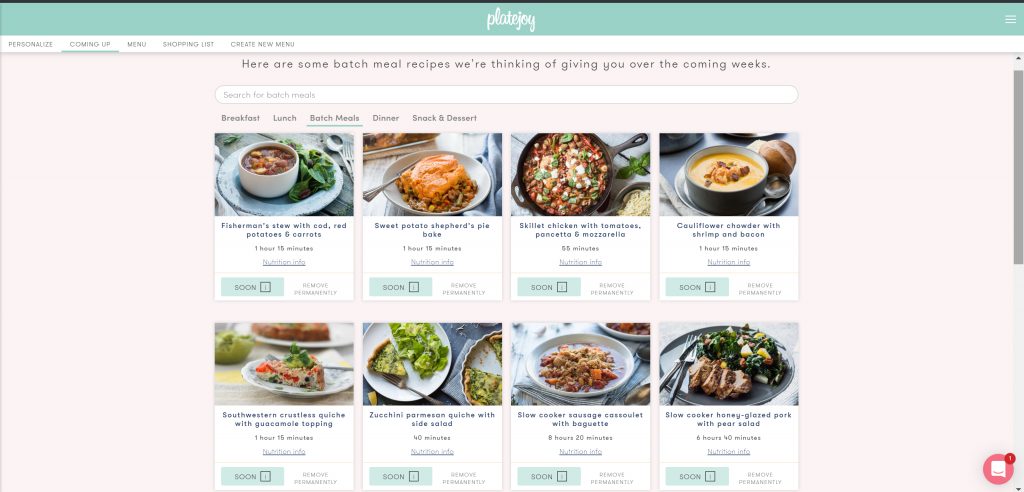 3. Ingredients & Kitchen Tools – I love that I could select certain ingredients that I want to avoid. Such as spicy foods, onions or even tree nuts! If I was making dinner for one of my aunts I would select avoid shellfish, since she's allergic. I usually keep spicy void selected since 3 out of the 4 of us don't enjoy spicy foods. Another thing that comes in handy is kitchen tools! You can let PlateJoy know what tools you have in your kitchen so it can give you recipes that'll fit that tool. I enjoy using my crockpot, and we also have an airfryer (that we haven't used just yet)!
4. Recipes- You can select meals that you'd like to batch cook for a certain amount of days. I can select different breakfast, lunch or dinners to last one day or even three days! Usually breakfast is just something that I would enjoy at home so I select for one person for two days, or two people for two days. I love that I have this option for dinners, since this is the meal that we struggle with the most after a long day of work, who wants to cook?
5. Weekly Menu & Shopping List – Like I mentioned above, the hardest part for me for menu planning is setting the actual menu! PlateJoy takes out of the hardest part, it selects the menu for you, what could be better than that?! Maybe giving you a shopping list too, which is does! Besides weekly menus there's a few things we add to our menu, like milk, orange juice, and some fruits that we like having in our home weekly. I like that I get to print out my shopping list, I can check everything off when I go to the food store with my mom.
I'm excited to go into Fall and enjoy some comfort food style meals that you enjoy on a cool Fall night. If you've been looking for an easy way to meal plan, make sure to take a look at PlateJoy for your family!