This post may contain affiliate or referral links, which means I may receive a commission if you purchase something using my link. It will be no extra cost to you. As always, thank you for supporting Getting Fit Fab.
Disclaimer: This post is photo + word heavy because it's filled with everything about our cruise! From the ship, ports of call, things to do, eating and drinking on the ship! 
We're (CA and I) finally getting around to talking about our second time on the Carnival Vista. This time, instead of leaving the port of Barcelona, we left the port of Miami headed to the Western Caribbean! We really enjoyed our time on the Carnival Vista in June 2016 and couldn't wait to enjoy more of the ship with two sea days and shorter excursions. It was a 6-day cruise from Miami. The schedule was: a day at sea, port days in Jamaica, Grand Cayman, Cozumel, another day at sea and then back to the port of Miami to go home! 
Our Room:
We booked an aft-view balcony in the Havana Cabana, which means we had a special area of the back of the ship that was for HC occupants only until 7 pm. This includes a pool, two hot tubs, comfy seating areas, lounge chairs, an outdoor bar, and six large circular pods. I think the best part of the HC area is that we felt like we were in a resort area of the ship, and it was amazing! We had the same bartenders/waiters almost daily who knew our names and our drinks. The best part about our room was the view we got to see while sailing away from ports or just in the ocean. I highly recommend a balcony room, and if there are any aft-view rooms left, grab it! HC is also worth the extra money (even if you do an interior room).
Ports of Call: Ocho Rios, Jamaica • Grand Cayman, Cayman Islands • Cozumel, Mexico
So for 2 of the 3 Ports, we didn't do a Carnival excursion, we wanted the freedom of getting on/off the ship and making it back to the ship in time to have my burrito from the Blue Iguana Cantina (which is a Burrito and Taco bar).
Ocho Rios, Jamaica – We headed to Mahogany Beach which is in a secluded little area and I loved it. The package that CA got us was a cab to and from the port just for us. We had a personal waiter who bought us drinks. I loved going into the water; the beach was in a cove so the water was calm and I just relaxed in the warm water. It was also perfect that we were able to do some souvenir shopping while we were waiting for our taxi driver to come to get us #winning. It meant we could go straight through security and get on our ship!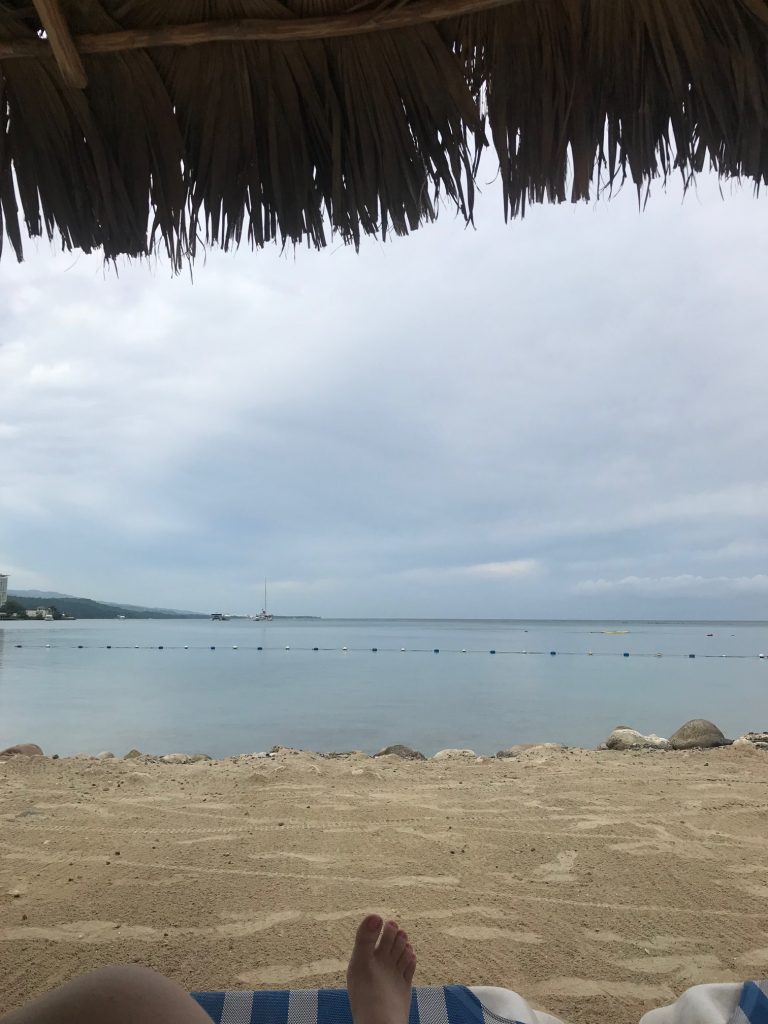 Grand Cayman, Cayman Islands- We took a $4 cab ride and after paying a small fee we headed to the gorgeous blue water at the Royal Palms Beach Club. It's connected with a hotel but you could pay a fee to get into the club and get chairs and an umbrella. We knew that Grand Cayman would be "hosting" 5 cruise ships that day so we made sure to get off the boat as soon as they cleared the ship. Since the water closer to the dock is a protected reef you had to take a tender (a little sidekick type of boat) from the cruise ship to the dock and than go from there. Arriving first meant we got first row seats (closer to the water), they also had waiters serving drinks and taking food orders. We had the Nacho Fries, oh my GOSH, they were to die for and on this huge platter dish, that we devoured in 2.5 seconds. After spending a few hours getting our Vitamin D and splashing around the water, we decided to head back to the ship. (Editor's Note: Renee wanted another burrito.)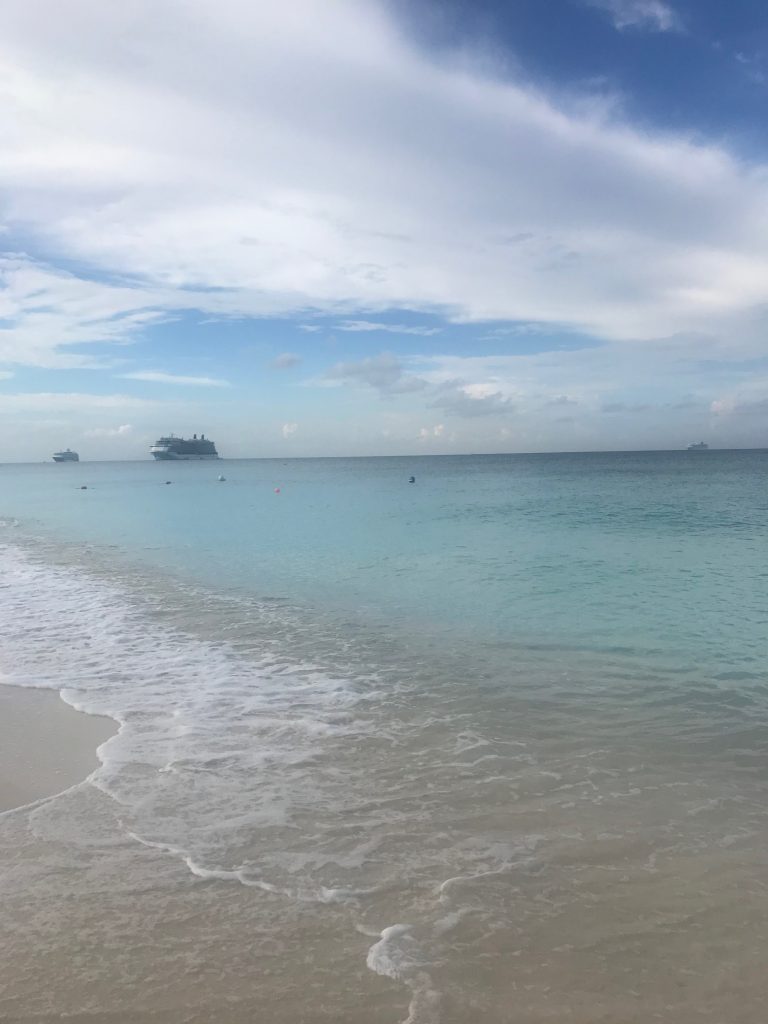 Cozumel, Mexico: We did a Mayan Ruins & Bus Tour through Carnival! It was a great time, our guide Carlos was entertaining and extremely informative about the ruins and about the history of Mexico. Seeing some of the Mayan Ruins was simply amazing, to see into the history of a culture is fascinating. CA was in charge of the camera and took some awesome photos and videos. Before we went back to the ship, we were able to shop in the port. It also has a Senor Frogs bar which is popular in Cozumel.
What to do during Days At Sea:
Chef's Table- It's usually available any night of the cruise, for a small group of people (around 20) Altogether, we had the Sous Chef Maksym take us through the kitchen, show us the staple Carnival dessert: Warm Chocolate Melting Cake (YUM btw), an eight (8!) course meal. We met and became friends with Miesha & Jamie who were celebrating their wedding anniversary. Both sets of couples had delicious cakes served to us with "Happy Anniversary" written on them and we were sung to (can't beat that!). We also realized that M&J were 2 doors down from us, and we had dinner together in the main dining room. It was so much fun to meet a couple and be able to talk about our adventures and how we met our spouses.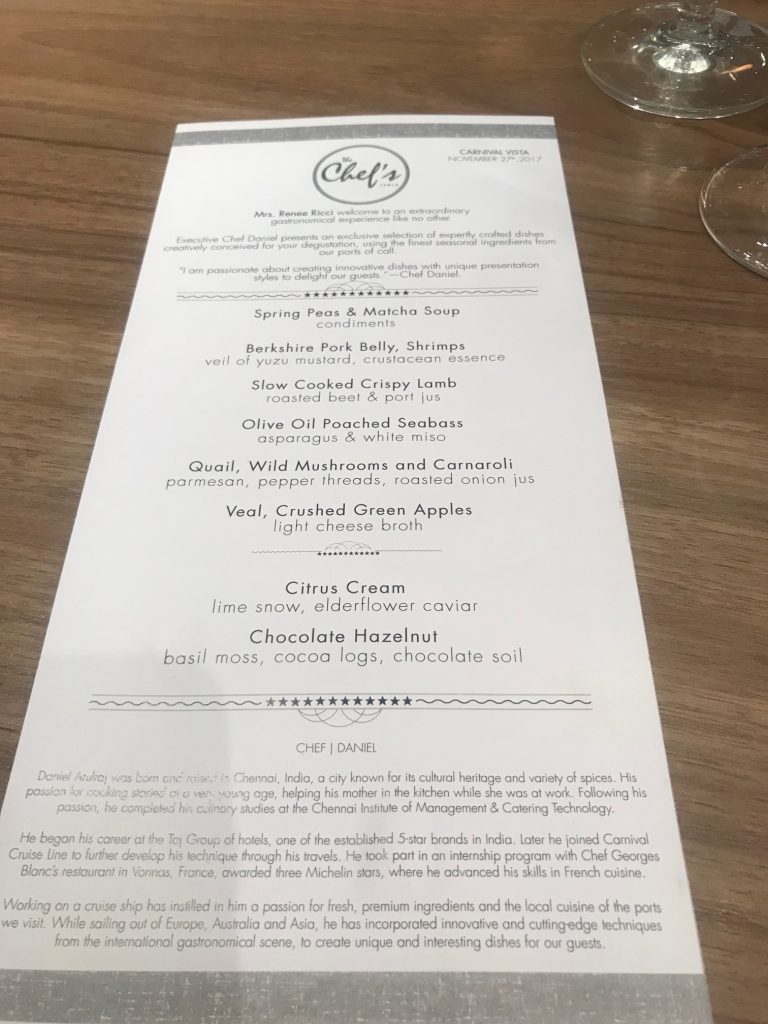 IMAX Movie Theater- This is is a new perk from Carnival. We watched "Thor: Ragnarok" on the last sea day, after enjoying our Seaside Brunch in the morning and it was amazing!
We also watched a few poolside movies which are shown at night out on the Lido Deck. You are able to borrow blankets and enjoy some free popcorn!
CHEERS!:
CA and I bought the Cheers! The package, where you pay a $49.95 per day/per person (now $51.95) for up to 15 drinks a day. The drinks can be alcoholic, but also include sodas, bottled water, and specialty coffees (much needed to keep going every day!). This was our fourth time getting the Cheers package and it's definitely worth it to us. We hit the 15th drink one night each, I hit it on the last night which was a sea day and celebrated it with a double shot of Fireball LOL.
Favorite places to eat/drink:
Blue Iguana Cantina: Burrito/Taco bar; need I say more?!

Alchemy Bar- the funkiest drinks, aka elixirs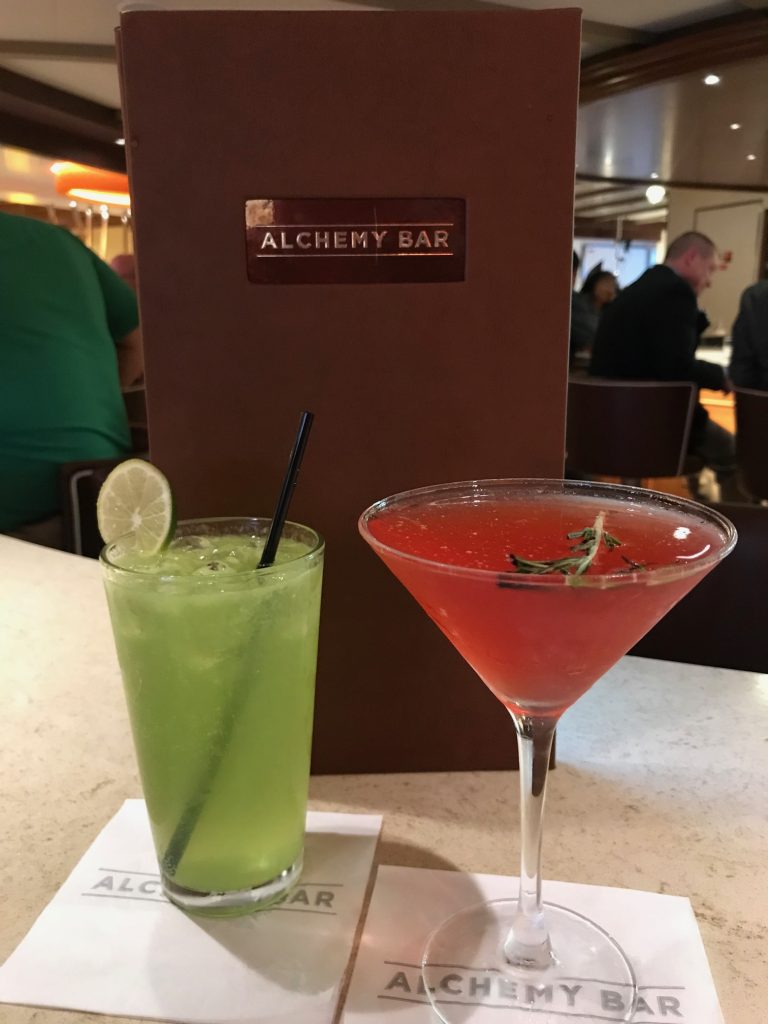 555 Fahrenheit Steakhouse- this is a MUST do, if it wasn't extra $35 per person, I'd go every night, seriously. Since we did the Chef's table the first night, we booked the Steakhouse for the last night. You get a 5-course meal, and I'm telling you right now, leave room for dessert. If you can save room, order the "Art at the Table" creation. It is amazingggg and the chef even wrote out Happy Anniversary!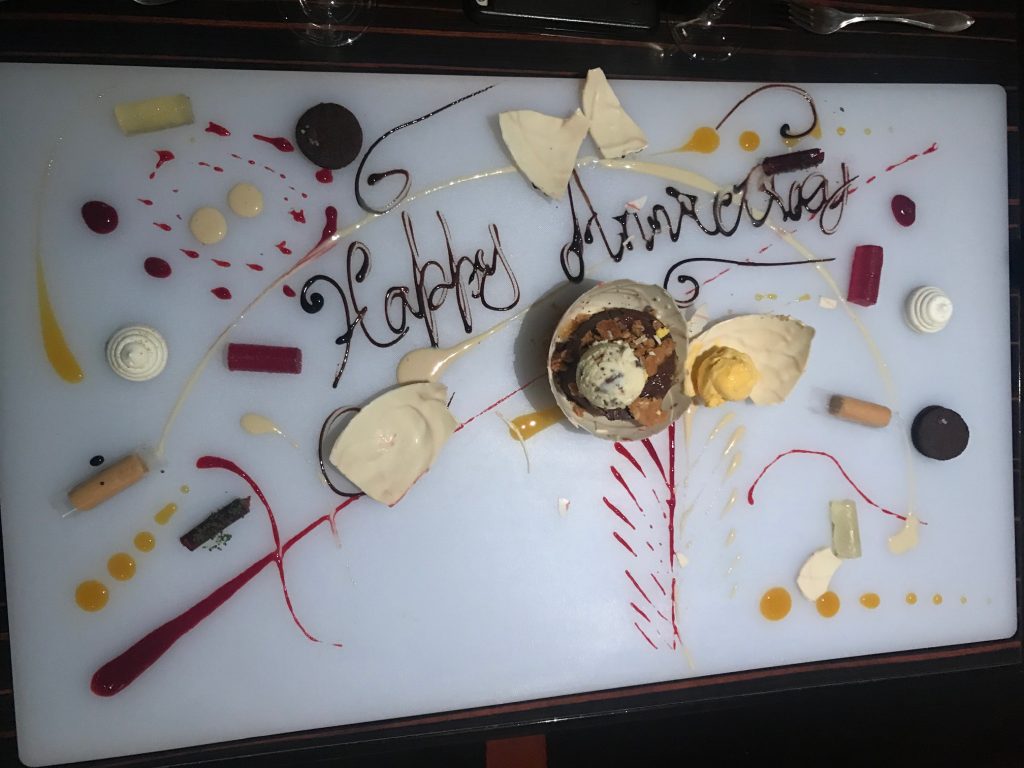 Blue Iguana Tequila Bar & Red Frog Rum Bar on the Lido deck are great for when you want to grab a drink near the pool or want to grab something before walking around the decks.

SeaDay Brunch is only available in the dining room on, well, sea days! It's so delicious and if you want something other than the self-serve buffet, go to a nice sit-down breakfast (for no extra charge), the mimosas are delicious (but there is a charge for those).

Ji Ji Asian Kitchen- I would definitely go back to have dinner here (extra cost of $15 for adults, $5 for children under 11). The food is great and you get so much! When we ate dinner here, we met a couple and talked each other's ears off!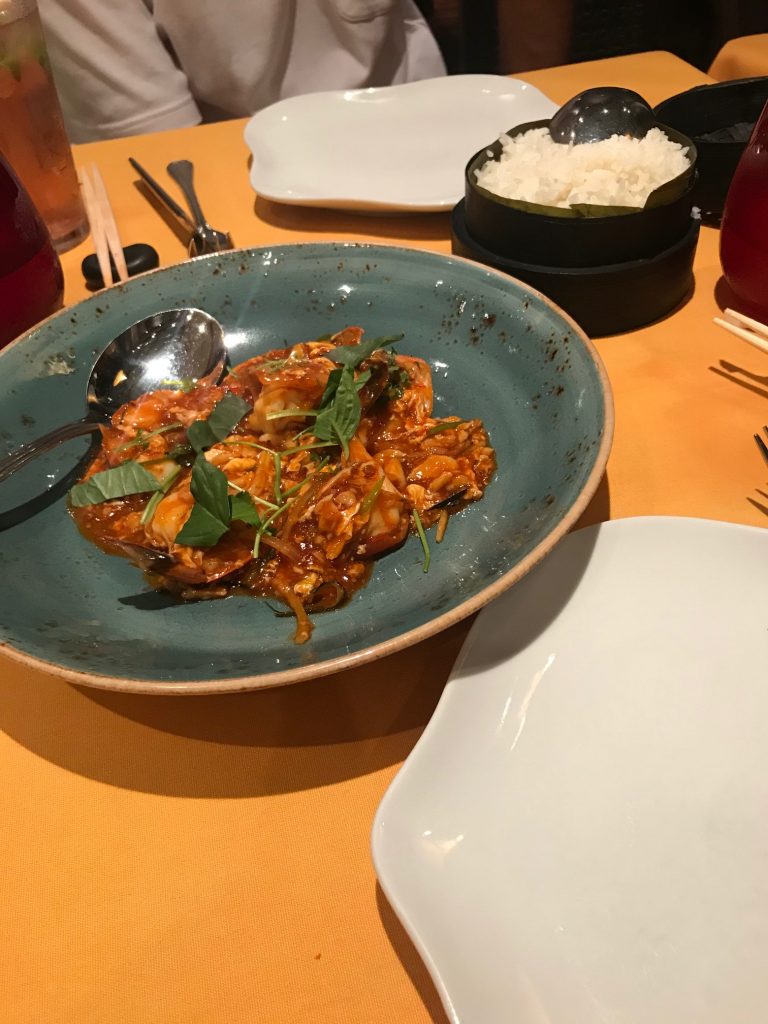 Bonzai Sushi- You can do sushi (located across from the steakhouse) for something different for lunch or dinner! The menu is a la carte for an additional charge.  

Guy's Pig & Anchor Bar-B-Que- Available only for lunch on Sea Days, you get to try the delicious menu available! The Mac & Cheese was my favorite side!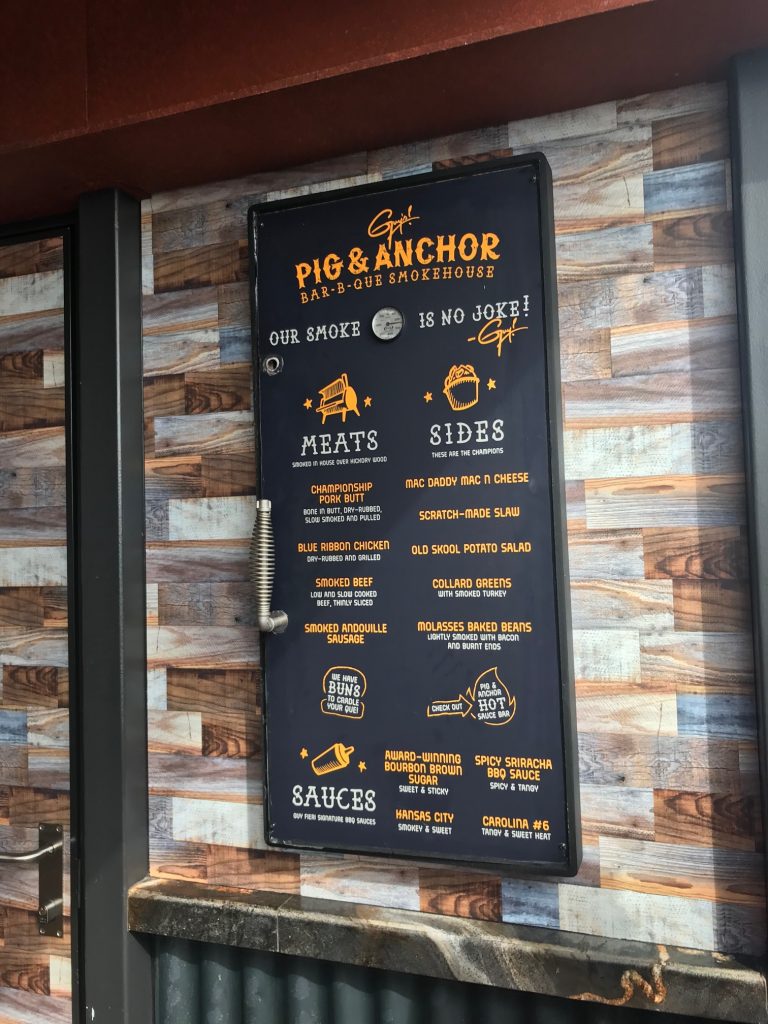 RedFrog Pub & Brewery- We actually went on a Brewery tour on our first trip on the Vista, it was so much fun to learn about how they make the beer on board! I'm not a beer drinker but it was so unbelievably fresh and delicious!
Favorite Activities: Activities differ from ship to ship
Dive-In Movie Theatre on Lido Deck! As mentioned above, you get free popcorn and a blanket! Usually, at night you're sailing, so the wind and open waters can make Lido chilly. You can see what two movies are playing at night on the itineraries that you get in your room each night for the following day.
Sky Ride & Water Works- So much fun! CA did the Sky Ride when we went on the Vista in Europe and loved it! The Water Works area is fun for someone who loves slides, and it's refreshing for all ages!
Games + Shows- In the Liquid Lounge there are different shows put on at night, as well as games! They have HASBRO the game show, and the Newlywed Game Show! They also have things for first-time cruisers to learn about the ship, as well as the ports that you're going to. We also love to play BINGO here, it's an extra cost, but it's so much fun, and the prizes vary from money to excursions!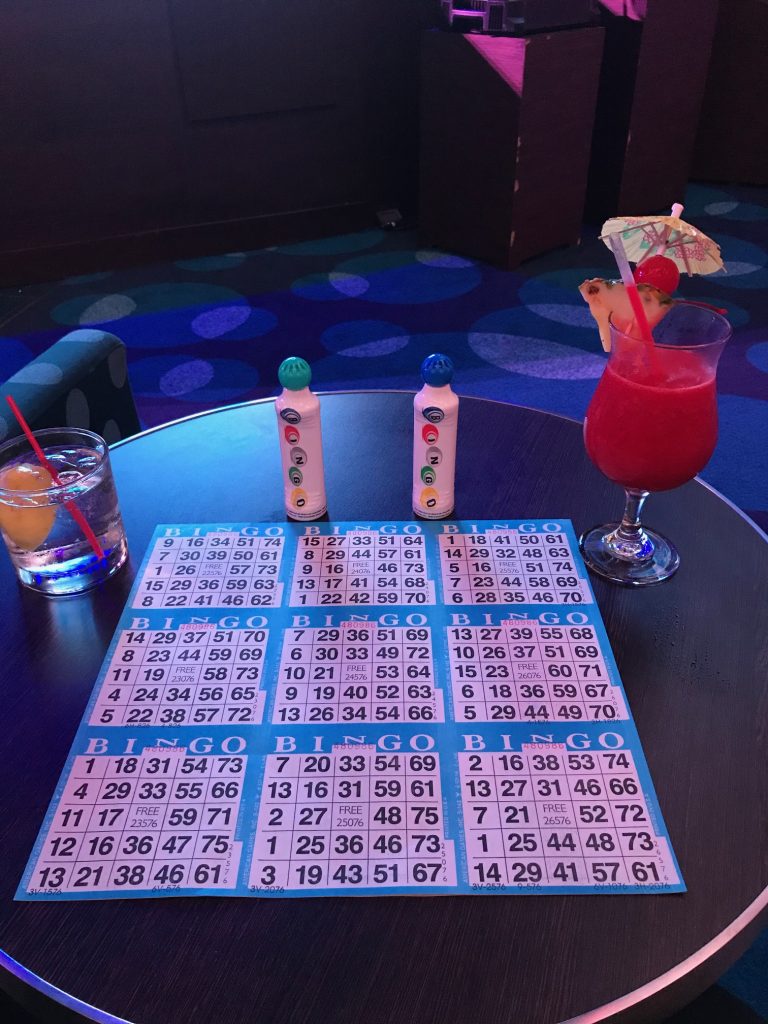 The Punchliner Comedy Club- It's definitely a great thing to do before or after dinner! They have a family friendly show and then an 18+ show for the adults! They have waiters walking around the entire time so you can enjoy a drink and have a few laughs!
Live Music in the Havana Bar- The Live Music that happens in the Havana Bar is just amazing. It's so much fun to dance and let loose. If you want to enjoy the music you can sit outside by the pool or jacuzzis and hear the music loud and clear!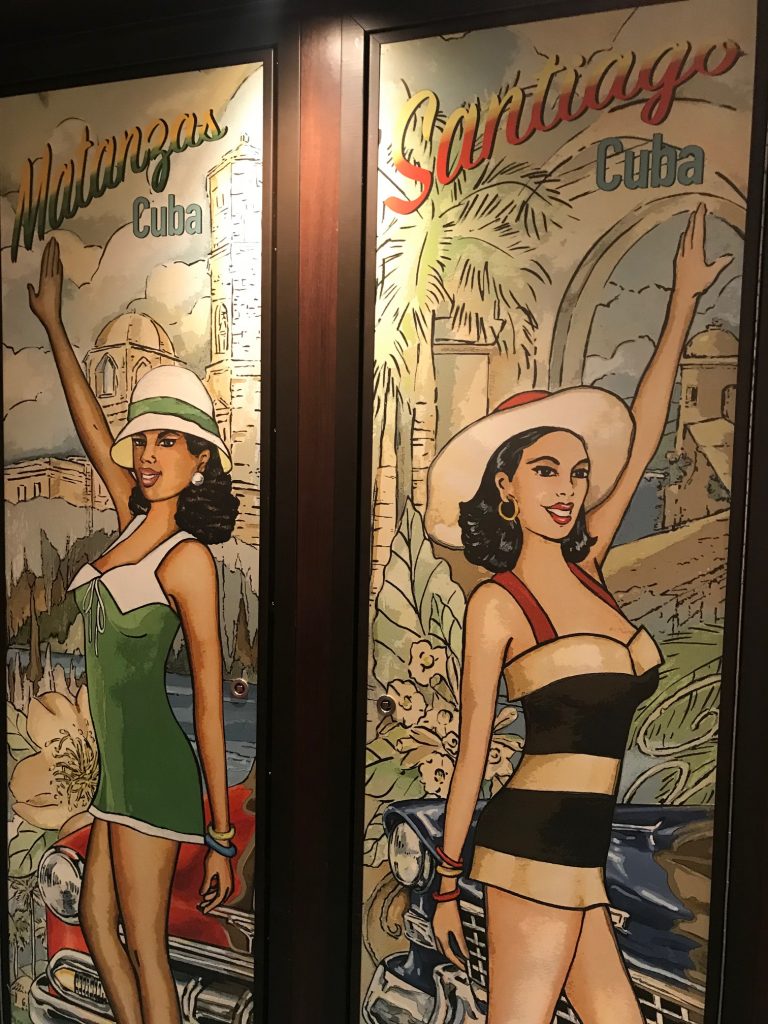 Casino + Sports Bar- The casino is only open when the ship is at sea, so at night and on sea days only. The sports bar is located right near the Casino and if you want to watch your favorite teams you can sit here, and watch them on the wall of TVs! Usually, I sit in the sports bar when CA is at the Casino (I get bored easily at the Casino, especially if I'm not winning LOL).
Arcade Area- This is perfect if you have kids, or are kids at heart like CA and myself. It was fun playing a few games against CA and a few claw machine games. It's a fun time and a perfect way to kill time if you need to before dinner or just want something else to try!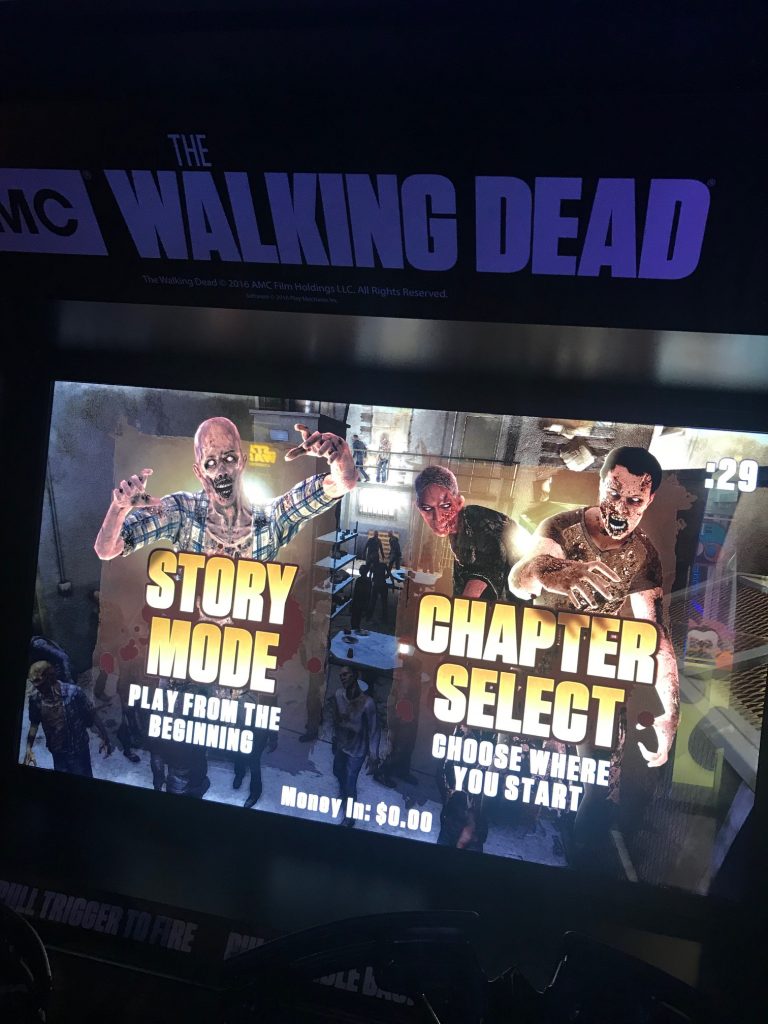 Whew! There is SO much to do on the Carnival Vista, you will not be bored! We LOVE cruising, and it's a great way to go from place to place without repacking! Being in the specialty area of Havana was a resort in itself, especially on sea days relaxing in the chairs and falling asleep. I can't wait for our next cruise on the Carnival Dream- in November! We leave from New Orleans cruising to Costa Maya, Mahogany Bay, Belize & Cozumel! I think I'm equally as excited for New Orleans as much as I am for the cruise! This cruise has been in the making for over a year and I'm just DYING to go to NoLa, and be on another cruise!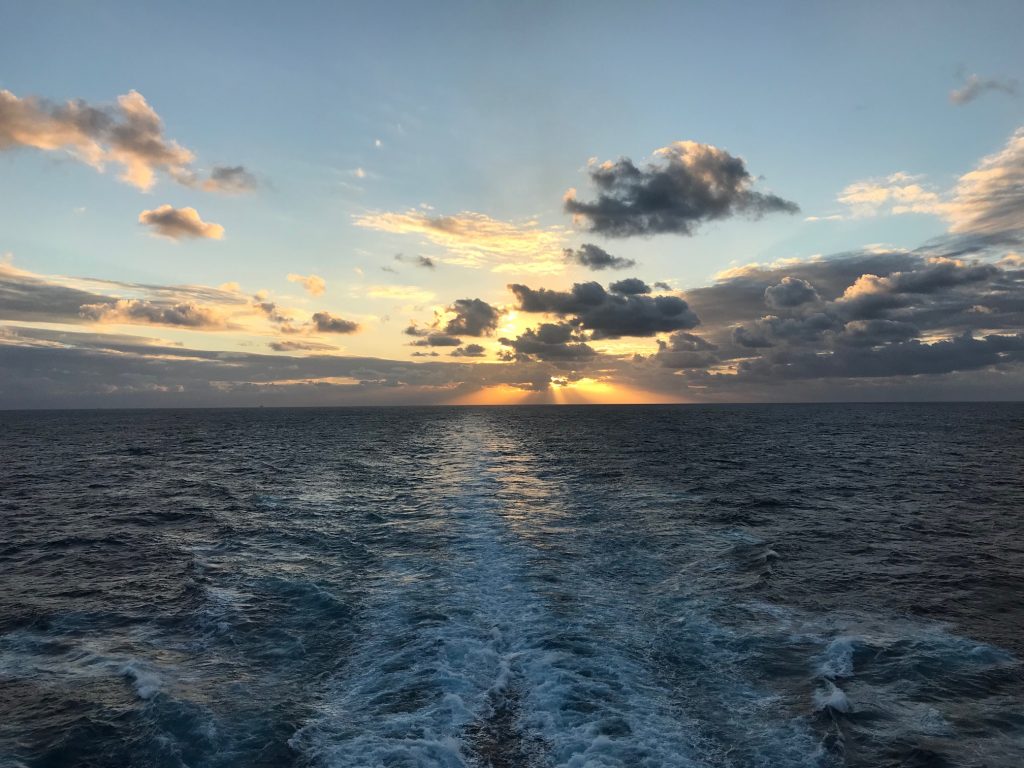 It's fun watching sunsets from the back of the ship, it's 100% vacation mode vibes.
If you're thinking about going on a cruise, whether you're a couple like CA and myself, have kids, or even a family reunion, a cruise can be for everyone, because there's something for everyone! I plan on doing a few more cruising blog posts, tips, and tricks including packing!
I've already posted about Travel Beauty Essentials & Fave Travel Products from Nordstrom!
Have you ever been on a cruise before, or cruised with Carnival? Let me know!
Pin for Later!