This post may contain affiliate or referral links, which means I may receive a commission if you purchase something using my link. It will be no extra cost to you. As always, thank you for supporting Getting Fit Fab.
This Post is Sponsored by Welch's as always all opinions are my own. Thank you for supporting the brands that support Getting Fit Fab.
Do you think if you just act like it's really Spring, it'll suddenly become warmer? Right now, it doesn't feel like Spring at all! It snowed Monday and we're supposed to get a doozy of a storm this weekend…. and to be honest, I'm over it. I'm sure a few people agree just for the fact that we'd like it to feel a bit more like Spring, rather than more snow on the ground. But, keeping with acting like it's warmer out, I made two delicious adult beverages which are perfect for the upcoming warmer weather.
This past weekend was probably the most productive I've been in…a while. I made two Easter cakes (one from scratch), and I made two delicious drinks that are perfect for a party or with dinner. I love Sangria and making a Passion Fruit White Wine Sangria was perfect for my mom and me, plus having a brand new Sangria pitcher and glasses (from my bridal shower almost two years ago), I couldn't resist! I also wanted to make something a little less sweet that CA would like (and that I could possibly make in the future). Luckily, I know CA likes vodka, so all I had to do was find the right combination where it's refreshing and delicious. Plus, I was able to use a shaker and strainer (also from the bridal shower) to mix and measure the drinks! Making these drinks was easier with Welch's Refrigerated Cocktail Passion Fruit flavor. It was easy to center drinks around this flavor and it added the perfect amount of sweetness to the Sangria and vodka drinks! You can grab the Welch's Refrigerated Cocktail in the refrigerated section of your local grocery store, and there are different flavors for everyone! It has a delicious taste and is refreshing as a mixer or on its own!
Time for the best part of this post… the drink recipes!
Passion Fruit Sangria– Perfect for a girls' night or a summer party!
Ingredients:
1 Bottle Moscato – chilled
2 Cups Welch's Refrigerated Cocktail Passion Fruit Juice – chilled
1 Cup Welch's White Grape Juice – chilled
1 Cup Ginger Ale – chilled
Cut Fruit – Apples, Pineapple, Oranges, Lime, Lemon–or anything you like!
Extra fruit for garnish
Ice
Create:
In large pitcher or bowl
Place cut up fruit on bottom of pitcher (or bowl).
Pour the Moscato, Passion Fruit, White Grape Juice & Ginger Ale
Add Ice & Stir!
Tip: Use wooden spon to hold back fruit when pouring in glass. (You end up making less of a mess)
Passion Fruit Vodka Cocktail – This is for a single person, but can be easily made for two or more people.
Ingredients:
3 oz Vodka
2 oz Passion Fruit
2 oz Lemon Lime
Ice
Raspberry and Lemon to garnish
Create:
Mix Vodka, Passion Fruit, Lemon Lime & Ice together. Shake Well and pour into Lowball glass. Garnish with Raspberries & Lemon peel and enjoy!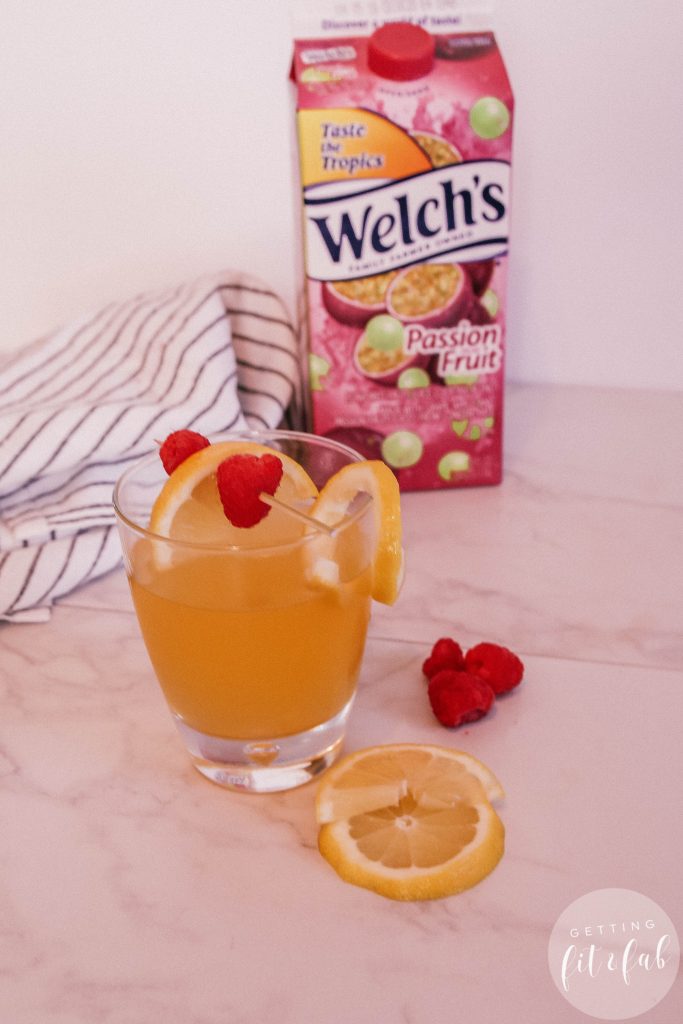 I hope these recipes gave you an idea or two for your next gathering or just night in! Let me know below if you are going to try one of these recipes!