This post may contain affiliate or referral links, which means I may receive a commission if you purchase something using my link. It will be no extra cost to you. As always, thank you for supporting Getting Fit Fab.
Happy Friday! I'm surprised how quickly February is going! I got my hair cut Wednesday night because, this girl desperately needed it. I'm getting my hair colored for the first time in over 15 years Saturday… so I had to get it cut before getting it colored. I'm SO excited, I'm heading to Greenwich CT since my friend Ariel does Balayage beautifully so I'm having her do it at her job. I can't wait to share how my hair comes out!
Since we're going to Northern Europe, winter accessories are definitely crucial. If you haven't seen my other posts, I am going to Paris, London & Dublin for 12 days with CA so a few of these will be going with me.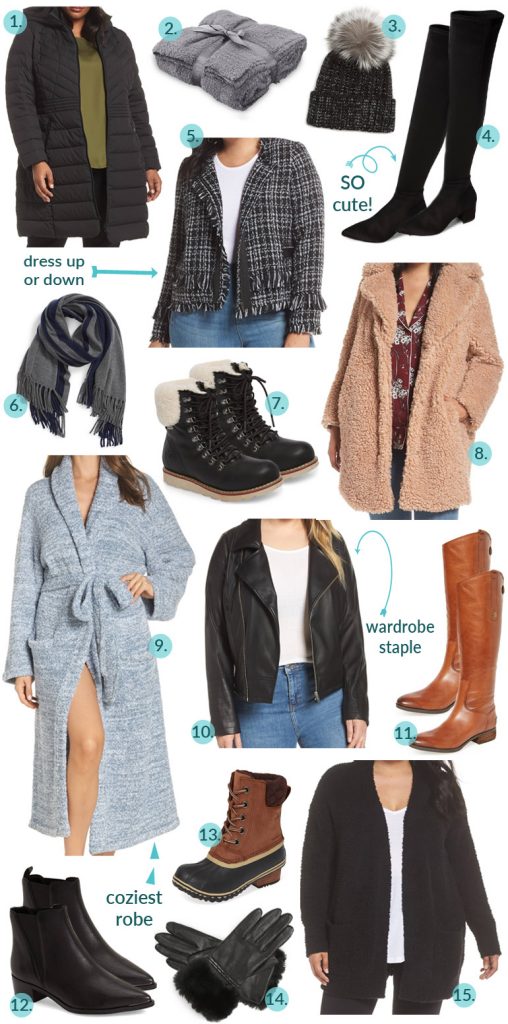 1//2//3//4//5//6//7//8//9//10//11//12//13//14//15
We've gotten lucky on Long Island that even though we had over a week of negatives, teens and twenties… I just won't say it cause than it'll happen. But you know where I'm getting at! I had to buy a new puffy jacket for this winter so I grabbed that first on sale, along with the Barefoot cardigan & throw. Cause this girl needs to be warm! I work in an office that tends to stay cold and take forever to warm up. So I have those two at my job. I wanted new snow boots for winter, just anything that would keep my feet warm, plus I like the brown color, and the black ones are super cute with the fur on the back! Gloves, beanie pom pom, and a scarf are a must, I don't like being cold and a scarf is another layer that you can add to your outfit! These tall boots are perfect for walking in NYC or anywhere outside, the black ones are perfect with skinny jeans and the brown is great for a more casual look. These black booties are super cute for a night out! My boss has a blazer similar to this one which is why I like it so much, and it can dress up a nice work outfit! My Moto jacket has become a staple and I love how warm it is! If you want to be cozy at home, the teddy jacket is perfect or the plush warm robe!
What was or is your favorite Winter Accessory so far? I think the warm cardigan and the beanie are my go tos just simple like to be warm.