This post may contain affiliate or referral links, which means I may receive a commission if you purchase something using my link. It will be no extra cost to you. As always, thank you for supporting Getting Fit Fab.
This post is sponsored by CreditRepair.Com but the content and opinions expressed here are my own.
If you've read my previous blog posts about my credit journey you know that the road to financial freedom hasn't been easy. Navigating your credit journey can feel daunting, especially if your journey hasn't been the easiest, like mine. I'll be the first to admit I never learned about how important credit score was in high school, or even college for that matter. But, at the ripe age of 18, I received my first credit card, and had no idea what I was doing. I also had no idea how badly all of the issues would come back to haunt me as a 29 year old married woman, who needed a new vehicle.
Wherever you are in your credit journey, you can always get help and gain knowledge to help you get to financial freedom. Creditrepair.com will be your credit best friend, with over 15 years experience, and many members who've improved their lives as a result. Creditrepair.com is so much more than a service that removes negative items for your credit history. Creditrepair.com has a resource library for users to learn specific terms, consumer protection, case studies, and more. Knowledge is one of the most powerful pieces in rebuilding your credit; you can't turn a blind eye when your credit is on the line. You can't fix a problem if you don't face it head on, but what if you don't know how to fix the problem or where to start?
That is where you enlist the credit consultants at Creditrepair.com for their help. Whether it's removing negative items from your history, putting a solid plan in place to pay off debt collectors, or just monitoring your credit score, they can help you. But, Creditrepair.com can only do so much. Have you heard of the phrase, you can lead a horse to water but can't make it drink? It basically means you can give someone an opportunity but can't force them to take it. Fixing your credit history will only take you so far; you have to change your mindset about credit cards, your credit score, and money in general.
Whether it's changing your spending habits, figuring out payment plans for loans, or even increasing streams of income.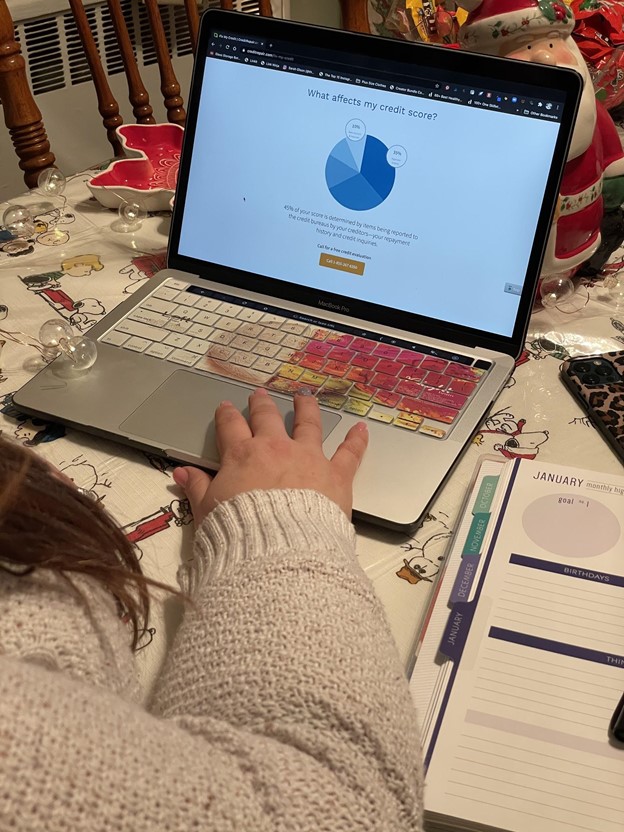 What habits I'm changing on the road to financial freedom:
Watching my Spending- I love to shop, which can be dangerous with credit cards, unless you're paying them off right away. Which is how a person can snowball into debt rather quickly. I've also switched to using my debit card for shopping, it helps me keep myself in check with spending better.
Cutting back on subscriptions- As a blogger and someone who loves TV shows, I have plenty of subscriptions that I have to make sure I continue using or stop paying for. Anthony has me check my subscriptions every few months, to make sure that I am still using them. This is a great thing to implement even with different applications that you use on your phone.
Auto Pays- This goes for bills that you have to pay each month, like car insurance, electric, gas, etc. Also, your credit card payments should be on auto pay, this can prevent you from forgetting to make a payment and then getting a late fee, which can also go on your credit report.
Transferring Cards to 0% Interest- This is something Anthony just did to one of our joint credit cards. Since it's 0% interest, we're paying off the debt, not accruing interest at the same time. I will say we already have this 0% interest card, so we didn't open up a new one to do this.
Working on doubling my income- I work a full time job as well as my blog, which helps me put more money towards our debt. I also use it if I am shopping for household items, or a necessity, I pay for it outright, not on a credit card.
Ask for help: between my hubby being extremely savvy with numbers, and Creditrepair.com I have all the help I could need. Creditrepair.com will help teach me to spend wisely, as well as make sure to keep on top of my credit score, and anything that'll bring it down.
Creditrepair.com has a team member ready for you to give them a call, to help you in any of your credit score needs. Repairing your credit isn't as scary as it sounds, after speaking to a consultant, and doing some reading. You'll learn as you go, it takes time to rebuild great credit, but it can be done with the right tools. The future is all in your hands!