This post may contain affiliate or referral links, which means I may receive a commission if you purchase something using my link. It will be no extra cost to you. As always, thank you for supporting Getting Fit Fab.
Thank you for Great Northern Catskills of Greene County , Windham Mountain and Winwood Inn & Condo for hosting us for the weekend. 
In December CA & I celebrated our 8th dating anniversary by taking a trip for the weekend. Usually we go to the same restaurant we had our first date, but I figured after the year we had, it would be fun to go somewhere new. With the Pandemic, we knew going somewhere meant some place drivable and also a state that is approved for travel by the state of New York. What's better than staying within New York and just driving up the Hudson? After getting in contact with Great Northern Catskills of Greene County Tourism Board, our plan was in play! I have visited the Catskills in 2019, but this time we'd be further north, maybe even catching our first snow of the season! 
Before arriving at Winwood Inn, we picked up our dinner at Zack's Place, which happened to be only a few minutes from the hotel. When we arrived at the hotel, the check in was very easy. With Covid protocols in place we received our room keys and went up to our room. We were at the top of the stairs, entering our spacious room, with a beautiful view of the mountains. CA grabbed a few bags from the car while I filmed the inside of our room and we enjoyed our delicious dinner. Our original plan was to have ski lessons at Windham Mountain, which is only 3 minutes from the Inn. Mother Nature unfortunately didn't cooperate the week leading up to our stay, so our lessons got canceled due to no snow! Bummer right? I was so excited to try skiing for the first time, but there is always the next time! Luckily, we had a full list of things to do, places to go and food to eat. 
Saturday morning we woke up, got ready for the day and grabbed breakfast at the Catskill Mountain Country Store. It was so cute, they have a store and dining area under one roof, perfect to do some shopping than eat! They're open for breakfast and lunch Thursday to Monday and the breakfast was so delicious. After breakfast we headed up to the Mountain Top Arboretum which is in a town called Tannersville. We got lucky as we started driving up the mountain the roads and trees were turning white. Finally, some snow was starting to fall, in town it was a mixture of rain/snow, but as we traveled up the mountain it was all snow. It made the walk through the Arboretum so magical. There was about 3 inches on the ground and it looked like a beautiful winter wonderland. We did one of the smaller hikes named East Meadow, we could've hiked further but we had a busy day planned! 
We grabbed a few fun pictures and enjoyed the quiet outdoors, just hearing the snow crunch and the little creeks running underneath our feet. Also, newbie tip, don't' wear brand new boots for hiking, if you do at least wear socks that won't scrunch down and give you a blister. Trust me. I don't know why I thought that was a great idea. After the mountain top arboretum, we headed to West Kill Brewery. They use locally sourced and foraged ingredients, they're cutely tucked away with a gravel road adding to the mountain vibes. With outdoor seating we grabbed seats underneath the covering so the falling snow wouldn't make us colder. I'll admit we weren't prepared to sit outside but luckily I had a few blankets in my car so I wrapped myself in one while CA tried a few beers and we snacked on some chips.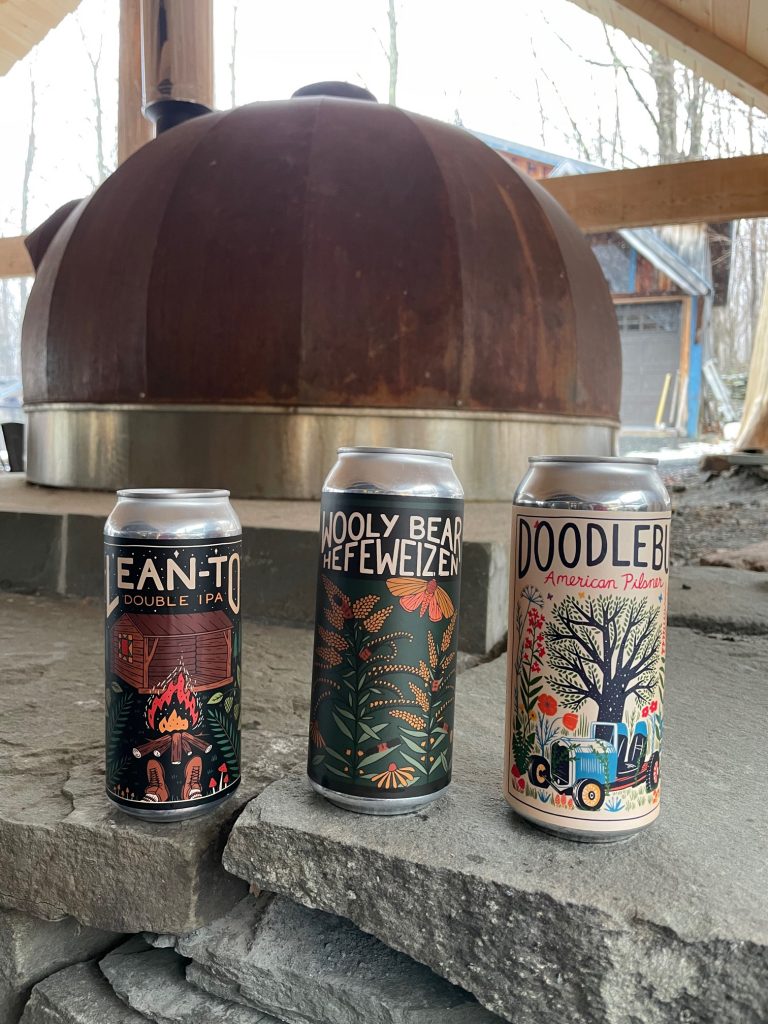 We headed back down the mountain towards Hunter to go to the Hunter Mountain Brewery. It was a large restaurant with a brewery on site, with plenty of indoor seating for the snowy day. They do have plenty of outdoor seating for the warmer months, with panoramic views of the mountains. They had delicious food for us to eat, we had the coconut shrimp to start (SO good!). Our second dish was Nachos which were excellent! I am not a beer drinker so I had hot chocolate in a fancy glass.  
We headed back to the Winwood Inn to relax before our romantic dinner. We went to Vesuvio and it was amazing Italian food! We had our go to appetizer, Calamari and our salads were included. For dinner I ordered shrimp & lobster tail over pasta and CA had chicken with sausage and peppers. We took dessert back to the hotel since the portions were huge! We watched a few Christmas movies before going to sleep. 
We had a relaxing start to our morning on Sunday, since our reservation at the Vineyard at Windham was at noon. CA had left over breakfast from the country store, but he grabbed me a bagel at the deli next door to our hotel. We packed up and headed on to the next stop. After checking out, I took a quick video of their lobby and outside the building. Plus, I took a few pictures of the outside of the Inn.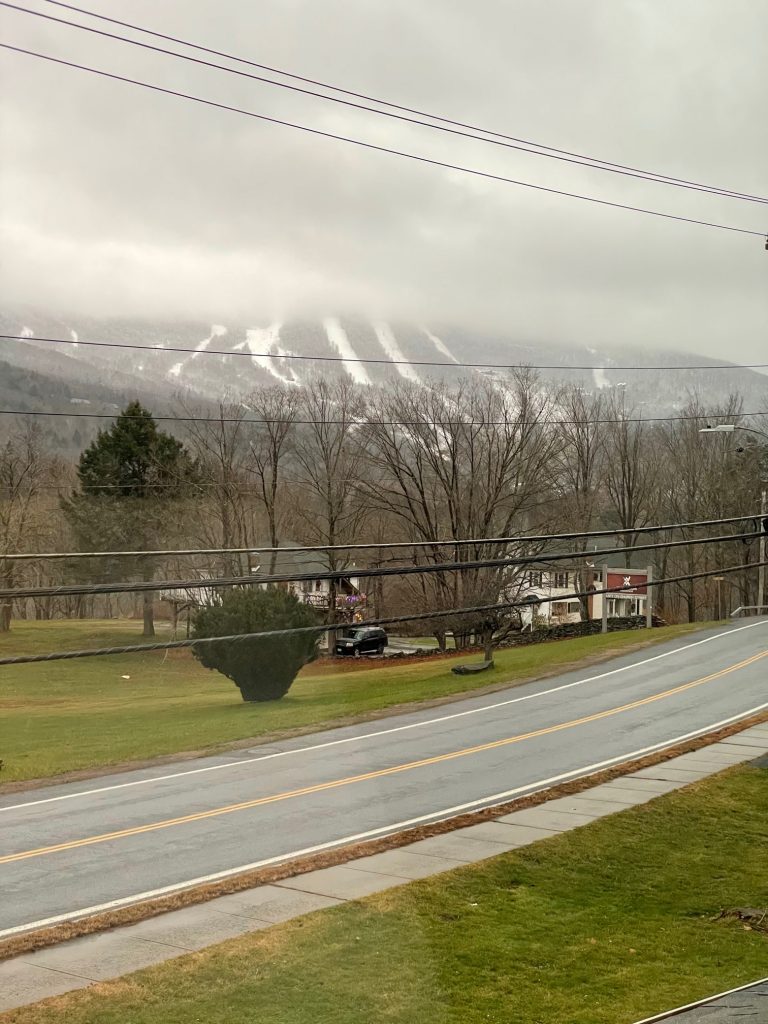 We headed to The Vineyard at Windham and we had a reservation at noon. With Covid they highly recommend reservations just in case they're busy you won't be turned away.  Since CA was driving home, I enjoyed a tasting flight for myself. Luckily I found a flight where I thought I'd like the majority of them, the White Wine Tasting, which was $30 for 5 tastings. Between the TVW Diamond Sparkling and TVW Semi Dry Riesling, I chose to bring home the Riesling, since I liked that one just a little more. It's NYS law to order food while drinking alcohol, so we ordered a cheese box that we could snack on. The views were so pretty especially with the view of the vines and mountains in the distance. After the tasting, and purchasing our wine to take home we took a few pictures outside and headed home. We live around 3  hours from the Catskill Mountains and we're  lucky to hit less traffic than normal, grabbed food and arrived home. 
The Winwood Inn & Condo has something for everyone, they have Studio, One Bedroom, & Two Bedroom Condos. At the Inn they have a double bed room, junior double bed room, or a regular Inn room. We had the regular Inn room since there were just two of us, but there was a lot of space! There was a cute little table, two chairs, a king size bed, a closet near the door which is perfect for winter coats and boots. The sink was separate from the shower/toilet which made it easier for us to get ready in the morning. If you're local, live in one of the neighboring states, or want to travel to the Catskills when it's safe you can check them out here!