This post may contain affiliate or referral links, which means I may receive a commission if you purchase something using my link. It will be no extra cost to you. As always, thank you for supporting Getting Fit Fab.
This post is Sponsored by ErinCondren, as always all opinions are my own. Thank you for supporting the brands that keep Getting Fit Fab running!
Valentine's Day isn't just about spending time with your significant other, it can mean spending time with your best gal pals, your kiddos, or some self-care time! I've mentioned before that CA and I are very casual for Valentine's Day and only trade cards, no presents. If you're like us, you can give one of your best girlfriends a fun and colorful present from ErinCondren! I've been a long time fan of ErinCondren, I even went back in my orders to see when I first started. May 2012 was when I placed my first order, this was before they had interchangeable covers, laminated pages, and there was no way to personalize the inside pages. I've loved how EC has transformed over the years, personalizing what planning pages inside are, hourly, vertical, or horizontal. Plus, they have interchangeable covers now, which is so much fun when you can change for holidays or some inspirational quotes!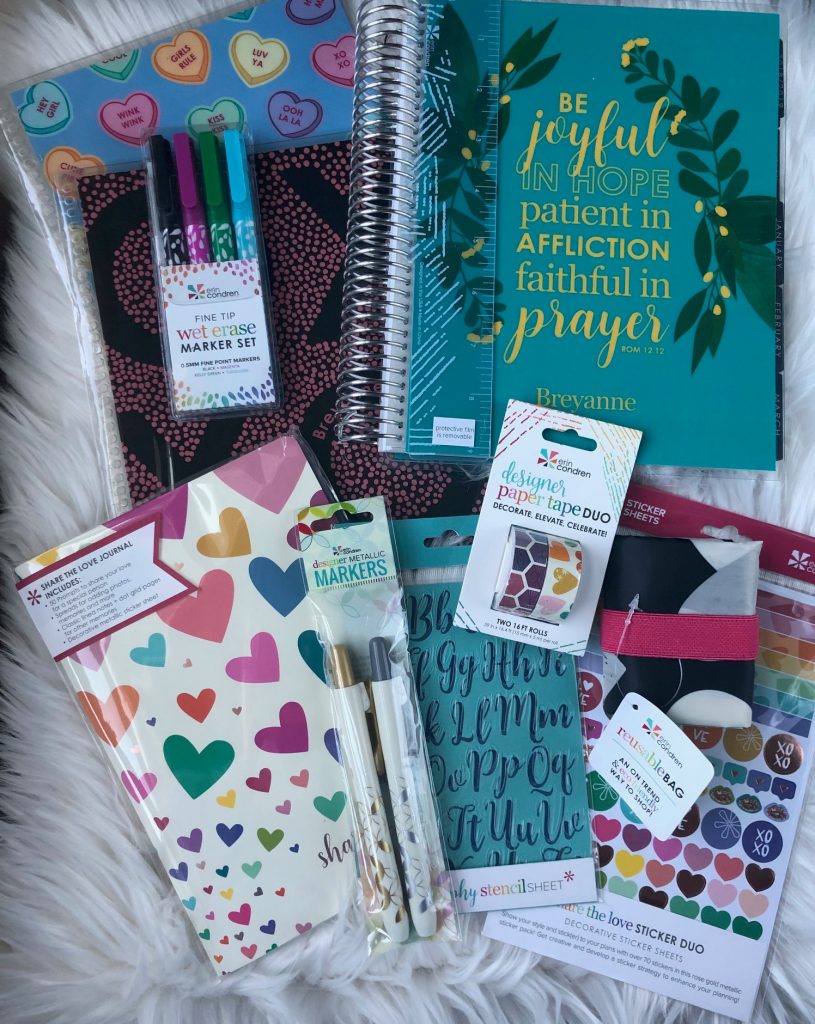 When ErinCondren sent out an email for Sharing the Love this Valentine's Day, I knew exactly what I wanted to do, and who I wanted to share my love with. One of my best friends Brey, who's been a fan of EC just as long as I have is who I'm sharing my love with. She's been going through a few hard times, and I felt that she could use some cheering up! What a better way to cheer up a bestie than with some goodies from our favorite planning company! Brey and I are very similar, we both love sports, food, our significant others, planning, and working out. We're opposites for sports because she lives in Philadelphia, but we do agree on a few players and teams that we don't particularly like. It's all about finding what you do agree with, and what you have in common with your best friends.
So onto the best part, what I got her from ErinCondren! First I got her a 2019 vertical neutral LifePlanner with the quote "Be Joyful in Hope, Patient in Affliction, Faithful in Prayer Roman" 12:12 on it. I grabbed two Valentine's Day custom LifePlanner covers (XO Cover & Conversation Hearts), one share the love petite journal plus a cute little sticker sheet. Brey loves to decorate her planner like I do so the Share the Love designer paper tape duo, metallic pens, Calligraphy Stencil Sheet, wet erase markers and to carry all of her planner goodies or to use while shopping a Heart to Heart reusable bag.I can't wait to to send this to her and for her to be able to enjoy her new ErinCondren goodies!
These gifts are good for the planner friend, yourself, or someone that you think would love to begin using the ErinCondren LifePlanner and accessories. Besides the LifePlanner, there's Wedding & Teacher planners, so there is something for everyone. And if you don't need the entire planner there is the Petite Planer, and you can make a folio that has the petite planners in there so you can customize it to what you need!

Are you a fan of ErinCondren? Have you tried the ErinCondren LifePlanners before?