This post may contain affiliate or referral links, which means I may receive a commission if you purchase something using my link. It will be no extra cost to you. As always, thank you for supporting Getting Fit Fab.
Do you have a wedding to attend this summer? This, Summer Wedding Guest Style: 4 Plus Size Looks #PlusSizeFashion is just for you! Maybe you're looking for an outfit to wear on date night? Are you a plus size woman like me and want to see what style of dress fits your body type right? Check out the four styles below that really worked well on my 5'4″ plus size figure and the accessories I love! They are all from Dress Barn, Kohls', DSW & Amazon!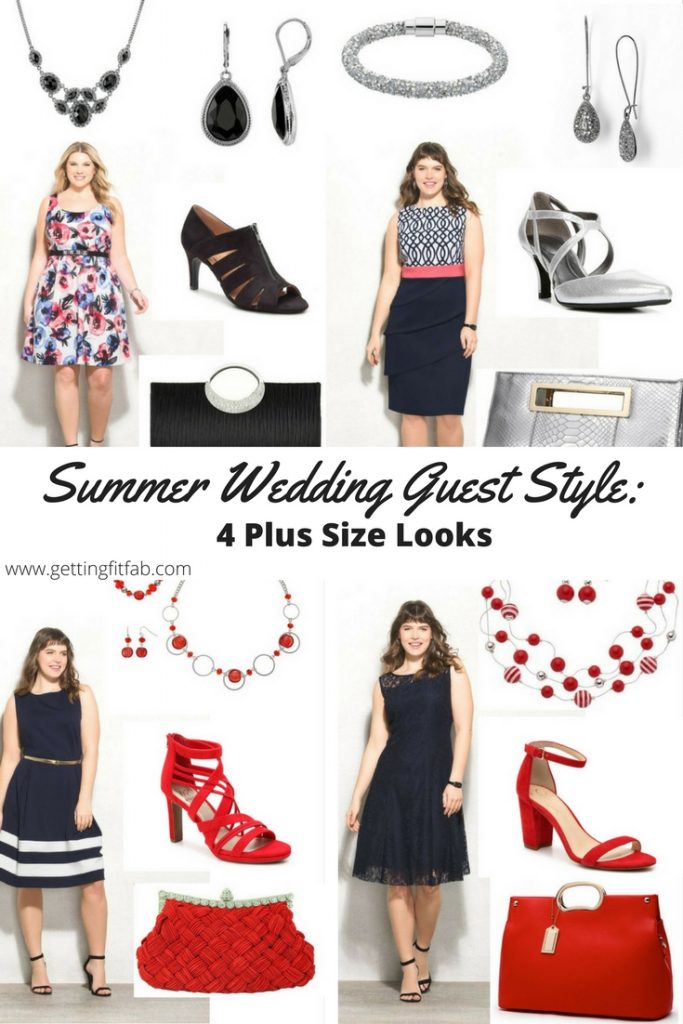 Does summer mean weddings and other events to attend scattered throughout the season to anyone else? It also means spending more time outdoors, date nights, anniversaries, and girls nights out enjoying the warm (and humid) weather. We have three weddings and an engagement party to go to this summer and being a fashionable female, I wanted to go shopping for a few new outfits. CA requested one minor detail when I went shopping this time, something with color, instead of just another LBD (little black dress). It took a while, but I finally found what I was looking for on Dress Barn when they released the Spring/Summer line a few weeks ago. I went to the store to try on the dresses I found, and see if there were any dresses I might have missed. I was able to try on the three of the four dresses at the store and loved them all! The 4th dress I tried on after it was shipped to my house. I wanted to share the dresses and accessories I've found. As a plus size woman, dresses are hard to find, especially because I'm short. Certain lengths look bad on me, either they cut me the wrong way and make me look even shorter than I am or the cut doesn't flatter my body size. Dress Barn is my go-to store for plus size dresses for special events, they have many different styles, lengths, and even colors. The other reason I picked these four is the versatility between them all. They're great for work, date night, or girls night. You don't have more dresses taking up space that you can't wear for more than one occasion.
This was the first dress I spotted; it's colorful and perfect for the Spring/Summer events and isn't too "white" to wear for a wedding. It's more along the lines of a straight dress, but the belt helps bring it together and give it shape. The shoes are super comfortable, they are only 3″ high so hopefully, the feet won't hurt too much at the end of the night. I love the jewelry; it's the perfect accent for the dress and plays into the black belt on the dress.
Dress: Dress Barn// Luxe by Carmen Marc Valvo w/Belted Floral Dress Plus Size Necklace: Kohls// 1928 Faceted Stone Bib Necklace  Earrings: Kohls// 1928 Faceted Stone Teardrop Earrings Shoes: DSW// Women's Glamour Pump in Black Clutch: AMAZON// Fashion Road Evening Clutch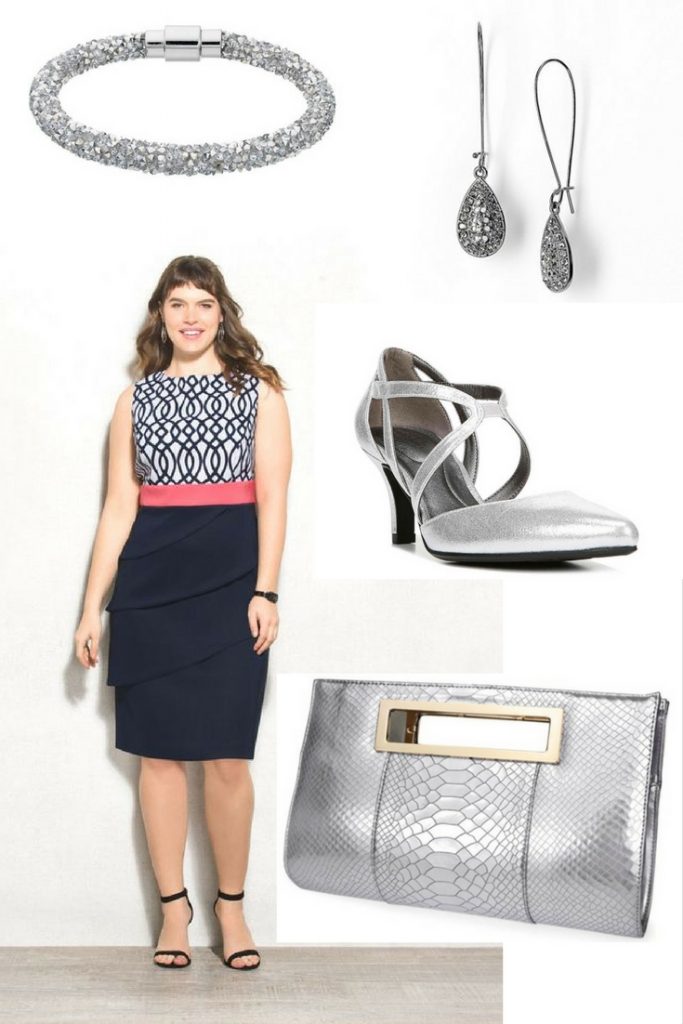 This dress is a similar style to the first: straight, but the bottom is layered so it gives more movement. I love the pop of coral in the middle to break up the dress. Since the top is so high I went with just a bracelet & longer teardrop earrings, I didn't want to take away from the geometric top. I went with silver for the accessories; it's subtle and also perfect to save for other dresses you may already have in your closet. The clutch is my favorite out of the four, it comes in a few different colors and is the perfect size for a wedding. I need stability with my shoes especially when I wear heels so I love the design it's summer style but nothing too crazy, it's also only 3″ (you'll notice a 3″ or lower theme to my heels).
Dress: Dress Barn// DB Signature Sabrina Geometric Tiered Dress  Plus Size Bracelet: Kohl's// Simply Vera Wang Faceted Stone Bracelet Earrings: Kohl's// Simply Vera Wang Teardrop Earrings Shoes: DSW// Women's Seamless Pump-Silver Clutch: AMAZON// Hoxis Classic Crocodile Pattern Faux Patent Leather Clutch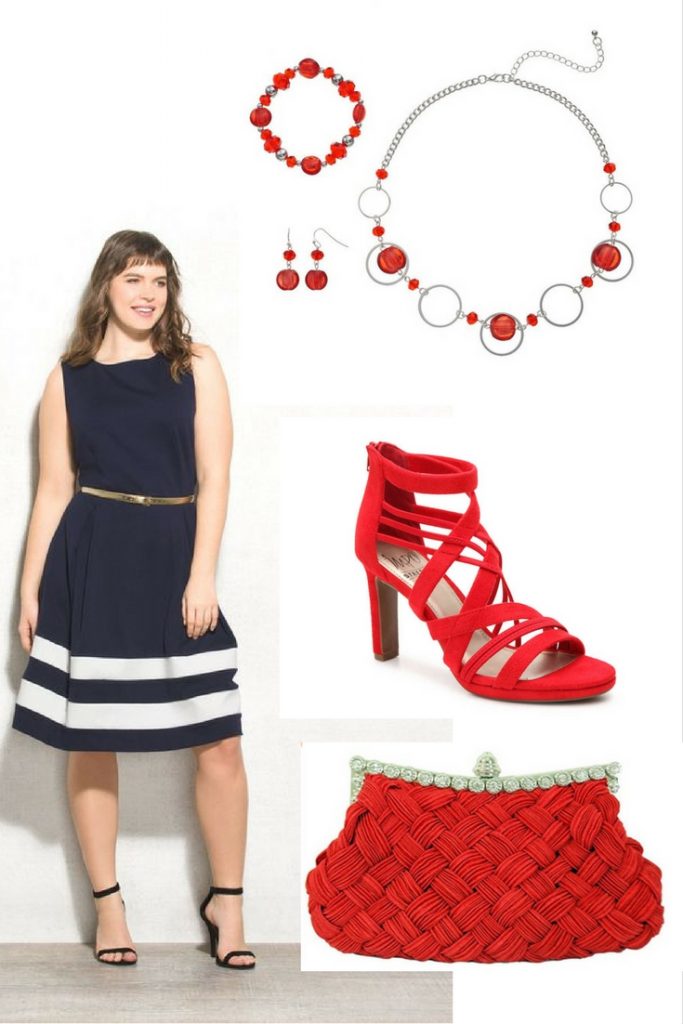 This dress is my favorite, it's lightweight and the bottom flares out for a little different style. This dress I would definitely wear for date night or even to work, I could wear flats and it's a little more casual.  I love pairing the navy & red together because it's a perfect pop of color without being too loud. I also love the jewelry set, it's a one stop shop for all my needs plus it matches the clutch perfectly!
Dress: Dress Barn// Belted Colorblock Ft-and-Flare Plus Size  Jewelry Set: Kohl's// Beaded Orbital Necklace, Stretch Bracelet & Drop Earring Set  Shoes: DSW// Women's Tazara Sandal-Red Clutch: AMAZON// Chictastic Pleated & Braided Rhinestone Clutch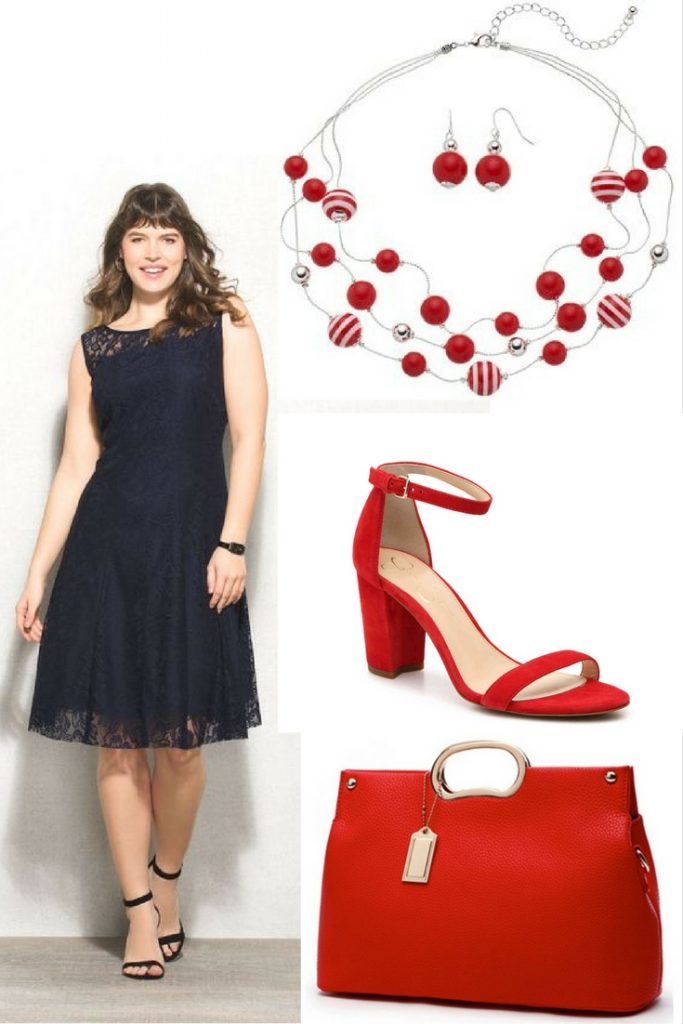 This lace dress is perfect for the end of June wedding CA & I are going to. It's so light, flares out just a little at the end and hits at a perfect length. The shoes are perfect for dancing the night away, it's a block heel & only 2.5″ high. Another jewelry set that will go great with the clutch I am grabbing from Amazon. This one is on the larger size but it'll be perfect, I might be throwing flip flops in there just in case my feet hurt.
Dress: Dress Barn// Navy Lace Dress Plus Size Jewelry Set: Kohl's// Red Striped Bead Multi Strand Necklace & Drop Earring Set  Shoes: DSW// Women's Monrae Sandal- Red Clutch: AMAZON// Ynique Women top Handle Satchel Handbag
Do you have a go-to color you always buy when looking for a new dress? Even though I love my LBD I think I may branch into Navy… it's technically a color 😉