This post may contain affiliate or referral links, which means I may receive a commission if you purchase something using my link. It will be no extra cost to you. As always, thank you for supporting Getting Fit Fab.
This post is brought to you by Movemints and The Motherhood. All opinions are my own.
This is one post I've been wanting to write for a while! When I first got Invisalign I honestly had no idea what I was getting into, luckily my BIL had them so I asked for his advice. Even with talking to him there was still things I learned on my own and wish I would be more prepared for. Even small things like having to carry around at least a toothpaste and toothbrush with me at all times. The pain? No one talks about that, but here I am talking about the 5 things I wish I knew before getting Invisalign. Hopefully, this post will help you if you've decided to get Invisalign or are thinking about it.
Recommended Wear Time: 22 Hours- Really think about how many hours that is…. 22 hours is recommended because the more you wear your Invisalign trays the more efficient they work.  You generally sleep 8-10 hours a night, so 12-14 hours is spent awake, working, eating, etc. It means that you'll need to really think about each meal because each time you remove them the clock starts. My BIL made a joke that you generally snack less because you think okay, I have to take out my trays and than brush my teeth for whatever snack it is. So you start thinking, is this snack worth the extra time?

Attachments or Teeth Shaving- This was one thing I was warned about, attachments. They are brackets that help your teeth move in the direction they are meant to. I didn't need attachments, but I needed to have my teeth shaved down. And it HURT, they take a piece of metal and physically shave your teeth down so that the Invisalign trays can "click" onto your teeth. If you have Invisalign you'll know the click I'm talking about, it's the sound that means that your tray is in the correct spot.

Brush 'em Brush 'em Brush 'em- This matches number 1, each time you eat food or drink anything that isn't clear you'll be removing your Invisalign trays. Which means before you put them back in, you'll have to floss, brush and mouthwash, every single time. Usually, during the work week, I would brush my teeth only 3 times, on the weekend if I was home or out, it could range from 3-6 times. I carry a toothbrush, toothpaste, floss, travel mouthwash,  Invisalign case, all in a bag to keep it organized.
Clear Liquids/ No hot drinks- It is also recommended you don't drink any hot beverages with your  Invisalign in since they are plastic. So cold clear drinks are definitely what you should stick to since anything with color could discolor your trays and attachments if you have them. Which means if you want coffee or tea, you need to remove your  Invisalign trays & then brush etc before placing the trays back in. Same thing with iced tea or wine, even white wine can start to discolor your trays/attachments. I drink mostly iced coffee but that was cut down because I didn't want to remove my trays and then have to basically chug my iced coffee so my trays weren't out of my mouth too long.
The Pain…. The pain, this was something my BIL let m know about right away. When you receive your first set of trays you'll feel some slight discomfort, because it's something new and they're beginning to move your teeth around. One thing I highly recommend is switching trays at night, taking some type of OTC pain medicine, and going to sleep. So you're sleeping through the pain of switching your trays. Obviously, the level of pain will vary person to person, as well as what tray you're on and what needs to be shifted. The  Invisalign work in sections of your mouth, one section over a variety of trays, and moving around the mouth.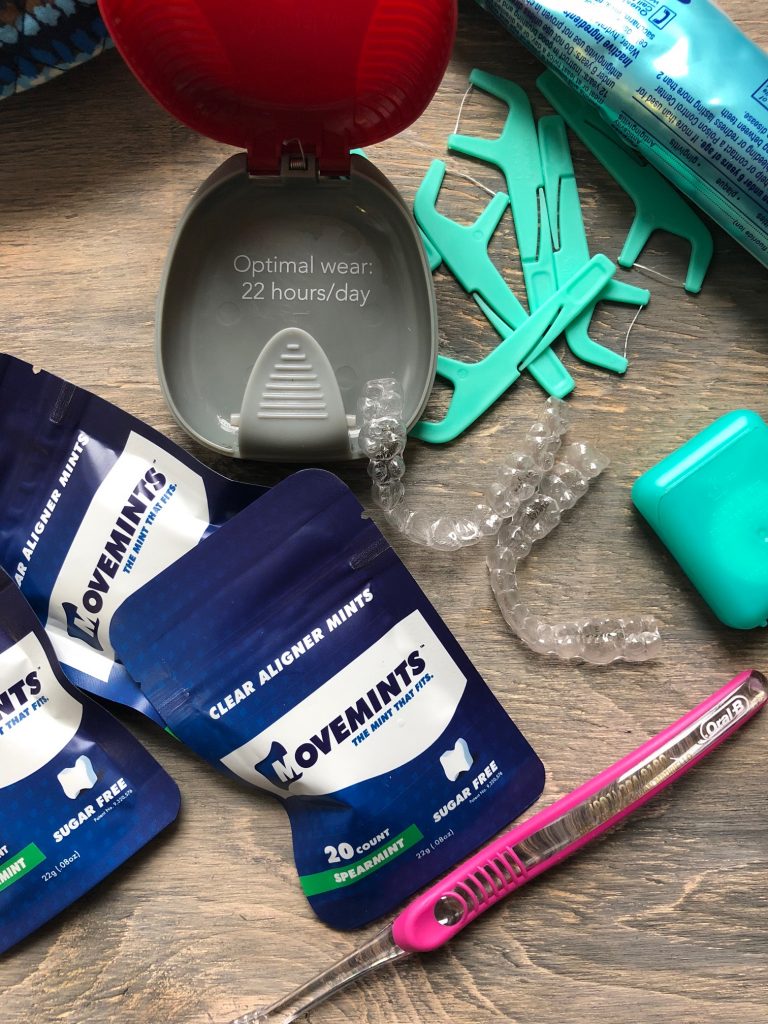 I wish I knew about Movemints when I first started, these are mints that are made for  Invisalign trays, so you can keep fresh breathe and make sure the trays are in place. The Mint that Fits™ was designed by an orthodontist specializing in Invisalign therapy and has patented grooves that fit between the top and bottom trays. These grooves can help you guide your aligners in place without having to chew on those plastic chewies that patients often receive when beginning treatment. Movemints are sugar-free, gluten-free and vegan, and are specifically formulated to be eaten with your clear aligners. They taste great and unlike other mints, they leave no residue or granularity that may irritate teeth and gums.
I like that Movemints keep my breath fresh without worrying about anything getting into my Invisalign trays or leaving a sticky feeling. I enjoy the Movemints during the day, sometimes when you are near the end of the week or weeks that you are to wear the trays they can start to smell. Even though CA doesn't have his Invisalign in anymore he still has a pack of Movemints with him as mints!
Even after all of that, I am so happy with Invisalign, it's been a learning curve for sure but I love knowing that I will have a straight smile after I am done! Since Movemints wants to be amazing to my readers who are currently on the Invisalign journey or have anyone in their lives that have Invisalign, you can enter!
Enter to win The Smile Monthly Pack along with a $25 Amazon gift card to continue your smile Journey.
Leave a comment sharing something that shocked you with getting Invisalign.
2. Visit  www.dentalmovemints.com & sign up for their mailing list to receive a 20% off coupon.
Follow GettingFitFab on Facebook, Instagram & Twitter
Movemints have not been evaluated by the FDA.