This post may contain affiliate or referral links, which means I may receive a commission if you purchase something using my link. It will be no extra cost to you. As always, thank you for supporting Getting Fit Fab.
This post is sponsored by Kleenex but the content and opinions expressed here are my own.
Does anyone else travel more during the summer time? Whether it's a long vacation or just a weekend getaway, we usually travel more with the warmer weather. We had our first-weekend getaway this past weekend as we headed to Greenport, Long Island. If you're not too familiar with Long Island, Greenport is on the North Fork all the way out east. It's where we got engaged (our engagement story), and since then we travel back and relive the moment and discover new places to go! Since it was our first-weekend trip (of many) I had to go through my list and figure out what my staple pieces for the summer are going to be.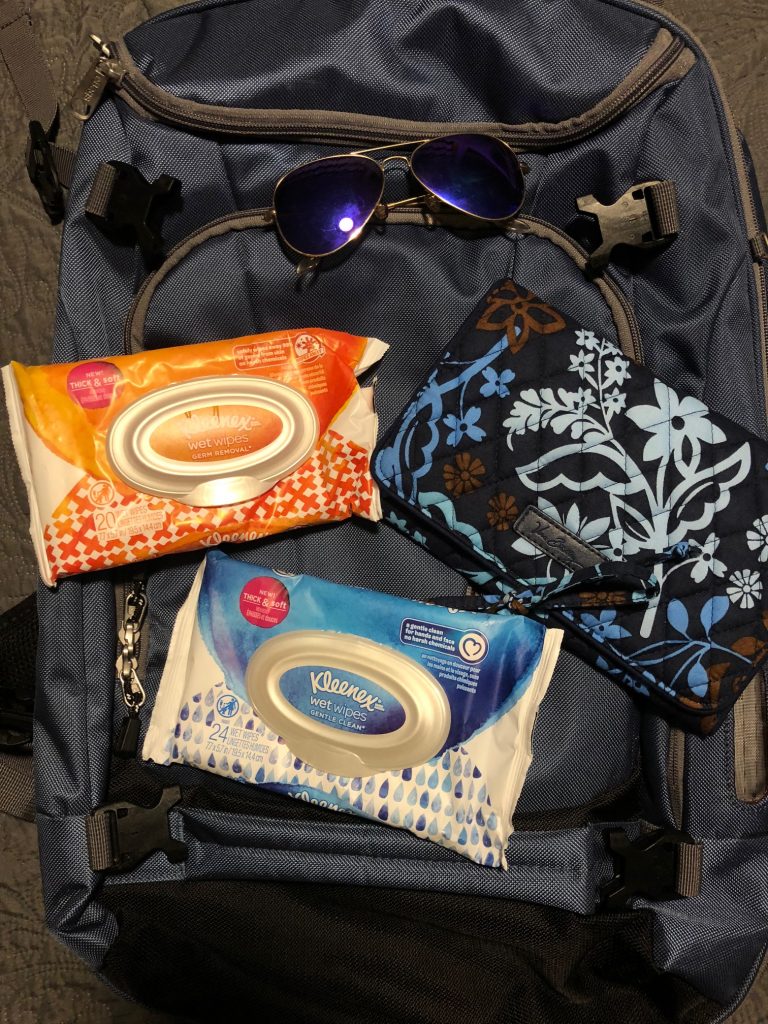 Weekend trips can vary, depending on where you're going, what you're doing, and most importantly, the weather. I knew it was going to be rainy when we headed out to Greenport on Saturday, so I made sure to pack another pair of jeans, sneakers, and a jacket. Sunday was also supposed to be rainy, with a possibility of clearing up. Thankfully it did, so we were able to enjoy being outside! Even though it was just an overnight trip, I of course overpacked, but it came in handy. I stained my shirt Sunday at breakfast (oops!), so I quickly changed my top, and I had a dress just in case it became too warm. I needed something for every possible occasion.
1. Weekender Bag/Backpack
Can't go anywhere without having to be able to pack it all! Depending on where we are going will depend on what bag I'm using. I recently grabbed an Ebag backpack that is ginormous and can be expanded to hold even more. I used this for this past trip. For other trips that we're doing more, or I need to pack other things, I'll use the weekender style of bag. I've used this for when we go to weddings. This can fit two makeup bags, heels, flats, etc. The part I love the most about the backpack is the number of pockets it has, plus it has a spot for my laptop! I know I'll be using this backpack when we go to New Orleans in November and when we got to Europe next March.
2. Comfy Shoes (Sneakers/Wedges)
I recently grabbed two new pairs of Nike sneakers, one pair white, and one pair black. It's perfect for going with different outfits and still looking nice. This weekend I didn't end up wearing sneakers but I knew if we went out to the place we ordered it from I would've worn them. I also packed a pair of wedges, just in case we went fancy for dinner (yes I literally pack for everything LOL). I love wedges during the summer time!
3. Jean Jacket/Cardigan
It was cooler (plus the rain made it worse) this weekend so bringing a cardigan was a good backup plan. I didn't end up needing it but it doesn't take up that much space so it was a no-brainer. I have found two new jean jackets that I am loving for a few dresses I recently bought from Torrid (favorite dresses). I feel like this helps to take an outfit from daytime to night without thinking too much.
4. Cross Body Bag
I love my cross body bag for whenever we're going out and I don't need my giant purse. I usually have my phone, external charger, mirror, some makeup, etc. I prefer a cross body bag to a wristlet because I feel like a wristlet I could put it down and forget it, a cross body bag will stay on me! I never need a big bag; just something to fit my "must have" stuff in and I'm done!
5. Sunscreen
Summertime usually means more sun, so I always make sure to have some type of sunscreen on me. I like the spray ones for easy application without applying too much. I also use a moisturizer that has SPF 30 which provides a few hours of protection for my face and neck.
6. Hanging Toiletries Bag
For my weekend travels, I only have a bare minimum in my toiletries bag: shampoo/conditioner, body wash, lotion, dry shampoo, q-tips, and face wipes. (Plus, whatever else is already in there from previous trips.) I like that this one hangs; it's perfect for putting on the bathroom door or on the towel rack, so it's not taking up (usually limited) counter space.
7. Headphones
I love having headphones, for the times I am either up super early or can't fall asleep. I don't want to ever wake up CA before he needs to be up. Plus if we're staying with people and I want to watch Netflix or something on YouTube I can do it discreetly. If I am working out, headphones are a must for a run outside.
8. Travel Pillow/Neck Pillow
Alright, we're picky with our pillows. Both CA and I have found our "perfect" pillows, I love my medium/soft combo and he loves his firm pillow. We both usually travel with our home pillows because even if the bed is weird or uncomfortable if the pillow is your own, you're golden! If you're not picky like us, a good neck pillow is good for long car rides and airplanes.
9. Sunglasses
I probably have 5-10 pairs of sunglasses. They are all for different purposes and different colors. I have running sunglasses that don't fog because I sweat A LOT. I also love my mirrored aviators, they compliment my face the best, and the mirrored looks cool. I love the black/gray aviators, but my favorite is the turquoise or blue ones.
I love using wet wipes at home for taking off my makeup, especially if I ran out of my usual makeup wipes. The Kleenex Wet Wipes come in Gentle Care, Germ Removal, and Sensitive. If I'm being totally honest, I have a few packages of each all over my house, in my purse, gym bag, and my car. The Germ removal is PERFECT for the gym, I get sick very easy so I always bring a few on the gym floor to wipe down machines before I use them. The Gentle care is great for hand wipes while you're out and need to wash your hands or get something off of them without water. The best part about these Kleenex Wet wipes? You can grab them on Amazon and SAVE up to $2.00! Winning! You can even save more when you subscribe to 5 or more items and save 15%! I have Prime so these can arrive on my doorstep in no time. Did you know it's Earth Month? With a purchase of these Kleenex wipes, it'll be a huge help to the planet with these products made from responsibly managed forests.
What are your Must Have Weekend Travel Essentials?