This post may contain affiliate or referral links, which means I may receive a commission if you purchase something using my link. It will be no extra cost to you. As always, thank you for supporting Getting Fit Fab.
This post is Sponsored by Oikos Whole Milk Greek Yogurt. As always all opinions are my own, thank you for supporting the brands that keep Getting Fit Fab running!

I will be the first to admit, I love to reward myself after a healthy week was accomplished. But my favorite kind of indulgence is when it's mid-morning and I'm at work and need a sweet treat. Sometimes mornings can tend to drag on, especially if there are some issues or it's just a hectic morning overall. I'm sure I'm not alone, whether it's at work, at home, or when you're running around completing errands. That time in the morning when you stop, and take just a few minutes to yourself and enjoy a treat.
Oikos® Whole Milk Greek Yogurt is the tastiest indulgence that you can enjoy any time of day when you need a moment to yourself. One of the things I love most about Oikos Whole Milk Greek Yogurt is that it's made with whole milk. This means it has a thick and creamy texture and comes in 15 indulgent flavors that remind you of your favorite dessert. I'm not one to think of yogurt and dessert being similar but Oikos hits the nail on the head with Slice-of-Heaven Strawberry Cheesecake and Oh-So-Dreamy Orange Cream. And let's be honest who doesn't love a little bit of dessert in the middle of the day or mid-morning. It'll be sure to put a smile on your face and enjoy your day.
Another way you can indulge with Oikos Whole Milk Greek Yogurt is to make it into a smoothie. What's a better way to start your morning than a sweet tasting yogurt on the go. It doesn't require too many ingredients and you'll be on your way in no time. Whether you drink it while you drop the kids off to school, commuting to work, or just need an easy grab and go smoothie while you run errands.
Strawberry & Banana Smoothie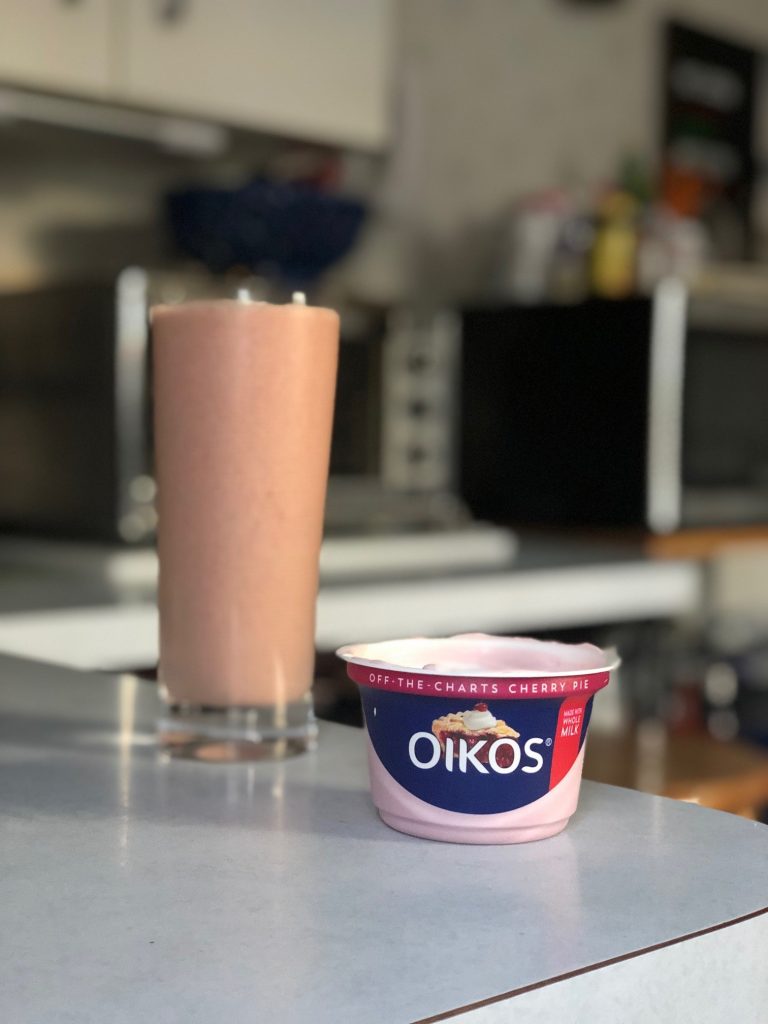 1- Oikos Strawberry & Cream Yogurt 5.3oz
1- Banana
1 – cup strawberries (frozen or fresh)
½ or ¾ cup of milk or milk alternative (e.g. almond milk, soymilk) of your choosing.
– When I want an extra flavor I'll add in Peanut Butter powder makes it extra creamy, just make sure you add a bit more milk. If you like a less creamy smoothie add more milk.
Mix together in the blender and enjoy!
Don't forget to grab one of the delicious 15 flavors of Oikos Whole Milk Greek Yogurt at your local supermarket, and indulge when you need some me time!