This post may contain affiliate or referral links, which means I may receive a commission if you purchase something using my link. It will be no extra cost to you. As always, thank you for supporting Getting Fit Fab.
I can't believe that we're already in the second month of 2019, it's the month of love! And next month I'll be in the CITY of love, Paris! After over 6 years of being with CA, our plans for Valentine's Day has varied, we've only done a "fancy" dinner once. He believes that he doesn't some holiday to tell me he loves me, he loves me every day. I, on the other hand, love this holiday. It's a little bit funny how opposite we are on this holiday, I have a certain reason I am this way. For my grandparents, this holiday was extremely important to them, they were engaged on Valentine's Day. So every single Valentine's Day my grandfather bought my grandmother a big box of chocolates and a dozen roses. When I was older my grandfather bought me a mini version of chocolate and one red rose. That's why I love Valentine's Day, so we've always met in the middle with planning this day.
So I've put together a quick list of what you can do with your special someone or your girls!
1. Go to your favorite budget-friendly restaurant. This is the option we're doing this year! There's a spot that we've gone to for Taco Tuesdays and for when we're needing some delicious food! It's got a California vibe, a great waitstaff, delicious food and it's close to where we live. If you're local it's called Zim Zari in Massapequa! We also love Pico in Bay Shore, Del Fuego & Swell Taco in Babylon Village are also great options!
2. Go to a Hockey Game or Basketball Game! If you're into sports this is a fun day to enjoy each other's company and have a sports night together. We're going to an Islanders hockey game on February 9th so it's a pre-Valentine's Day date together. It's so much fun to watch Hockey game together, I love hockey as a sport so I never mind going! It's a 1 pm game which is always great for the weekends.
3. Be adventurous – Bowling, Batting Cages, Trampoline park- I'm sure it would be hilarious to go to the batting cages, as my hand-eye coordination is comical at best. But bowling is fun, we love going for a different night out, it's a fun way to be competitive without being outside. We haven't done a Trampoline park yet but I've seen so many people go there and it looks like so much fun!
4. Weekend getaway- Maybe you work opposite schedules or doing something during the week just isn't possible. Have a mini romantic getaway, maybe go to a bed and breakfast that's only a few hours away, or go out into the country and just enjoy the quietness.
5. Order in – Valentine's Day is on a Thursday, so if you're not up for going out, have kids, or just don't have a lot of time to go out? Order from your favorite take out place or go on Door Dash and you can get your favorite meal from your favorite restaurant.
6. Make dinner together or go to a cooking class- I've actually been interested in taking a cooking class together! Maybe learn how to make our own sushi, cause we both love it. Or just make something completely different, that what we normally make.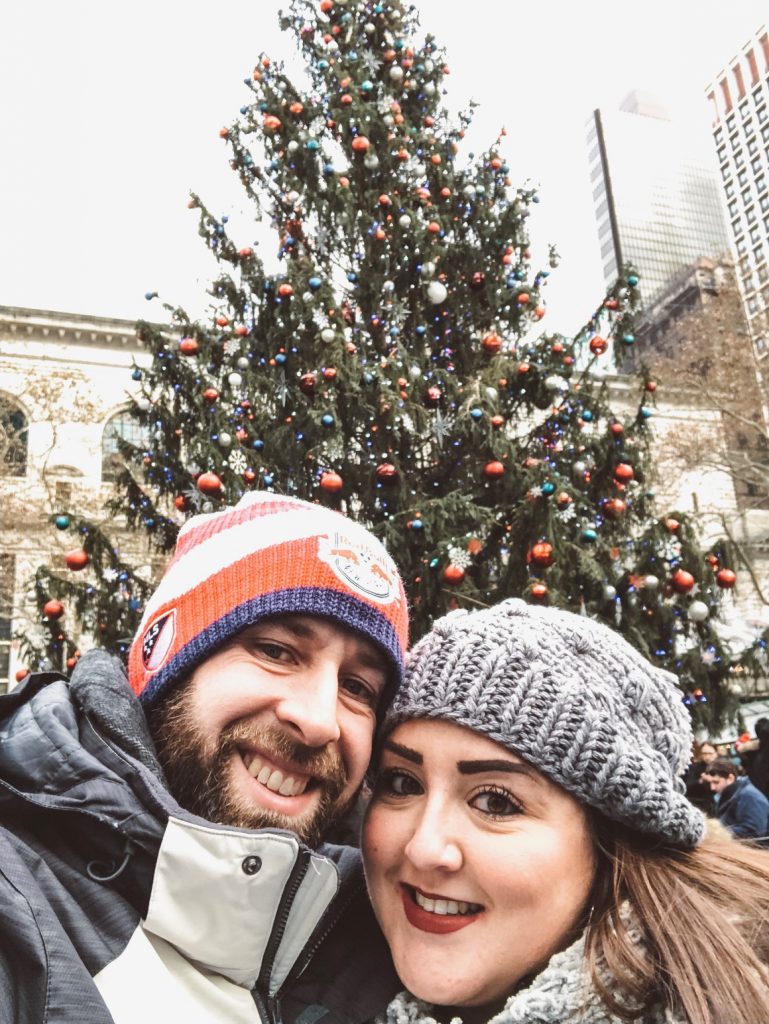 7. Play tourist in your own city over the weekend- CA and I love doing this in NYC and also out east on the island. It's a fun way to do something different that you haven't done in a while. We've done the Empire State Building together, the USS Intrepid, and the Reflecting Pools, World Trade Center Museum, & Freedom Tower. I love NYC and just have a great time together exploring and learning about the state that we live in.
8. Get dolled up and have a fancy night out – I don't know about you, but unless it's a wedding we usually don't get dressed up too often unless it's our wedding anniversary. I never mind dressing up but I feel like it's more fun to get dressed up for no reason and just go dancing!
9. Relive your first date – We always go to the same sushi restaurant for our dating anniversary, since that's where it all started. We both love sushi and sometimes go back to the restaurant when we want sushi and I always feel like we're going back to where it all started. CA always jokes that if I didn't like sushi this would've never happened because that's his "test" for first dates.
10. Wine/Cheese at home tasting – If you've been wanting to try different wines, and want to make it like a tasting you'd do at a winery this is perfect. We have so many wineries on Long Island so this is always fun to do, finding new wines that we love. it's a great benefit of being at home, no one needs to drive after drinking wine.
Some honorable mentions for different dates- going for a hike, go to a local brewery, or go ice skating! Is there anything you like to do for Valentine's Day? Or do you act like it's a regular day and go on with life as usual?