This post may contain affiliate or referral links, which means I may receive a commission if you purchase something using my link. It will be no extra cost to you. As always, thank you for supporting Getting Fit Fab.
This post is sponsored by BabbleBoxx on behalf of Campho-Phenique
It's getting cold here in New York, some areas upstate already got some snow! So crazy right? Trading in summer products for winter ones is essential for when the weather gets colder. I'm sharing my list of everything I now have in my purse, hopefully giving you an idea for what you are missing from your purse. From gloves, tissues, or even cold sore treatment, I've got you covered. Plus, my two favorite lip shades for winter time!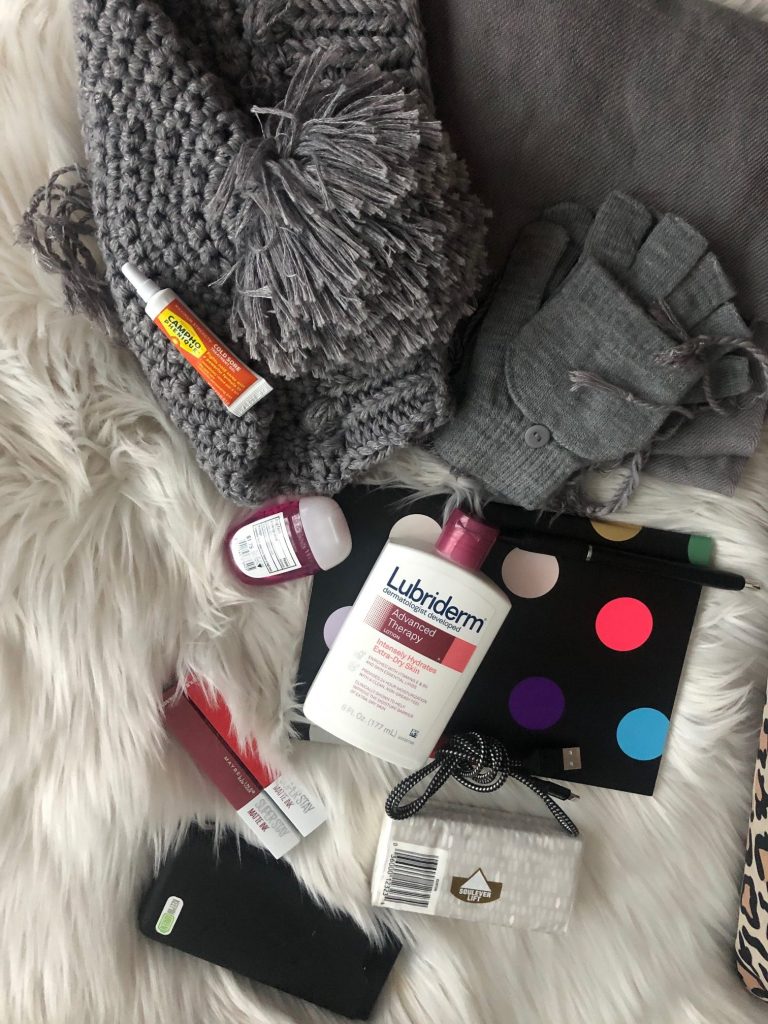 Campho Phenique is the main thing you need to keep in your purse, especially if you suffer from cold sores! I've suffered from cold sores for years, so finding the right cold sore treatment that will help relieve pain discreetly, is hard. Luckily Campho Phenique Cold Sore Treatment is a clear gel that will comfortably treat a cold sore without showing. It dries up your cold sore and helps stop the pain in its tracks.. Plus, it will help prevent any secondary infection, while moisturizing the surrounding area. Getting a cold sore during the winter time can be painful, but Campho Phenique is a reliable treatment option you can keep on hand in your bathroom cabinet! . Camphor and Phenol are the active ingredients that provide relief fast, and will not show while the treatment is on your lips. You can find this at your local retailer, it will be one of the best things in your purse! You can even keep an extra one on your dresser. Use as directed.
Hand sanitizer – even before the current situation, I always had this in my purse. Especially during the winter season, with the flu and colds. Just having this on hand for running errands, or if you're going out to dinner and need to quickly clean your hands after touching things. I have a few smaller ones that won't take up too much space in my purse.
Hand lotion – I am sure I can't be the only one, my hands are so dry from the constant hand washing. I have a travel size hand lotion that is small enough to fit in my purse, so I'm good on the go. Pair handwashing with the dry winter, you'll definitely need to have lotion at hand.
Tissues – Even with everything going on, colds and other illnesses still exist. Even just to wipe up a mess, or clean up a stain, you never know when you'll need one! I'll admit I didn't use to have any tissues on hand so I'm making sure I remember to always keep them now.
Notebook & Pen – I know I can't be the only one that prefers paper over taking notes on their phone. I will take notes for everything, I've got so many ideas that I need to write them all down so I don't lose them. I've even written down how I want my office to look after we paint and rearrange it. But, this is a great way to keep organized, if you've got a grocery list, holiday list, or literally anything!
Winter Lipstick – I know this may be a weird thing, but I love having different shades for the summer than winter. There's one shade that I love all year round – number 80 Ruler from Maybelline, but 118 Danger is a bright red perfect for winter. I love this because it is long lasting so no matter what you're doing, you will have lipstick on.
External Charger & Cord – With so much information being on our phones, it's important to have a way to charge them on the go. We call it a charging block, and this one can charge both of our phones at least once. This is great for travel, or if you're out of the house for a long period of time.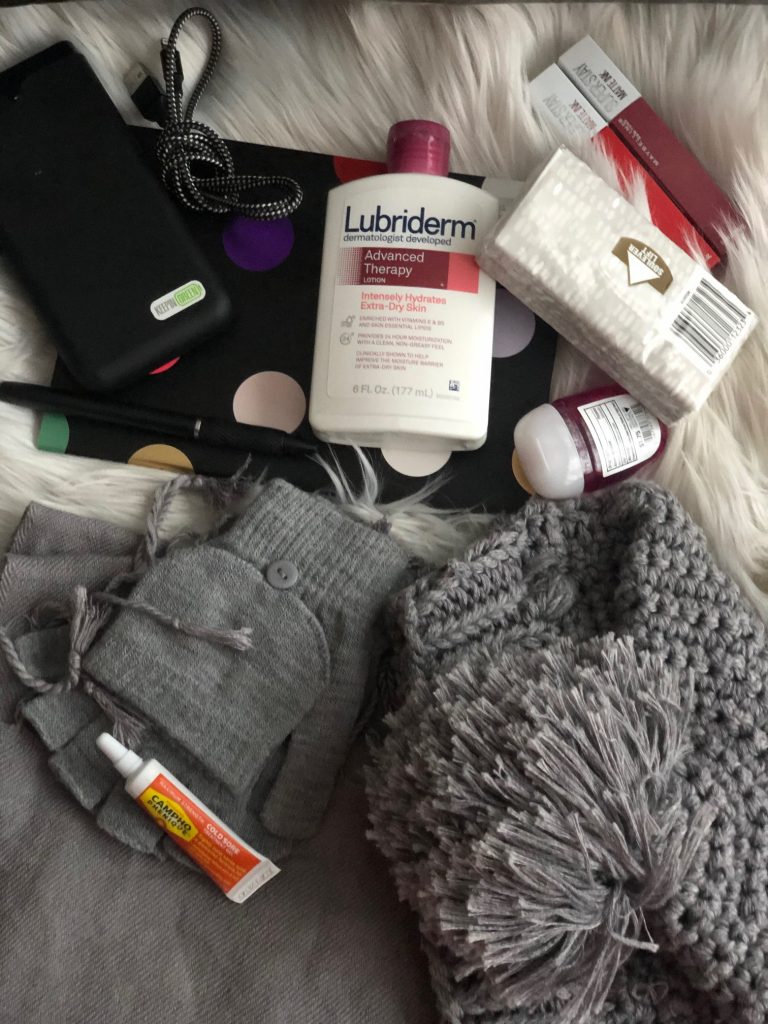 Gloves – I don't know about you, but I'm forever losing a glove, just one single glove. So keeping the extra pair makes sure that I keep my hands warm. There's such a wide variety of gloves so you can keep a double of your favorite pair, or ones that you can use while you text.
Beanie or Headband – One thing about the winter that drives me a bit crazy is having my ears cold! So whether I have my headband or beanie, it's always necessary to have something I can just pop on quick.
Scarf – Just like with the extra gloves and beanie, a scarf is always good to have on hand. I like to have an extra scarf, if we go out to dinner or when I go to work. Getting a "chill" is the worst especially when you feel like you can't get warm. Having a scarf, poncho or even a blanket scarf is great. Plus, it'll keep you warm under your jacket.
Did I leave anything out? What's one thing you always make sure is in your purse during the winter time?