This post may contain affiliate or referral links, which means I may receive a commission if you purchase something using my link. It will be no extra cost to you. As always, thank you for supporting Getting Fit Fab.
Happy belated 2019! I will be the first person to admit, I always make New Year's Resolutions, and 99% of them I fail. So I wanted this year to be different, in many ways but overall I wanted to make reachable goals. That's what I feel like I've done, goals not resolutions, no new year new me stuff.  Just new year, and the best version of myself that I can be.
First I wanted to share all of the exciting things we've got planned for 2019!
Up first, our Europe trip in March! A little background, in 2017 I actually started this idea to surprise CA with a trip to London! Then it grew to a trip to London & Paris than it grew even more- to Dublin. I got the "let's go to Europe" trip idea from CA's love of ManCity (Premier League Football (aka Soccer) Team). He watches them weekly, and I figured we could plan a fun trip to London around a ManCity game. After trying to plan it out alone, I realized there's zero way to keep the trip entirely hidden without telling him… don't look at the credit card, like forever LOL. After telling him my idea, we sat down and focused on which month was best to go, since we wanted to see ManCity it had to be before April, after the holidays, but not too incredibly cold. We will be in Paris for 3 days, London for 5- technically it'll be 4 days because 1 day will solely be for the ManCity game, and 3 days in Dublin! Neither of us has been to these countries, and my ancestors have come from England and Ireland so I feel like I'll love the places even more. If you have any recommendations for food or things to do let me know!
We have FOUR weddings, we'd have 5 but we'll be in London for my cousin's wedding. We have our friends' wedding during MDW in Rhode Island than June 8 I have one of my best friends is getting married. In November we have a wedding on Long Island and then my cousin (as well as my mom's goddaughter) is getting married in California – she lives there. I haven't been to California in 15 years, so it'll be fun! We already booked our Air BnB which is only .3 miles from my aunt and our rental car! Just waiting for JetBlue to release the dates for November and we can book those.
We're also hoping that this is our year to find and purchase our forever home! 2018 was, frustrating, to put it mildly. So I am truly hoping that 2019 will be our year and we can find, and move into our forever home. I'll also be getting a new car since I lease  (until we buy a home) my current lease is up in June.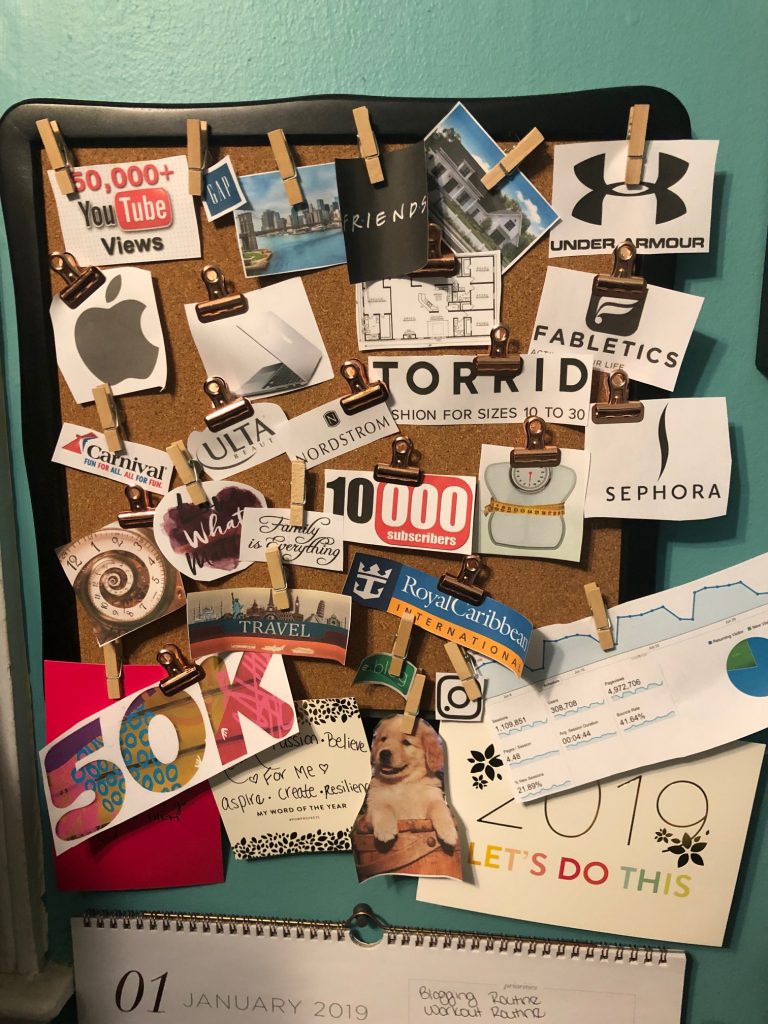 Now onto Goals! I've already shared my 2019 Fitness goals here if you want to give that a read. 
Life: A HOUSE. I mean I know most people don't wish for large bills each month plus the responsibility of a home, but we've been looking for a very long time. And I feel like it's finally our time to find us forever home.
Improve friendships, family relationships and the relationship with my husband. We've been together for 6 years, and I feel like there's always a way to improve and solidify our relationship. There are things we still are learning about each other, such as he didn't know what kind of chips I like to eat. And me I'm finally learning that he prefers a clean room over a messy one LOL.
But honestly, time is fleeting and we are never guaranteed tomorrow, so I want to make sure I spend precious time with people I care about and continue those relationships.
Declutter my life, I usually like to keep… everything LOL. But that's not good when you're living in your childhood home. You tend to quickly run out of room. Since this post was supposed to go up the beginning of January and not the 21st, I already started this! I've cleaned out a lot of makeup, knick-knacks, and a few other things that I have no use for. I'm also starting a project pan, which means that I'll be consciously using my makeup up before buying anything new. Anything that expires before I can use it all will be thrown out but I wanted to make sure I use most of it up, so I'm not wasting makeup.
Blog: Be Consistent. Focusing on the core of my blog and my why I blog, instead of focusing on what everyone else is doing. When I first started blogging it was for fun, as a way to document my weight loss (of 70lbs), and my life. It evolved into what it is now because I enjoyed it, but at some point, it became a chore that I hated working on. It was no longer fun, and I dreaded writing anything for my blog. And I didn't want it to be that way anymore, so last October I decided to change my mindset and get the love of my blog back.
After I'm consistent I'd love to get brand partnerships, maybe a few blog posts, or IG posts. I'd love to work with Old Navy, Ulta, Sephora, Carnival, Torrid, Weight Watchers, truly a lot of dream brands I have. But I know it starts with me showing my personality through my blog instead of trying to be what I think brands want me to be. I'll be writing a blog post about how I'm rediscovering my why and what I will be focusing on in 2019 for blogging.
I would love to dive into YouTube videos. I want it to be more lifestyle than one particular niche. I will dive into beauty since I have so many different products, I don't have to spend more money. Hairstyles, fashion, travel, food, eventually home. I would want to make one video a week ideally, so it's not too much pressure. I'm hoping to use the Project Pan for decluttering my life as a way to get on YouTube at least once a month. I know I'm not a pro at makeup, but we all have to start somewhere? And you miss all the shots you don't take, so here literally goes nothing!
I'd also like to get working on Pinterest, and scheduling older blog posts out, and scheduling posts on Twitter & Facebook. I know being present on social media is important, but I also know for sanity I have to learn to schedule things out. I have the tools I just need to make sure I utilize it, and especially for Instagram. I want to post 5 days a week and be on stories as much as possible.
Whew! What a long post. If you made it all the way here, what have you been looking forward to? Or what goals have you set for yourself?