This post may contain affiliate or referral links, which means I may receive a commission if you purchase something using my link. It will be no extra cost to you. As always, thank you for supporting Getting Fit Fab.
This post is sponsored by BabbleBoxx.com on behalf of Healthy Choice
One of my main goals for 2019, is just to be healthier overall. Like I've mentioned in previous posts, I usually put too much pressure to be healthier or lose weight that I almost immediately fail. So what I've changed for 2019, is work in small sections. Instead of cutting out soda, snacks, and going low carb all at the same time, I just cut out soda. And then after I get used to that, I add something else to strive for. The lower you go, the more that it becomes realistic and less stressful.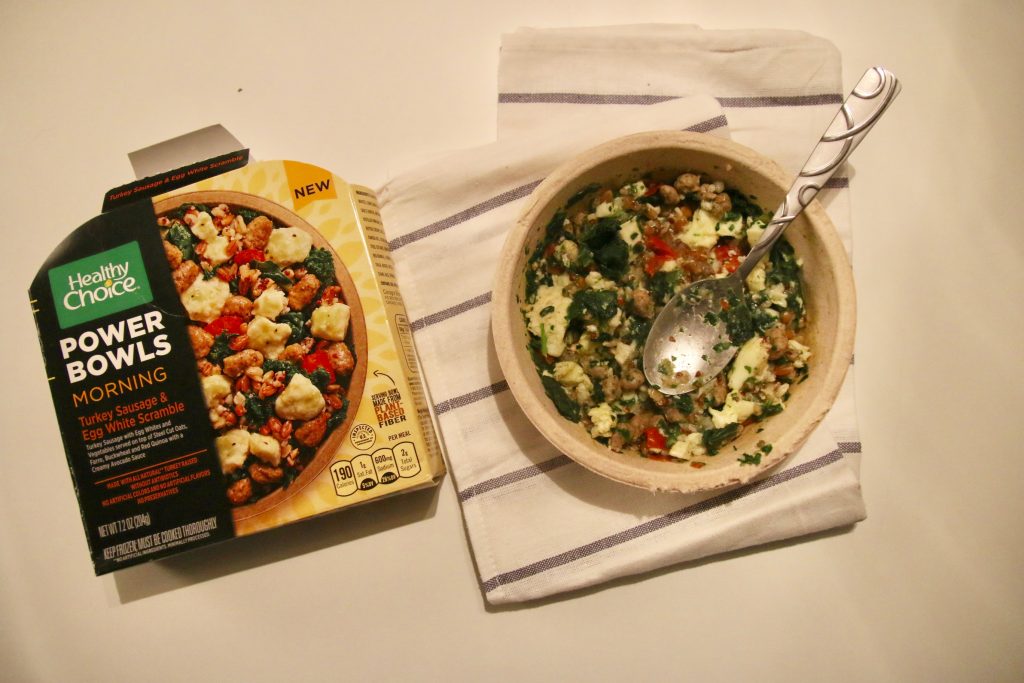 Drink Water: This is super easy to do! I have a large refillable bottle that's 32 oz., and I make sure I refill it at least twice while I'm at work. Our bodies require so much water, for our skin, hair, and overall health. I know my skin looks better when I drink a lot of water and that I have fewer headaches as well. If you're not a big fan of water or need something with a flavor you can use a SodaStream to give it some bubbles + flavor without the additional calories.
Move yo' Body: Just move that body! Even if it's only 30 minutes a day: go for a walk or a stretch out to a yoga video. Moving your body 30 minutes a day will make it a habit where you'll want to do more. Also, find something you enjoy doing. Working out shouldn't be a chore or something that you dread doing. I enjoy lifting weights and the challenge I get from trying different exercises and adding more weight each week. I don't particularly like cardio, but I do know that in order to lose weight I need to get my heart pumping. I get incredibly bored exercising on the stationary bike, Stairmaster or elliptical machine. I do "enjoy" running, so if I don't run outside, I'll hop on the treadmill. I say "enjoy" because now that I haven't run consistently for a while, I am slower but I know I'll get to where I used to be.
Sleep: Our bodies need sleep to re-energize and we need to rest our minds as well as our bodies. I will be the first person to admit that sometimes I do not get enough sleep. Sometimes I pay a big price for that too. I easily get sick if I don't sleep enough; my sleep threshold is at least 6 hours. Working a full-time job, blogging, being a VA and everything personal that I need to take care of adds up quickly. There are times I just need a full night sleep. So part of my self-care is making sure I sleep enough. Without adequate sleep I know I'm worthless and will regress rather than progress.
Hold Yourself Accountable: This probably seems simple, but no one else can be healthy for you, you have to do that. Eating better, working out, sleeping enough, drinking enough water, that's all on you. One thing that's helped me a great deal is having accountability partners. I have CA, my mother and two of my best friends Brey & Caitlin, whom all help me in different ways to keep on track. Caitlin was my gym buddy, Brey is the one who started this journey with me back in 2013, CA & my mom are perfect for emotional support as well as a swift kick in the butt.
Eat Healthy Choice Power Bowls: These are always an awesome idea because you can grab them from your freezer, heat up and enjoy! The Healthy Choice Morning, as well as their Vegan and Vegetarian Power Bowls, take away the hassle of figuring out what to eat for breakfast or lunch.
I enjoyed the most delicious breakfast ever. This was great since I am picky about breakfast food, especially how my eggs are prepared. But I thoroughly enjoyed the Turkey Sausage & Egg White Scramble Morning Power Bowl. It is YUMMY, with all the capital letters. This quick protein breakfast morning power bowl is going to be my go-to for when I need a protein-packed breakfast but don't want to cook. The turkey sausage with egg whites and vegetables served on top of steel cut oats, farro, buckwheat and red quinoa with a creamy avocado sauce. Tell me that doesn't sound deliiiiicious?! These ingredients deliver nutritious benefits like 10-15 grams of protein and 3-5 grams of fiber.
The Lunch Vegetable Bowl was equally as delicious as the Morning Power Bowl. The Mango Edamame has edamame, mango, and vegetables served on top of brown & red rice, red quinoa and black barley with red wine vinaigrette topped with dried cherries & sunflower seeds. These ingredients deliver nutritious benefits like 10-16 grams of protein and 7-16 grams of fiber.
Each serving bowl is made out of plant-based fiber that is recyclable! There are so many more morning, as well as vegan and vegetarian power bowls that you can try! I personally can't wait to try Unwrapped Burrito Scramble, Pesto & Egg White Scramble, and the White Bean & Feta Salad! They all sound delicious and I can't wait until my freezer is going to be filled up with Healthy Choice Morning Power Bowls, and their Vegan & Vegetarian Power Bowls.!