This post may contain affiliate or referral links, which means I may receive a commission if you purchase something using my link. It will be no extra cost to you. As always, thank you for supporting Getting Fit Fab.
This post is sponsored by ClimateRight but the content and opinions expressed here are my own.
I will be the first person to tell you that I usually "hibernate" in the New York winter time. It's cold, and dreary looking and the last thing you want to do is bundle up and go outside! The best thing about going out in the winter after the holidays are over? Fewer people. If you're doing anything in New York City, sure you'll have some tourists and locals. But nothing will compare to the holidays or the summer time. So if you don't like crowds or queuing in lines, the winter time is the perfect time to get outside! I'm sharing 5 fun things that I love doing in the winter time, even when it's cold out!
Ice Skating outside! Yes, outside: you get the true winter feel and have some fun. We have rinks that are both inside and outside near us, so it's fun to layer up and skate outside! It's a fun pastime we always had growing up. You get the total feel of winter time. If you're in NYC- Bryant Park has free access to the ice skating rink, you just pay for the skates.

Go to a hockey game! It's a fun winter sport and if you're close to the ice you'll be feeling the coldness! I love hockey and we're lucky enough to have two NY teams to watch. I'll admit CA and I like opposing hockey teams, but I'll go to either team to watch, because, sports. Hockey is a fun game that moves quickly and has so much energy.

Go to the beach! Alright, stay with me on this one. We live 20 minutes from the ocean and love going to the beach all year round. At one of the beaches near me, they have the food area open for some warmth and hot chocolate! It's fun and refreshing to walk on the beach, breathe in some fresh air and enjoy the peace and quiet.

Hiking! Whether it's just in a local park or going somewhere new and discovering nature at it's finest. Hiking doesn't have to mean going into the mountains, it could mean just going into your local park and walking on the trails. Grab a bestie, bundle up, lace up your comfortable shoes, and you're ready to go!

 Be a tourist in your area! If you're in NYC, you can head to Empire State Building, One World Observatory, Bryant Park, Top of the Rock (you get a beautiful view of the Empire State Building), and the High Line Walkway.
Other fun things to do outside, a walking tour in your local city, go to the Zoo, and if you're in NYC have dinner in an Igloo on a rooftop at appropriately named The Igloo Bar at 230 Fifth.
Now, there are a lot of outdoor activities to do. But now you're wondering, "why would I want to go outside in the cold" and "what would I wear that's not bulky and will still keep me warm"? After working with ClimateRight by Cuddl Duds at Walmart last winter for their comfortable and cute PJs, I said yes to working with them again for their Warm Collection! Layering in the winter time can keep you warm without adding too much bulk to your outfit! Especially from the ClimateRight Comfort Core Collection, it does just that–keeps your core warm. It's a layer that'll sit close to your body and keep you warm while you are outside enjoying the winter time!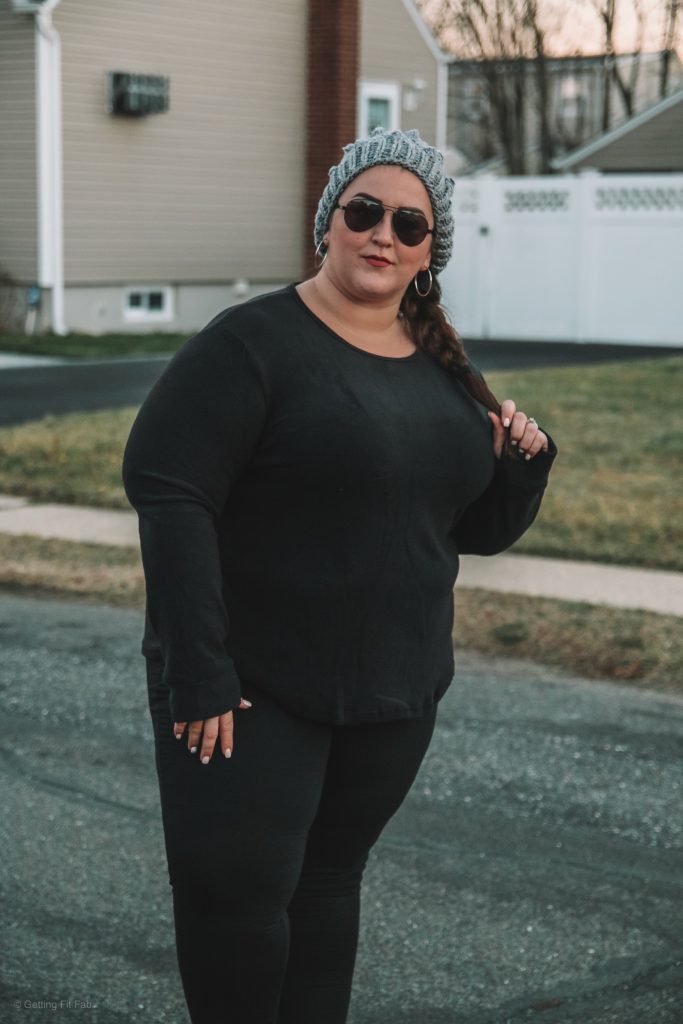 The Comfort Core Collection is perfect for wearing underneath jeans, leggings, or alone if it's not too cold out. The top is perfect for under sweaters to add a layer of warmth without bulging. It's perfect for ice skating, walking on the beach, a walking tour of your city and so much more! You can find so many different sizes and colors (up to 4X online). They have something for everyone! Whether you are the adventurous type, simply like being outside, or work in the medical field and want something to keep you warm under your scrubs! The collection is available at your local Walmart and online, so you can stay warm in style!
Is there anything that you love doing in the winter time even though it's colder? Let me know below!