This post may contain affiliate or referral links, which means I may receive a commission if you purchase something using my link. It will be no extra cost to you. As always, thank you for supporting Getting Fit Fab.
This post is sponsored by BabbleBoxx.com. Thank you for supporting the brands that I love to work with!
We're all about working out this month & being the best versions of ourselves! I am the type of person that needs to be motivated to workout. I can easily find excuses to not work out daily: need more sleep, blog work needs to get done, it's COLD (hey winter), or I don't want to. Literally anything. So I've figured out finally what will keep me motivated to continue to work out. I also have learned that in order to meet my goals, I need to consistently workout and not just workout when I feel like it. Stick to a schedule and see the results that I want!
Cute Workout Clothes– Who doesn't like to look cute when they work out? Having cute workout clothes to wear to the gym, yoga, or any exercise is always a great motivation. It's fun to put an outfit together and it can be as colorful as you want! The Under Armour Athlete Recovery Jumpsuit is now a staple in my workout gear. It's a great way for my body to recover from a long workout while I'm sleeping! It's made up of lightweight material, comfortable, breathable & easily wicks sweat! There's a bit of science behind this jumpsuit: the fabric returns infrared energy to your body, increasing the amount of oxygen reaching your muscles to restore them faster, and boosting localized blood flow!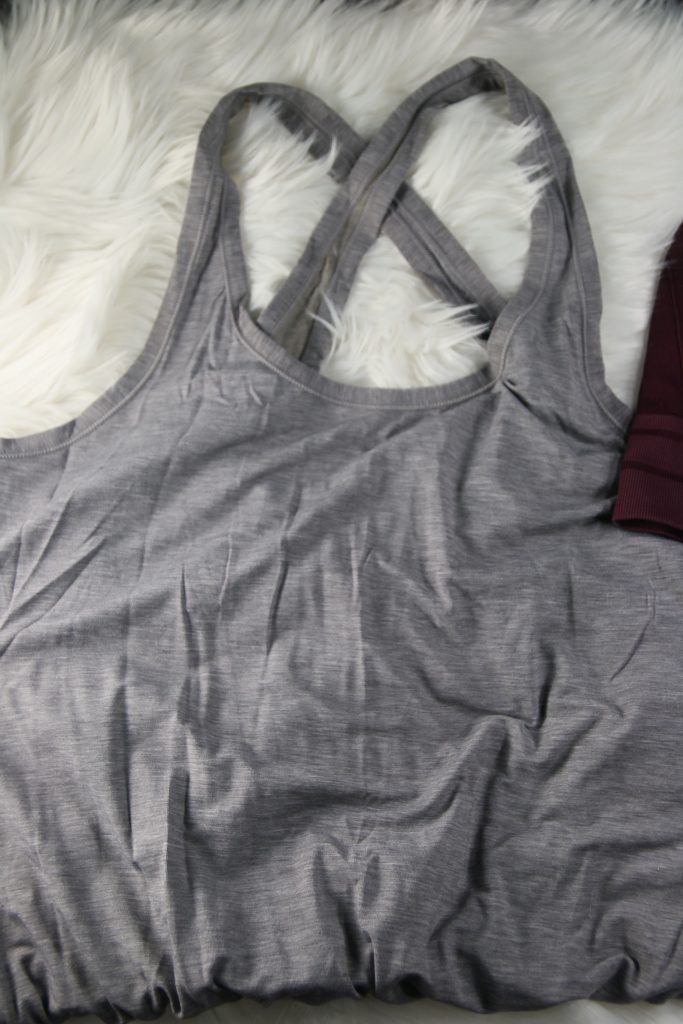 Added bonus: it's cute! If you workout in the morning and are just being casual for the day you can wear this while you get things done around the house! One great thing to add to your jumpsuit & workout clothes? This Under Armour Seamless Longline Bra. It is lightweight, breathable and perfect for a nice yoga workout, pure barre or just being around the house!
Awesome accessories– cute workout clothes need cute workout accessories, right?! I can not workout without headphones unless I'm at home and I'm working out to a video. I've been a fan of the AfterShokz headphones since they first came out. I like that you can hear the world around you but still hear your music. This is perfect if you like to workout outside, you don't have to have one ear "open" because both ears are open! The bone conduction technology is inside the open-ear AfterShokz Trekz Air headphones. Since they used titanium everywhere possible, it allows the AfterShokz Trekz Air to fit more securely and sound better too! My husband had swiped my previous AfterShokz Trekz Air, so I'm VERY happy that this pair is all mine!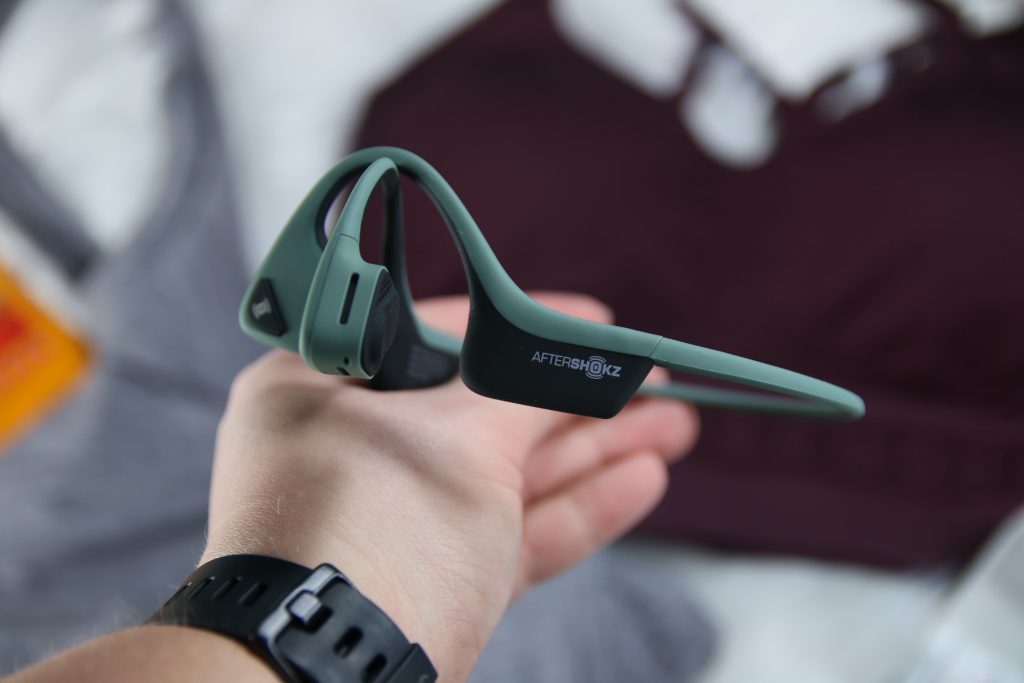 Another truly essential accessory, especially for morning workouts, is CELSIUS powder sticks. This is a total game changer. All you have to do is add a powder stick to water and you're ready to take on your workout. The CELSIUS powder sticks have the same benefits as the CELSIUS canned energy drinks! But this is perfect if you workout after work but still need an extra boost of energy to smash the workout. The packets are great if you're on the go and traveling and like to workout while you're traveling!  The CELSIUS powder sticks come in four delicious flavors: Orange, Berry, Coconut, and Cranberry-Lemon.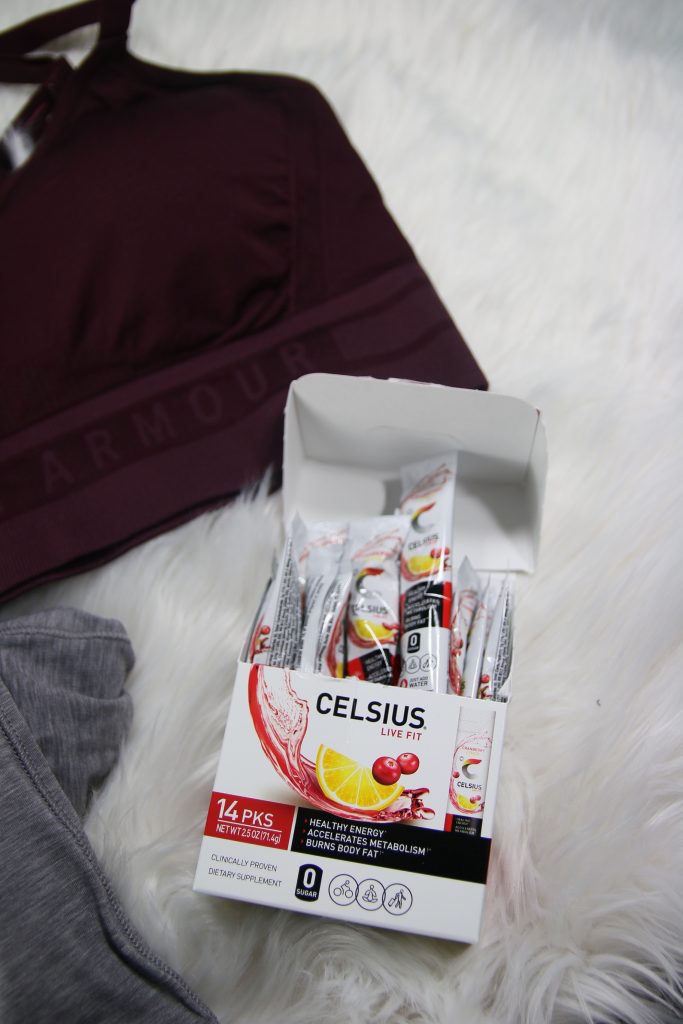 Essential Recovery– CA will be the first person to tell you that recovery and stretching are super important. He's the one always reminding me that stretching before and after your workout is vital, as well as rest/recovery days. Your body needs time off from working out to perform for your next session. Sometimes recovery means soothing muscles, stiff joints, or backaches. The Tiger Balm Ultra is a non-staining ointment that contains the strongest concentration of Tiger Balm's herbal ingredients. This will provide fast, warm, comforting for all of your aches and pains, so you can recover and prepare for your next workout. If you have a larger area that is in pain, maybe your back is hurting from that hard workout, the TigerBalm Patch is for you! The peel and stick patch uses hydrogel technology to contour to the area of your body you need relief from pain the most! It comes with a reusable zip pouch for convenient storage and uses!
Set Realistic Goals– Real Talk… I set the most unrealistic goals ever, all of the time. All of the TIME. I think that the weight will come off within a week, that my run time will shorten within 2 weeks of running, and that I'll get my strength back instantly. That is not how any of this works. Start with smaller goals: maybe you want to lose 50lbs, but start with wanting to lose 5lbs. It's small but it goes towards the end goal, which is what is truly important. All of your smaller goals should add up to larger goals. If you want to go to to the gym, start with at least 2 times that week, running- maybe run for 20 minutes twice that week. Just small goals to start, and then add on from there!
Set Rewards for Meeting goals– It's no fun to set goals if there is no reward! On my larger calendar, I have goals for the month pointing to the rewards I'll get! It can be something simple, like a new workout shirt, new sneakers, or a splurge for a workout class you've been wanting to try! Or it could be a race you're training for but wanted to reach a certain point of your training to sign up for it! It doesn't necessarily have to be workout related! It could be a dress or outfit that you've been eyeing, a new eye shadow palette (hint- this is one of mine), or a night out at your favorite restaurant! When you set the rewards, make sure you'll want to do whatever you have to, in order to get that reward. It has to be worth it to you.
What's one way that you stay motivated to workout? Let me know!