This post may contain affiliate or referral links, which means I may receive a commission if you purchase something using my link. It will be no extra cost to you. As always, thank you for supporting Getting Fit Fab.
So, if you saw my Instagram stories on Saturday, you already know that CA & I went on a helicopter ride! For CA's Christmas present, I purchased a 16 minute tour over NYC that launches from Kearny, NJ. I got this idea from Veronica of Lombard & Fifth. She took her hubby on a helicopter ride over San Fran for his birthday! Since it's something we've never done, I wanted to give it a try. 
I wanted to share our experience, some tips, and how I chose which company to use. 
The company we used is called FlyNYON; they have flights in New York, Los Angeles, Miami & San Francisco. I'll be honest I googled "NYC Helicopter flights" and they came up first. After reading a few pages of reviews which were mostly positive, some reviews mentioned how long of a time the entire procedure took, which I completely agree with. 
I originally purchased the 16 minute flight. It was a combination of price and I wasn't sure if CA or I would enjoy being in flight for over 30mins. After we arrived and watched the safety briefing, we decided to pay for the longer flight, which was totally worth it!
Safety— The following information is from the  FlyNYON website: "All aircraft are maintained to strict FAA Regulatory standards. Pilots received annual factory training and they perform a yearly FAA check ride." If you're going up in a helicopter with the doors off, you'll be in a harness that allows you to click in to the safety harness that's connected to the helicopter. Everyone also wears a folded life vest around their waist that unfolds just in case. All of the FlyNYON helicopters come with flotation devices so they are able to make an emergency water landing if need be.
Since Manhattan is surrounded by water, which are the Hudson & East Rivers, this is very important. Everyone is also wanded by a metal detector before having the harnesses put on before you leave for the landing pad.  
Our original flight was for January 4th, but it was cancelled since foggy, rainy, cloudy and just not great flight weather. I had emailed them the night before about canceling and they informed me that they would notify me about cancellation 4 hours before the flight. And like clockwork, 7:59 AM, we received an email that our flight was canceled due to weather and we had to reschedule.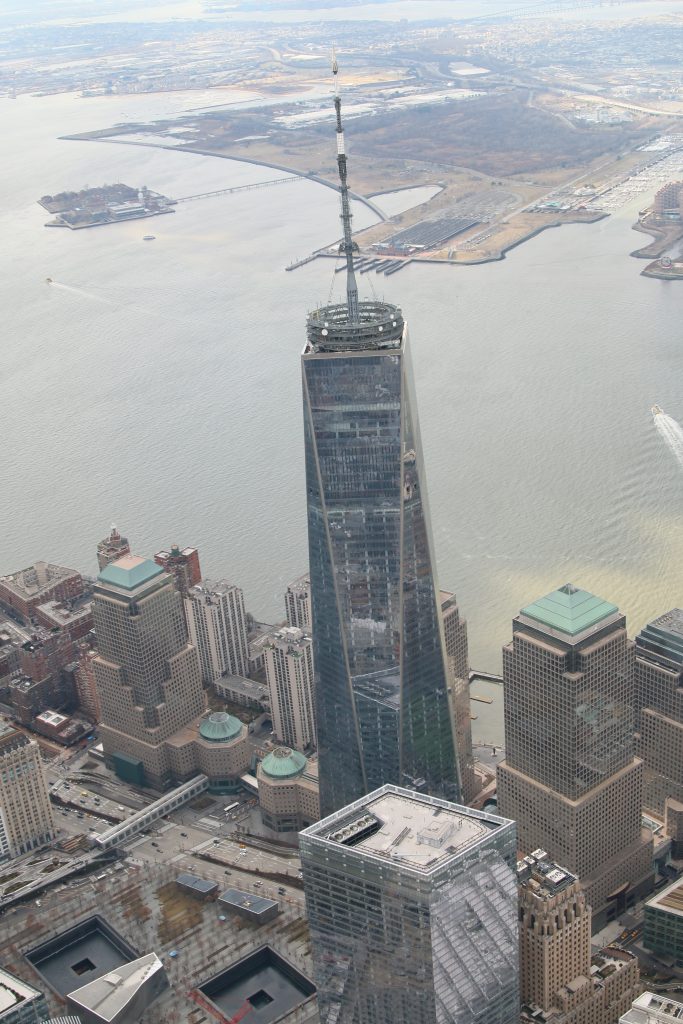 I decided to go in winter because that's when the skies are clearest to see Manhattan and the surrounding area. I will say it was COLD because we had the doors off for the trip, but it was definitely an amazing experience. I would definitely like to go back in the summer. Having five adults in the helicopter while wearing large boots and a puffy jacket, it's a bit hard to maneuver around. CA has the best seat, he was in the co-pilot seat, so there are 7 people total inside the helicopter. Plus, the windchill won't make you feel like your face is being frozen off LOL. Something to note is that you may or may not sit next to the person you went with. CA was in the co-pilot seat, so he and were actually sitting back to back but we couldn't see or talk to one another. The one couple was sitting next to each other, the last set were sitting across from each other. It's all about weight distribution, so that's how they'll sit you, and you find out where you're sitting when you arrive at the helicopter. 
What I wore on the flight:
Jeans
Tank top
Sweater (least holes as possible)
Fuzzy socks
Fleece Lined knee high winter boots
Fleece lined puffer jacket
Gloves
If you want to wear a scarf it needs to be an infinity scarf- a loose one is not permitted as it could unravel with the wind. The beanie I brought had a pom on top, so I wasn't able to wear it, the beanie needs to fit snugly on your head. You wear a headset so you can hear the pilot talk to you about what you see around you and when you can put your feet out. Luckily, my jacket had a hood so I kept it close to my ears. 
I was warm except for my legs, that weren't covered by the jacket or my boots, and my face. But the ride is only 30 minutes and I knew that I would be cold going in February. Just be prepared! 
If you're flying doors off—you have to arrive 1 hour 15 minutes before your flight take off time. If you're flying doors on- you have to arrive 1 hour before. You need to fill out a waiver form (you do have the option do that before you go, which is what we did). You also have to watch a short safety film, and actually WATCH IT, it made me feel less nervous. Afterwards, your name will be called to get a harness or to sit in the waiting area before you take a short ride in a van to be brought to the launching pad. Make sure you arrive at the least by your time minimum, otherwise you'll forfeit your flight. 
Extras- Just incase you don't have gloves or want a beanie, they have a few winter accessories plus a heated sweatshirt for you to buy or borrow. 
If you don't want to bring your camera or decide at the last minute you want to take some video, they have Canon cameras and lenses as well as GoPros for rent! 
If you bring your cell phone you'll have it on a special lanyard and holder which ensures it won't become a problem up in the air. We also had to put our GoPro on a similar lanyard since you can't just have a handheld with no way to strap it to you. 
The 30 minute route we were on, you start in Central Park, and each side takes a turn either looking uptown or downtown. You work your way downtown towards the Empire State Building, Freedom Tower (the World Trade Center), DUMBO (Brooklyn), Manhattan & Brooklyn Bridges, and just all of downtown Manhattan. The classic New York skyline can be taken in from almost every angle, it's truly a way to see NYC like never before. You'll also get to go over Governor's Island and see the Statue of Liberty up close! 
There's only two things I'd do differently next time. 
Not arrive at 9:40 when we could arrive at 10:45 
Go in the summertime, it is COLD in the winter time
If we do end up going this summer I'll definitely share my thoughts about going than! 
Have you ever gone on a helicopter ride? Would you go on one if you haven't? 
*This isn't sponsored, I paid for the this flight in full- I just wanted to share my honest thoughts*