This post may contain affiliate or referral links, which means I may receive a commission if you purchase something using my link. It will be no extra cost to you. As always, thank you for supporting Getting Fit Fab.
I can't believe that May is over… where is this year going? Like it's June…. WHY. I'm partially excited because mine and CA's second wedding anniversary is June 4th! We're trying to do "traditional" gifts for the years that we're married, and the second year is Cotton! I can't share what I bought CA (cause he hasn't seen it yet) but it's awesome, it's also handmade by Jennifer from Busy Being Jennifer and The Knottarie! It's also a few people's birthdays, including my moms, my best friend Allie's mom (whose birthday is our wedding anniversary), CA's Aunt, and Grandma a few family friends as well! June is also when Summer officially begins and it'll be a great month, we plan on going to the beach with a few friends too so let's hope our schedule and weather permits it.
So onto May! May was a really great month overall, the weather was INSANELY crazy, but it was a wonderful month overall.
What We Did:
Thor turned TWO!!!! I couldn't believe it, we did a small little celebration and had him wear his birthday hat. Even though he looks less than thrilled he just photographs mad LOL, I was also holding a treat.
We went to a Yankees game (I'm the Yankees fan- CA is a Mets fan) even though they lost, it was still a great game. I like going to Yankees games, I feel "at home" when I go there and it's just a great crowd. There's just no simple way to get there by train or car when coming from Long Island. If we take a train to Penn, we have to either go to Herald Square to catch a B or D train or take the 4 from Penn and then switch over to the very crowded B/D train. And if you drive, you get to battle the traffic of the Cross Bronx Expressway and George Washington Bridge, which has traffic 24/7. They need an LIRR train that goes from Jamaica to the Bronx LOL.
We went to the North Fork, Greenport Long Island. We go around the same weekend that is our engagement anniversary which is May 17th, you can read our story here. We usually go to different wineries, breweries, grab food somewhere, go out or stay in for dinner. I plan on putting together a few posts on what to do on the North Fork, my favorite Wineries/Breweries, places to eat etc. I plan on putting that together within the next week or two, so be on the lookout for that. Sometimes I forget that the East Ends of Long Island are vacation spots for locals and out of towners alike. This picture is from when we got engaged on May 17, 2014.
RedBull Game! CA and I are huge RedBull soccer MLS fans, so we try and go to games often but the location is in New Jersey so it's not actually close to home it can be around 1.5 hours to almost 2.5-3 hours. We usually sit in the Supporter sections and chant for the full 90 minutes (with a 15-minute halftime). I left with no voice LOL, and it was a really great time, unfortunately, they ended up just tying 0-0, but it wasn't without trying to score. There was an offsides goal (which means it didn't count) for the RedBulls so that was a huge letdown, and thankfully there was a missed Penalty Kick for the Philadelphia Union, it just missed the corner goal post by like 6″, the RedBulls got LUCKY. A game that ends in a tie means 1 point for each team, not horrible but definitely not a loss so I'll accept it LOL. It was crazy the second half of the game, the RedBulls were shooting towards the supporter section so each time they were close it was OMG… NO… OMG…NOOOO. But these games are always fun especially in those sections, chanting with everyone, and this is why soccer is my favorite sport, just constantly going for the full 45 minutes for each half.
Mother's Day! CA and I took our moms out to brunch at The View in Oakdale (south shore of Long Island- amazing brunch, delicious mimosas). We had the first seating at 12 noon, so the place was empty, and it was nice and quiet for a while. We had a wonderful time, and before brunch, I treated my mom to a dry bar appointment! After brunch, CA and his mom went to a family BBQ, and my mom and I just vegged out watching the movie Mother's Day (how appropriate).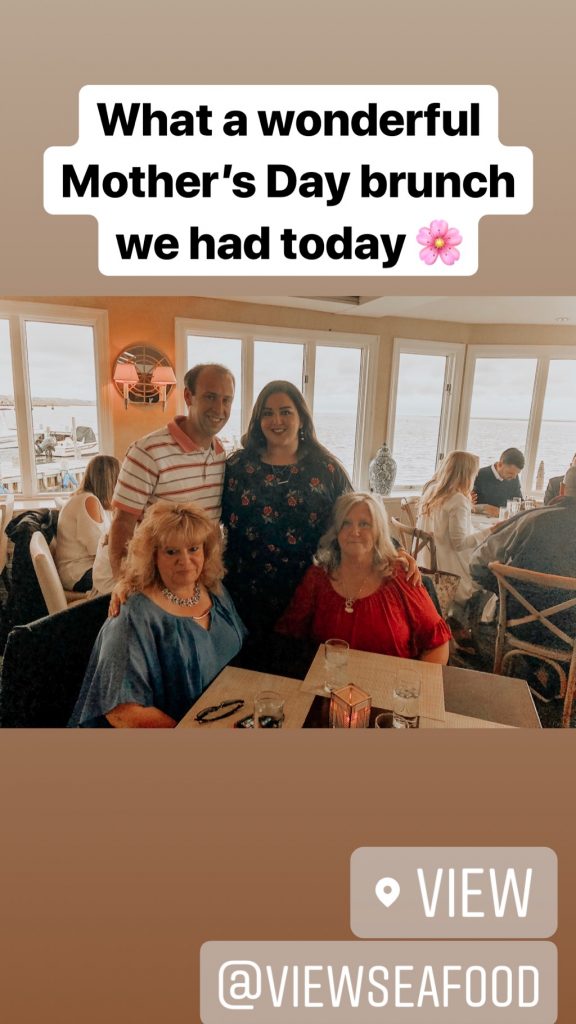 House:
So no further updates on the house we're in contract with, we recently heard from our lawyer and the owners still haven't found a house. So we're saving money and paying off debt while we wait, I'm trying to take a new approach on patience, and waiting. If I can't do anything about the situation, why lose patience, why worry about it? I can't control it at all, I can only control what is going on with us and our lives.
We've planted a vegetable garden in raised garden beds, and in a small portion of our yard, we planted Strawberries and Asparagus. We have Tomatoes (cherry and regular), red/green peppers, potatoes, onions, eggplant, cucumbers, basil, chocolate mint, thyme, parsley, and maybe other ones I'm forgetting. The onions and potatoes are sprouting through the ground already, and the other vegetables and herbs are really growing well!
We also planted some new flowers, butterfly bushes/butterfly flowers, Lily of the Valley, Stargazer Lily's, another type of Lily's, and some peonies. All of the flowers we planted were from bulbs, so I'm hoping by end of summer they all bloom beautifully! My rose bush, butterfly bush, and hydrangeas from last year all came up strong and healthy so far so I'm hoping to get a few beautiful flowers. When we get our home I want to plant, mulch and use weed blockers so the flowers can really grow freely and flourish. Let's just hope I have some patience to do all of it properly.
TV Shows:
I started watching the Crown on Netflix, and I really love it. Sometimes the show moves a bit too slow so I watch it off and on. I like watching it when I'm cooking or if I'm getting ready for work and want something simple to watch. I love how they build the characters and the relationships, it's really a great look into the Royal life.
The other two shows I started watching are Seal Team with David Boreanaz (from Bones), and SWAT with Shemar Moore (from Criminal Minds). I love both of the male leads so I'm SO happy they are in new shows, I've only watched half of both shows so I'm already hooked and can't wait for Season 2 on both of them!
Recipes I've tried:
JoJo's Biscuits- from the Magnolia Table Cookbook. Oh my GOSH, these biscuits are insanely delicious. I found out quickly that I needed a round biscuit maker but next time I'll grab one. To make the dough was much easier to prepare than I first assumed, the only ingredient I didn't have was Buttermilk, but that was easy to grab. I'll definitely be making this again for weekend breakfast, maybe pair them with egg muffin omelets!
Avocado Toast- I actually made this for an Instagram post (that's going live mid-June), and it was delicious! I finally was patient enough to buy the avocado in advance and let it ripe on its own. Usually, in the morning I do not have a lot of time, but I've tried making more time to make a breakfast that was delicious and balanced, but also easy to make! Once I share on Instagram I'll share here!
Favorite Purchases:
Skincare:
I'm like a skincare/makeup hoarder…. and since I'm trying to be smart, I've started to just use the skincare products I have. I did rotate some products to fit what I need for the summer time. I have IT cosmetics Confidence in an Eye Cream + Olay Eyes Pro-Retinol Eye Cream Treatment are my go-to eye creams. The IT Cosmetics I use in the morning and Olay is for nighttime, I've found that both are lightweight, not pore clogging and with the pro-retinol at night has made my fine lines smoother. The Olay Whip is my go-to daytime moisturizer, the SPF is a great bonus, and this doesn't make my skin breakout (winning). Every other night I use a Derma Roller, along with this Neutrogena toner, and Vitamin C Serum, plus the Neutrogena Hydro Boost gel cream. I also have the Terminator 10 when I see any pimples forming or if it's that time of the month (I break out on my chin). I've also been using some gold eye patches to help with my fine lines and dark circles, plus the cooling effect really makes me appear awake.


Makeup:
Just like the skincare products, I have a lot of makeup products. Since I don't want to throw out money with expired products I've been trying to use the makeup products that I have before buying new things. The only products I've most recently bought are brow products since I fill my brows every day I tend to go through products quickly. I've been using a Garnier Tinted Eye Roller when I just want to lighten my under eye circles without applying concealers. I use BareMinerals concealer basically every day and I started mixing it with IT Cosmetics Bye Bye under eye concealer, I set it with Laura Mercier setting powder. I rotate my eyeliner, I use IT Cosmetics, Essence, Smashbox, and Smoulder & Kohl, I line my waterline daily, it's just my go-to simple every day look. For my day job I just do a simple look that's basically the same thing every day. My favorite mascara is by IT Cosmetics Super Hero Mascara (I have 5+ of these), Benefit BadGal Bang + Maybelline Total Temptation is a great mix also. This weekend we're going out to dinner just the two of us for our wedding anniversary so I might play with one of the many eyeshadow palettes I have.

Clothes:
I did plenty of shopping in April and in May, really making sure I took advantage of the sales that were going on. I hope it continues to get warmer out so I can wear the dresses I bought. I also recently bought capris and shorts from Kohls, usually, I don't wear shorts that often especially during the week but I like to have a few pairs for the weekend. I also found a few tops at Walmart on the clearance racks for only $5, and they're really nice lightweight material. I also grabbed a few workout shirts that are for the heat so they absorb all of the sweat away from the body.

Whew! May was really amazing, and June is shaping up to be just as amazing! What is a favorite thing that you did, purchased or watched in May? Any new recipes that you made this past month that you really loved? Let me know!