This post may contain affiliate or referral links, which means I may receive a commission if you purchase something using my link. It will be no extra cost to you. As always, thank you for supporting Getting Fit Fab.
Happy Monday! I'm still in shock that in a WEEK well be landing in Paris starting our 12 day European vacation. It's partially the reason why I'm not waiting until Friday to post, since I have a few other things I want to post and work on during the week so tada! I'm posting this early, but I had a different post in mind but wasn't able to get it done before today, so this is what I'm going with. I'm typing this at Starbucks in the Upper West Side while I wait for CA to start and finish his half marathon in Central Park. I would've went to the start with him but it's pouring rain so CA suggested me to stay here (at the Starbucks) and than track him on RunKeeper and when he's almost done I make my way to the finish line. I set a timer on my cell for an hour 20, so I can catch an uber to the finish, since it's on the East side around 104th street. I wouldn't mind walking but my feet are already wet so I'll take the uber and keep a little more dry.
Anyways, back to February!
Restaurants We Went to-
We went to Zim Zari in Massapequa for Valentine's Day. The best way to my heart… tacos LOL. We had a very relaxed dinner out, grabbed ice cream on the way home and watched a movie!
We also had a family dinner with my cousin, aunt and uncle. My mom had some winnings from Super Bowl boxes so she wanted to try and treat everyone to a nice dinner out. It was a great dinner at Argyle in Babylon, plenty of laughs, good food and we sang happy Birthday to my aunt!
Recipes we Tried-
We're always up to trying new recipes or re making old recipes. I re-made this Taco Crescent Ring Recipe from Pillsbury, oh my gosh is it delicious! The crispy ring mixed with the meat, plus we add on sour cream and guac and YUM.
The second recipe that is new, was a Chicken & Rice Crock Pot recipe! It was a delicious yet spicy recipe. I loved that after searing the chicken you put everything in the crockpot and stir every once in a while. It smells mouth watering too.
What we did –
So February started off with the most boring Super Bowl, ever. We went to CT to watch and we got to spend time with friends, which is the best part. The following weekend we went to a day Islanders game at the Barclay center in Brooklyn. It was nice to not be freezing, the Islanders won!
I got my hair done at Maison D'Alexandre by my friend Ariel! She is a colorist and did Baylage on my hair, and oh my gosh! I love how my hair came out, it's subtle enough  to look almost natural.
When I started this post, I was waiting for CA to finish his half marathon, even though he didn't PR he did a great job. He did get a blister on the bottom of his foot from mile 11 on. But he did complete it in 1 hour 55 minutes! CA is a great runner and with the rainy conditions he did a really great job.
I had an event for blogging, it was a cute little Galentine's day event and it was fun! I met two wonderful ladies who I hope to connect with in the future. I also took a photography class from the amazing photographer Lauren of LaurelCreative. She was so bubbly and I can see why so many bloggers love her, she's so informative and talking she's just a well of information. Even if I'm not taking the photos I can still put the settings in and hand CA the camera or set a timer. I learned tips that even after 5 years of blogging I didn't know, it was the best $80 I've ever spent. I plan on doing some photo shoots with Lauren in the Spring time because it's way too cold right now LOL. I'd also want to do a "Instagram Husband" intensive, where she gives direction to the person who is taking your pictures normally aka usually your significant other, or even if it's your best friend.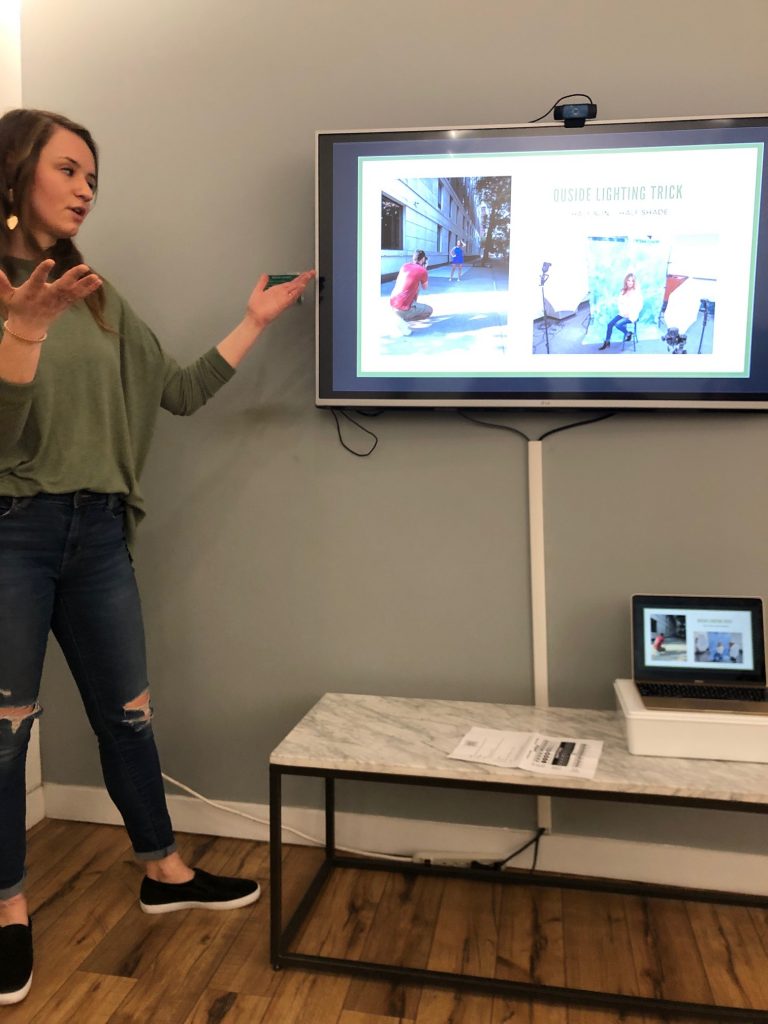 February's Blog Posts-
Project Pan– I originally wanted to get this post live in January, but got overwhelmed with everything else going on. I have an access amount of makeup, so the Project Pan is supposed to help me use my makeup. It's more about using the makeup before it's expired as well as making sure I don't buy makeup when I have plenty at home already.
Romantic Date Ideas for Valentine's Day– If you read any of my Valentine's day posts you'll know that CA doesn't really agree with how commercialized the holiday is. And how expensive going out to a nice dinner becomes when you stamp a holiday on it. So we try and keep the day simple, this year we went to our favorite taco place.
Friday Favorites: Favorite High End Makeup– I am a fan of high end makeup, so I put together all of my favorite pieces.
Share the Love this Galentine's Day– I worked with ErinCondren on a blog post, where I gifted one of my best friends Breyanne a brand new ErinCondren planner and different planning goodies. It was fun to see everything come together and spoil her after a few hard weeks.
DIY Picture Frame Gift– This was so much fun to make. I painted a frame for CA for Valentine's Day. It was very easy to make and I used a brand new gifted Epson printer.
Friday Favorites- Winter Accessories & Winter Clothes– These were my most recent Friday Favorites. I posted these in part with going to Europe during the winter time. It doesn't look like it'll be incredibly cold but I want to be prepared.
Spending 72 Hours in New Orleans– I finally got my act together, and put together everything we did and pictures. CA put together a timeline of what we did and I added the pictures and extra information.
Purchased- Everything I bought was for our European trip. I've bought jeans, leggings, socks, sneakers, a few toiletries. Since we're walking a lot I wanted to buy new sneakers since I actually have no walking sneakers, I have running sneakers but those are different. I grabbed a New Balance, Adidas, and Hoka pair, the Hoka has the most cushion and I feel like will be the best option for our long walking days. I am wearing the NB sneakers right now and they did great walking around NYC but my feet are getting wet LOL. As long as it doesn't rain or raining too hard I'll be good with these sneakers. I plan on doing a blog post about what I brought with us to Europe and what I packed.